Making bone broth or stock is a lot easier than most people think.   Fresh stock is leaps and bounds above the boxed variety.  If you have a large crock pot you can make any type of stock, as easy as tossing a lean cuisine death trap into the nuker.
Homemade stock has so many uses!  A few would be:
Soups
Braises
Gravies
Sauces
Chilis
Fresh stock is delicious, and super healthy; which is not always a combination that's easy to find!  Chicken soup for when you're sick isn't a joke.  It actually helps.  The reason is, it has TONS of vitamins, minerals and other goodies, like collagen.  When you simmer  bones in water for extended periods of time, the good stuff gets sucked out, and put into the water.  Wow, that doesn't sound appetizing, but whatever, it's tasty.  One thing to consider is buying organic, and grass fed if possible.  All the junk that is fed to an animall gets stored in the fat, so the least amount of crap that gets pumped into Ms. Piggy, the better.
I went to Whole Foods (wholecheck) the other day, to get my stock-on, and was hoping to get beef ribs or beef marrow bones.  The cheaper the better.  But they didn't have any beef ribs, and the beef bones were kinda pricy.  There were also veal bones, and lamb necks.  Sometimes, shiny things catch my eye, and I buy them.  This day would be no exception.  Got the veal and lamb bones, instead of the beef.  What could go wrong, nothing, that's what.
I placed all the bones into a stainless steel pan (got it at Ikea, 20 bucks, not bad).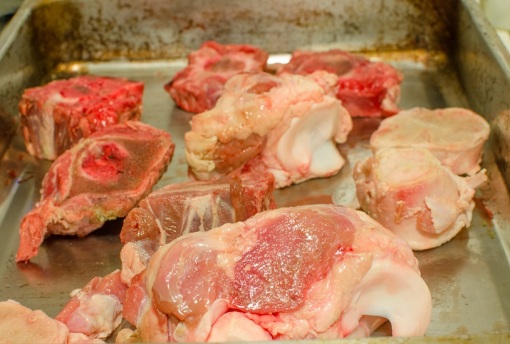 Then I roasted the bones at 450, until they got brown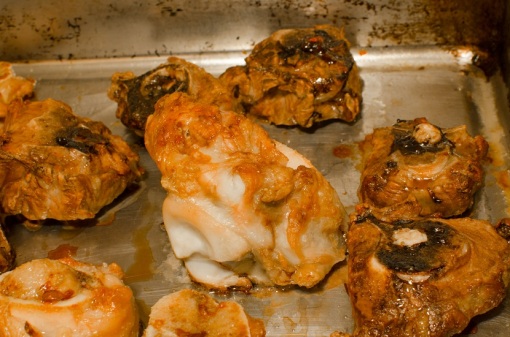 and then gave them a flip. Another 15 minutes, and they were nice and brown, which meant they were ready to be plopped into my slow cooker.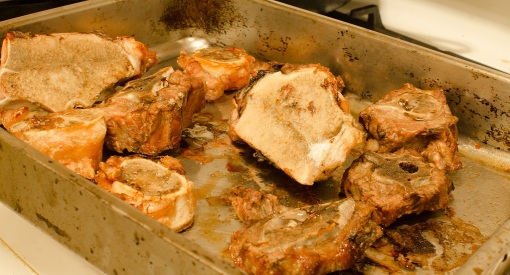 I put the bones into the slow cooker, and filled the slow cooker with waterm leaving a few inches.  Set it to low, and put it on for 20 hours, because that's the longest it will go.  My goal was a day and a half.  I looked behind me, and saw the pan had tons of brown bits stuck to the bottom.  Dumped a cup of water into the pan, and scraped up all those brown bits of goodness.  That went into the slow cooker to join the bones. Then I filled the remaining space with water.  Covered it, and let it do it's thing.
When the slow cooker was close to being up I put  another 15 hours on.
After it was done, I strained the stock through a mesh strainer into a stainless steel bowl.  Next step was to put it on my apt's balcony to cool off.  That day it was about 40 degrees, so I figured it would cool quicker outside, than on my counter, and you don't want to put scorching hot anything into the fridge.  When it cooled, into the fridge it went.  After 12-24 hours all the fat solidified at the top, I scooped it out, and saved it for future use.
Voila, fresh stock!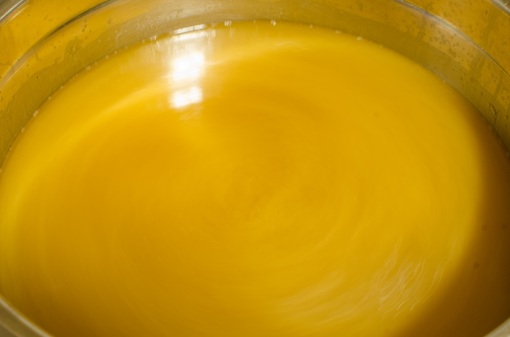 Ingredients
2 1/2 lbs Veal Bones
2/ 1/2 lbs Lamb Bones
Water
Instructions
Place bones into a stainless steel pan.
Roast at 450 for 15 minutes.
Turns bones to the other side, and roast another 15 minutes until well browned.
Place bones into slow cooker, leaving a couple inches at the top fill with water.
Put a cup of water into the hot pan, scrape brown bits on the bottom, releasing into the water.
Pour drippings from the pan into the slow cooker, and fill almost to the top, careful not to overflow.
Cook for 35 hours on low. 15 hours would be the minimum cooking time, but 24-35 would be better.
Let the stock cool, when it comes to room temp place in fridge for 12-24 hours, until the fat has solidified at the top. If you need to use it right away, skim the fat while hot. Store excess fat, it's great to use to fry things.
Enjoy!
http://foodefile.com/2014/11/182/