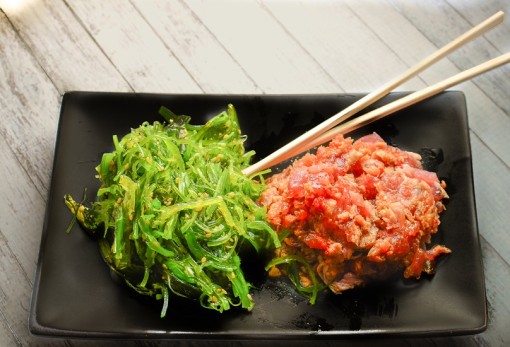 Disclaimer: raw fish could make you sick, there I said it!
The first time I tried to make seared tuna…..yikes……
There is a chain-ish seafood restaurant near where I work called Legal Seafoods. It also happens to have a fish market that's good, but way overpriced.  The restaurant is hit or miss.  Anyway, I wanted to try to make seared tuna for the first time, I think I was around 25 (I'm 34).  I go into the market section, and tell the monger my plans.  His instructions were to heat an oiled pan for five minutes on high, and then sear the fish for a couple minutes a side.
I put the pan on the stove, walked away (ugh), and came back five minutes later to see the oil smoking.  At this point a non-idiot would say, "hmmm the pan is smoking, this probably isn't  good".  But this idiot thought, "The guy at the store couldn't be wrong, he works at a fish market!".
I tossed my hunk of tuna into the pan, and immediately a plume of smoke and FLAMES shot up hitting the ceiling.  Oh $#(& what do I do?!  I grabbed the pan by the handle, and flung the tuna into the sink, and sprayed it down with water.  The ceiling wasn't on fire, but there was a slight char, phew that could have gone a lot worse!  Gave the tuna a bit more of a rinse, and cooked it at a lower heat.  It came out ok, not great, my house didn't burn down, and I was a bit scarred for life to try searing tuna again.  In nine years I have learned a lot about how to cooking, and what not to do.  Burn the house down is number one on the "not to do" list.
I've never come close to that tuna disaster again, but while making crostini for portuguese stew I made the other night I lit the bread on fire pretty good.  Like that sucker would not go out by blowing on it or smacking it with my oven mitt (probably not a great idea).You should have seen me shooting the sink nozzle across the kitchen to put it out.  Good thing I didn't start a grease fire.  I have since purchased a fire extinguisher off Amazon, it should be here tomorrow.  Not sure what I was waiting for, as I cook often, and am highly accident prone, it's a shock I haven't torched the place.  I have managed to get some neat scars, from throwing a steak in an over oiled panned. The oil splashed against my bare forearms, kerplunk.  It looks like I tried to slit my wrists, and even shows up in photographs!  I should probably have adult supervision at all times.
Now that I've convinced you I'm the biggest moron to walk the face of the earth, I will try to persuade you that I can cook a piece of tuna, and cook it well.
When buying tuna you want it be uniform in color, and not have any thick white lines on it.  This is going to be gristly, chewy and no fun at all.  If your tuna is pre-cut and packaged you may be able to touch the fillet, if much of it feels hard, don't buy it.  That is a good rule for meat as well, especially steaks.  When I bought my fish I wasn't paying attention, and it had a bit of sinew.  Meh.  After it was cooked, I decided that I wouldn't slice that part.  Instead I made a seared tuna tartare, which basically just means I minced it to bits.
On to the cooking…..
I'm not a fan of rubs for tuna, more of a sauce guy.  Usually I'll put a scant amount of salt on the fillet, and extra pepper.  Cook it either on the grill or cast iron skillet.  For super rare go 30-60 seconds.  I like a good sear on the outside, which takes a bit more time than a minute.  2-3 minutes a side will do you just fine.  But, your mileage may vary based on thickness.  2-3 minutes may overcook if the fillet is thin.  Hence, you want a thick fillet.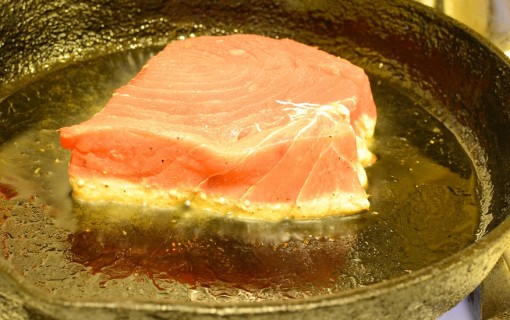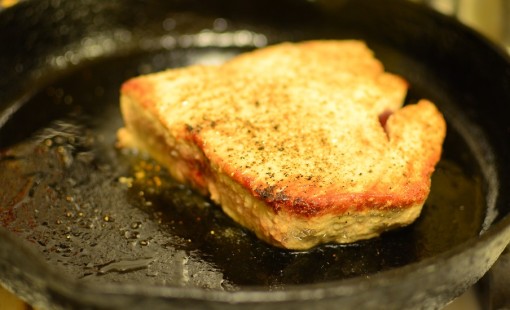 One trick is to put the fish into the freezer for 5-10 minutes before you cook it.  Helps to prevent overcooking, and firms the fish up for slicing.  It's especially important to do this if you're making raw sashimi cuts.
Cutting the fish is almost as important as how to season, sauce, or cook it.  You need a VERY sharp knife, that is umm sharpened.  I have a sushi knife but only tend to use that when I make sushi rolls, which is never.  My favorite knife to use is a Viktoronix plastic handled steel chef's knife, it was like 30 bucks, and sharp as hell.  I like the slices to be fairly thin, if you would rather thicker, go for it.  But, you want to cut your slices across the grain of the meat, that is not optional.  By going against the grain you are cutting through the fibers of the flesh, which breaks which breaks it down, making for a tender bite.  Nobody wants chewy fish, especially not chewy raw fish.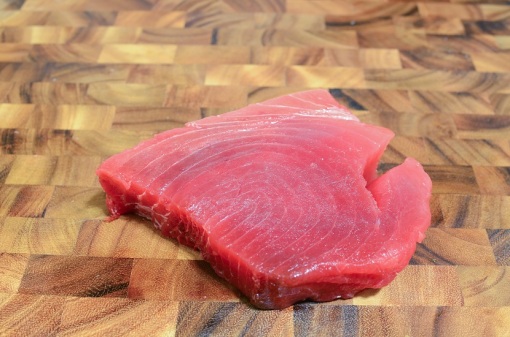 Use the lines of the fish as a guide, cut the best you can at a 90 degree angle.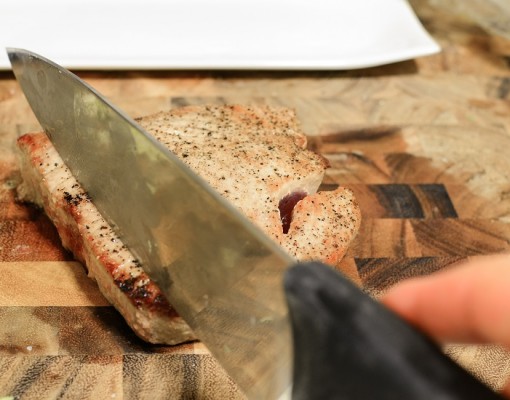 If you cook it correctly it should look like this inside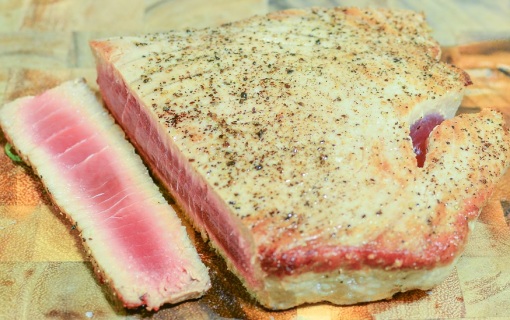 The first piece is for the chef, eat it with your hands, NOM!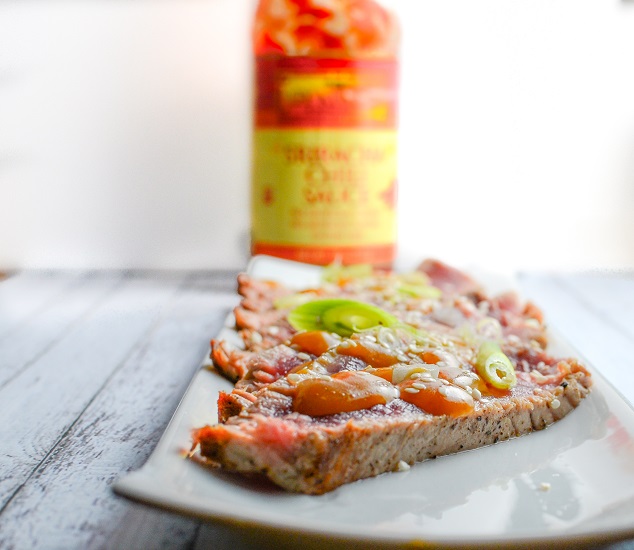 Seared Tuna with Miso Soy Honey Sauce
Ingredients
1/2 lb Tuna - Yellowfin is one of the more environmentally friendly types of tuna. Bluefin is on the decline.
Grape Seed Oil for Cooking
1 Tablespoon Grape Seed Oil (Canola, Vegetable or Corn Oil Would Be OK)
1 Teaspoon Yellow Miso Paste
1 Teaspoon Low Sodium Soy Sauce
1/2 Teaspoon Honey
1/2 Teaspoon Sesame Oil
Sesame Seeds For Garnish
Thinly Slices Scallions for Garnish, the White Section
Instructions
Place fish in freezer for 5-10 minutes before you are ready to cook
Lightly salt fish and heavily season with black pepper
Heat grill or cast iron pan on high heat (stainless steel would be fine but no teflon) put in enough grape seed oil to lightly coat the bottom
When oil has a faint whisk of smoke place in the fish
Cook fish per side 30-60 seconds for very rare, or 2-3 minutes for rare, 3-4 minutes for medium/medium rare
Slice fish against the grain, and arrange in a fan pattern
Combine grape seed oil, miso paste, sesame oil, soy sauce and honey. It will take a few minutes to break down the miso paste, if needed add more grape seed oil to make smooth
Spoon sauce over fish, it is potent, you don't need a lot
Garnish with scallions, sesame seeds. Eat with ginger and wassabi
http://foodefile.com/2014/11/seared-tuna-two-ways/
The tuna tar tare is pretty straight forward.  Cut off the section of tuna that may have some gristle, and mince it fairly finely.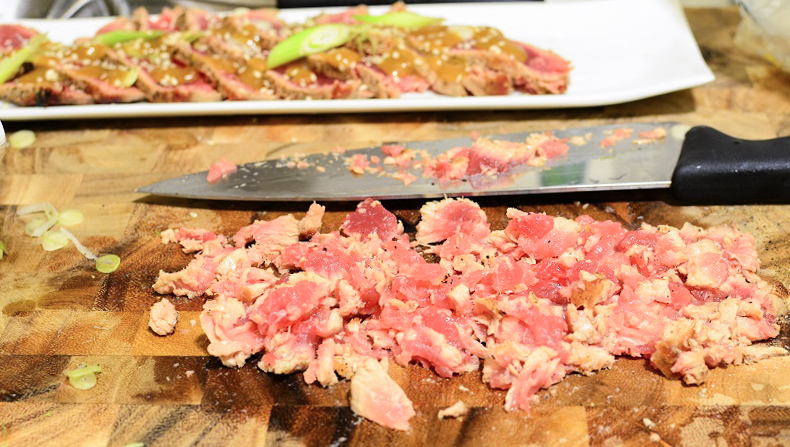 I added 1 teaspoon of soy sauce, dash of sesame oil and a teaspoon of siracha.