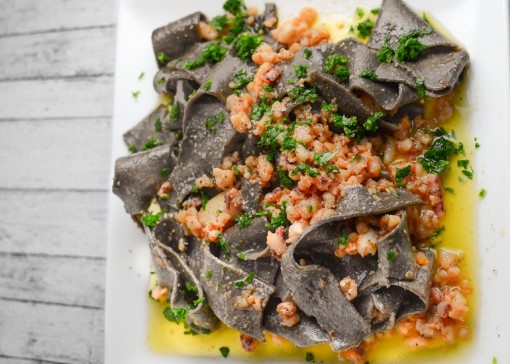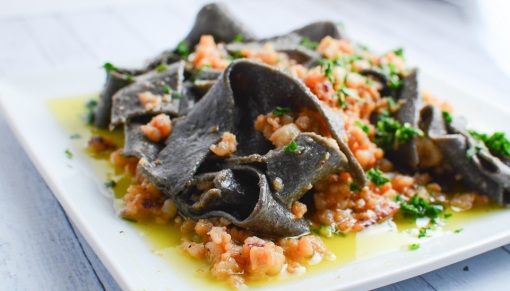 Creating homemade pasta is a lot easier than most would think. Pasta makers are not going to break the bank, mine cost about 40 dollars, and works perfectly.  Would I like a Kitchen Aid, fancy shmancy stand mixer? Of course.  But the 40 dollar machine is good enough for me.
I've been fascinated by squid ink pasta for a long time.  Seems like whoever makes it on Iron Chef, has a propensity to end up winning.  That's good enough for me.
Anyway, I'm a squid lover from way back.  Right now, in Massachusetts, and I'd assume much over the east coast, squid is in season.  You may find it at the grocer year round, but a lot of the time it's previously frozen.  That squid is all well and good, and will get you where you need to go, but fresh, is umm, well it's fresh, and a lot better.  Fresh squid, for lack of a better word, a meatier taste, and better texture than previously frozen.  It's a lot err, squidier.  But if you can only get previously frozen, use it.
I called my fish guy (yes I have a fish guy and you should too) and asked him what time they were closing, because I was cutting it close to the time they usually leave, and didn't want to drive out of my way if they were ending the day a bit early.  He yelled at me, like he often does, and said, "The same time we always close".  That last quote was edited a bit to take out a few choice words.  I'm a pain in the ass, this is truth.  But they give me beers, and free fish sometimes, soooo I must be a fun jerk.  At least, that's what I'm shooting for.  Anyway, I also asked him if he saved me squid ink, as I had requested last week. Before he could answer I said, "You didn't, am I right?. It's ok, it's ok".  Then he yelled to the other guy in the store a few more choice words about me, something about trying to make "these people" happy, and bla bla bla.  Anyway, he did save some squid ink, "I don't know if I saved it for you, but I have some".  I remind them on a regular basis that they like me.  If I say it enough, one day it will be true.  And P.S., they gave me the ink for free, told you they like me.
The inspiration for this dish was from a tiny hole in the wall restaurant, called the Daily Catch in Brookline, MA.  I went there on a date a few weeks ago, and it blew my mind, both the date and the food.  But that didn't work out, because I'm excellent at being awful at dating.  I go on tons of first dates that are boring, so when I meet a girl I like, I get stupid.  I was probably a bit over eager, and clingy.  I think I might be a chick.  Our total date count in a week was like 5, what was I thinking?  She started being pretty vague about hanging out again after the fith date, so I just called her out on the whole thing, and she said, "it wasn't the connection she was looking for".  Umm yeah good luck with that one.  At least I'm not bitter. Anyway this site is about cooking, not my inability to play it cool.  Onward.
Lets talk about the flour you should buy for pasta making.  The finer the grind, the better.  You're looking for pastry flour, Italian pasta/pizza flour otherwise known as 00 flour, bread flour, cake flour and if you can't find any of that, all purpose is fine.  I usually try to get the organic stuff, but I won't pester you about that, for now.  I'm sure I have other pestering up my sleeve.  I used whole wheat pastry flour.  I was trying to make it a bit healthier, and it came out great!  So for these purposes I will base my recipe on the flour that I used.  If you are new to pasta making, and can't get whole wheat pastry flour, I'd advise against regular whole wheat, because it is harder to work with, it can get dry, and tear.
Put your flour on a dry cutting board.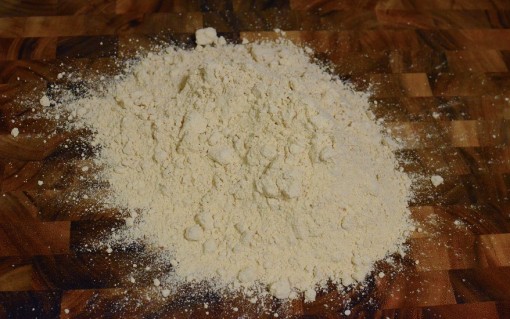 Form a well in the middle, like a volcano.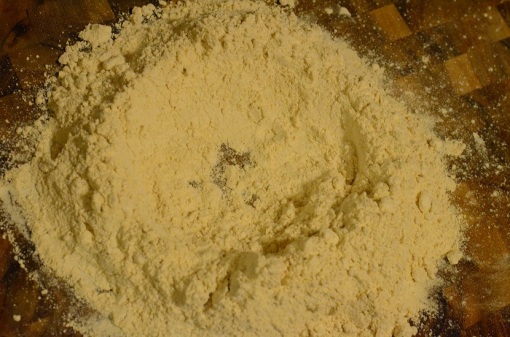 If you're extracting the squid from the ink sacs, do it through a metal mesh strainer.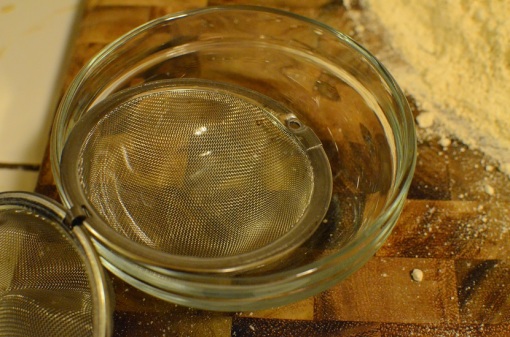 Crack the eggs and mix in with the squid ink, and water.  This is gonna be messy!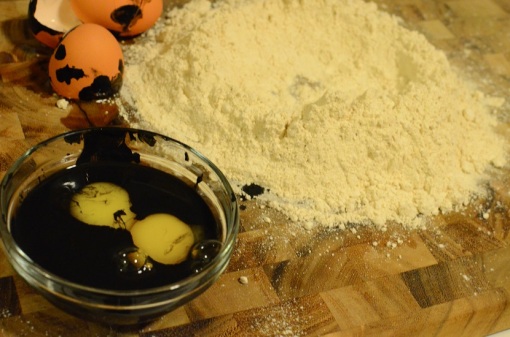 Next, place the wet ingredients in the middle of your flour volcano.  Put reserve water into your dish that stored the squid ink.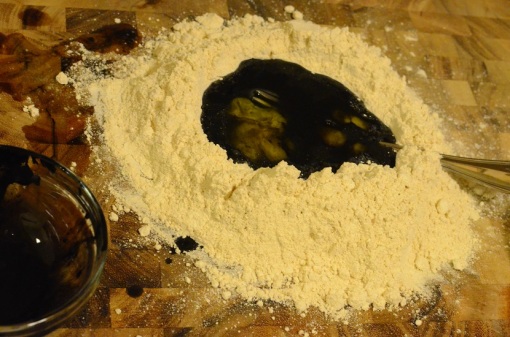 Use a fork to gently beat the egg in the middle of your volcano.  I love a post where I can use the word volcano multiple times.
Slowly mix it around, grabbing up flour as you do so.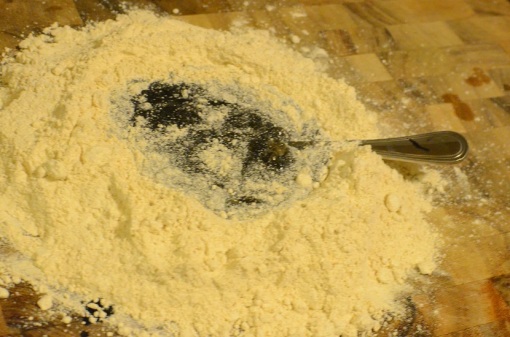 Slowly push the top of the walls of your volcano into the wet ingredients.  At the same time push on the bottom, making sure that it stays in a circular shape. If you do too much at a time, a wall will break, and the wet ingredients will run down your board.  No bueno.
Eventually it will start to take up the texture of mud, at this point you can push more flour in.  Try to wait until it is very thick before you start to use your hands.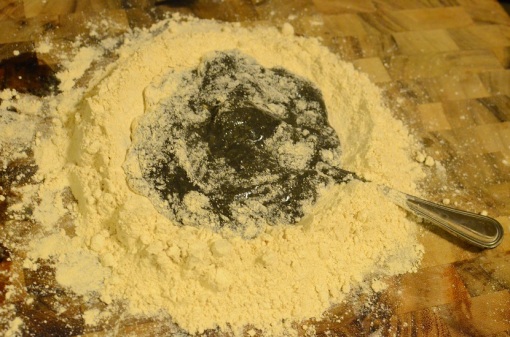 At this point it has thickened, you can use your hands, and begin to knead the forming dough.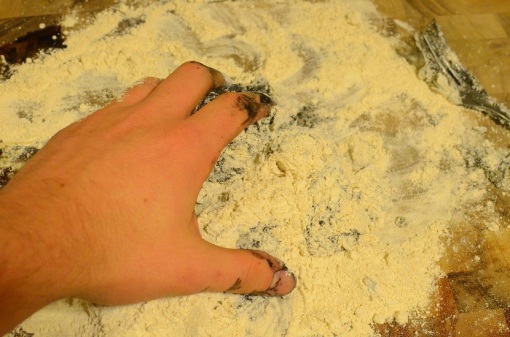 I realized that the dough was too dry, and would need the reserved water.  Sometimes it needs it, while other times it could use more flour. It just takes practice to figure out the consistency.
Put the water on top, and knead it more.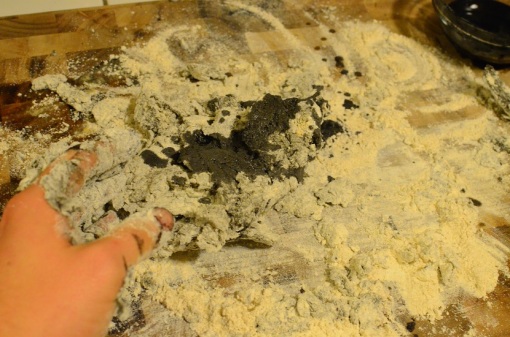 You're going to keep adding water if needed until it forms a tacky dough.  A wetter dough is more desirable than dry. But too wet and it will stick together when you cut it.
Eventually you will get something that looks like this.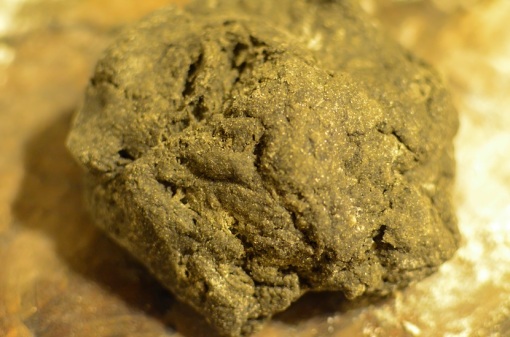 Knead this dough for 5 or 10 minutes.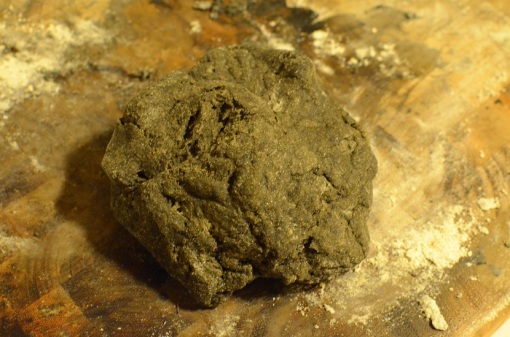 The next part is important.  You should let the dough rest for a half hour.  If you're in a rush, 15 or 20 minutes will be enough.  Wrap it in plastic wrap, and work on the sauce.  If you don't the dough will be harder to work with, and won't stretch as easily.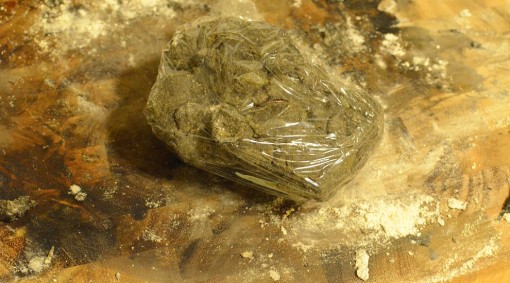 Cut up the garlic, don't be cheap, use a lot.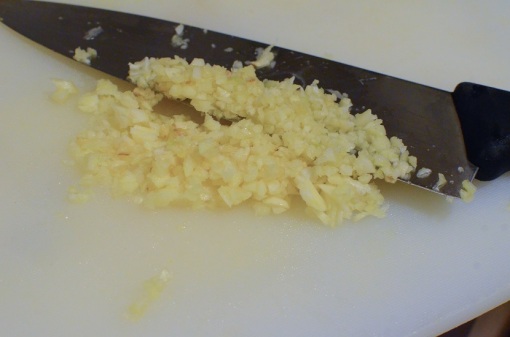 I was fortunate enough to get the garlic from a friend who grew it.  Very good stuff.
Next dry the squid with paper towels.  I was out of paper towels so I didn't dry it, I guess it doesn't matter that much, my dish came out great.  After it's drier, cut it up.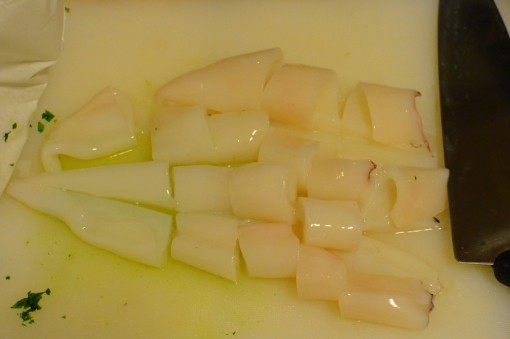 Put the squid into your food processor.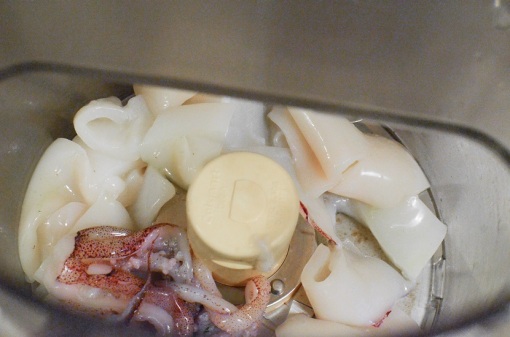 Give it a few pulses till it looks like this.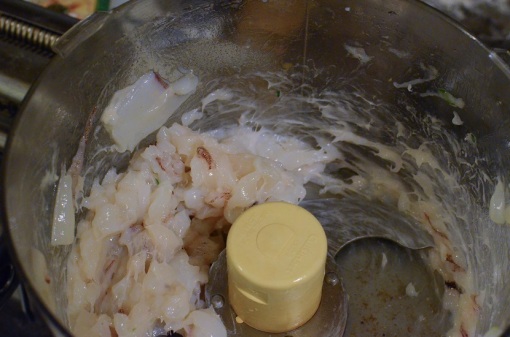 Scrape it down a bit and pulse a few more times.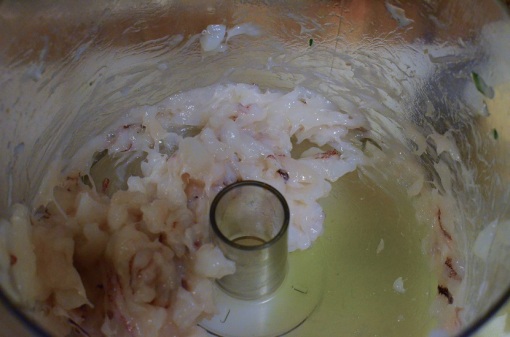 If there are a few larger pieces, don't worry about it.
Place a large pot of water on the stove, and set it to boil.  You want your pasta water boiling by the time you are done with the pasta.  It goes fast, you don't want to have to wait.
Place a pan on medium heat, with olive oil and garlic.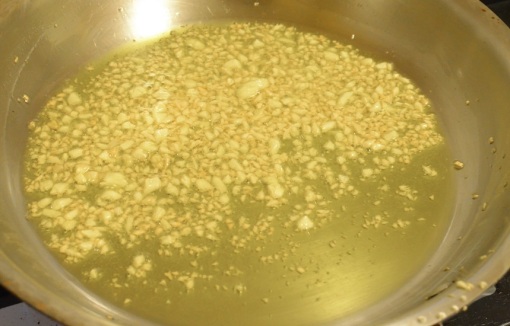 Slightly brown the garlic.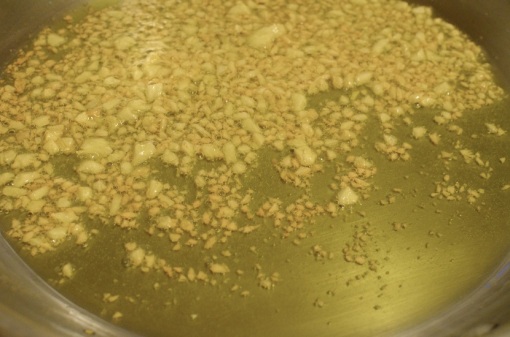 Once the garlic has browned a bit, add the squid.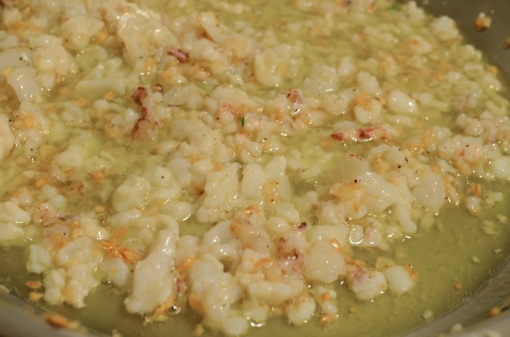 Lightly saute the squid for two or 3 minutes, put it on low, and cover while you make the pasta.  Check on it every once in a while to make sure it isn't getting too hot.
Begin by forming the pasta into a shape like this.  This dough is pretty stiff, it's going to take muscles to form.  The bottom section should be thinner so that you can feed it into the largest setting on your pasta maker.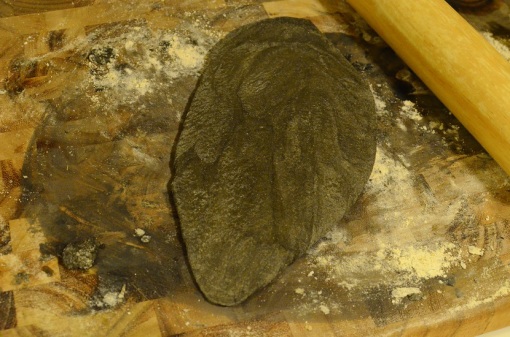 Feed this into your pasta maker, and put through a couple of times.
Next fold the dough into itself like this.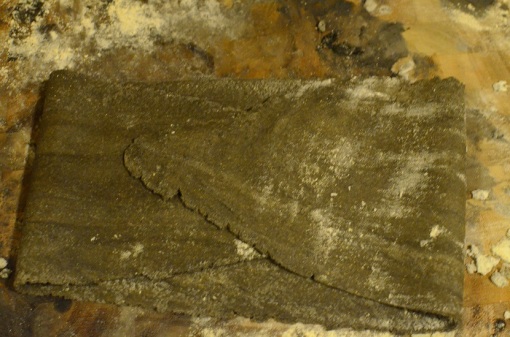 Feed it through again, and fold again.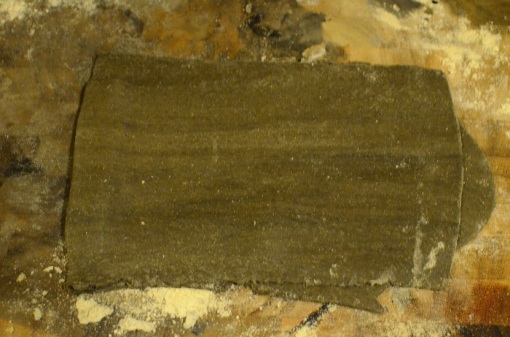 Then feed it through three or four more times.  The more you put it through, the less chance it will break apart when cooked.  It will become much stronger, if it's fed a bunch of times through the machine.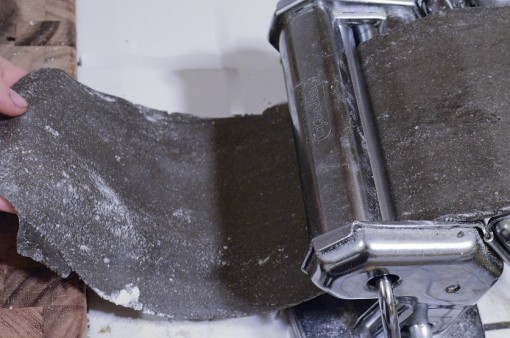 Feed it through about two or three times per notch.  Until you get to the thickness you are looking for.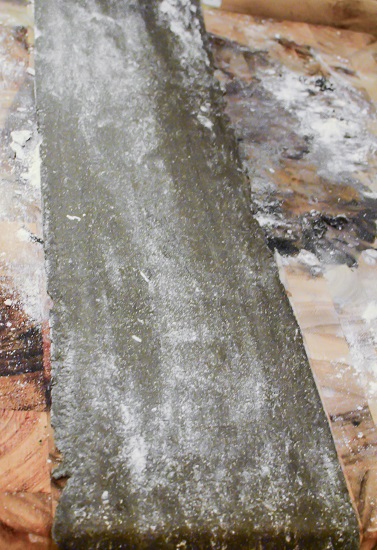 At this point you can either roll it up and cut by hand, or put it through the pasta cutter attachment.  I chose to roll and cut by hand, since i wanted a wider noodle.
Dust the dough with flour, and carefully roll it up.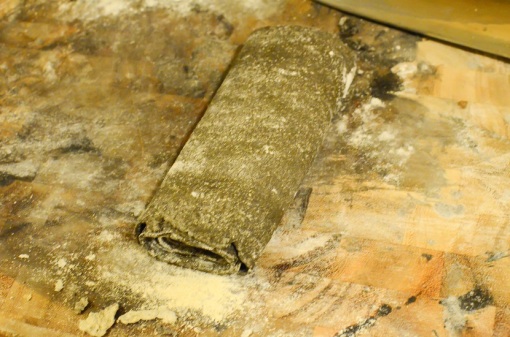 Cut with a very sharp knife to your desired with.  Mine was about an inch.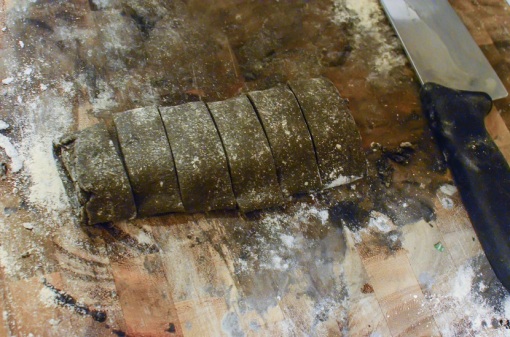 Open up the noodles, and dust them with a bit of flour.  Mine were at a good dryness, and I knew they wouldn't stick.  But better to be safe than, torn pasta.
String them out, and either cook like this, or cut in half.  I cut mine in half, otherwise they would have been wicked (Boston, hi) long.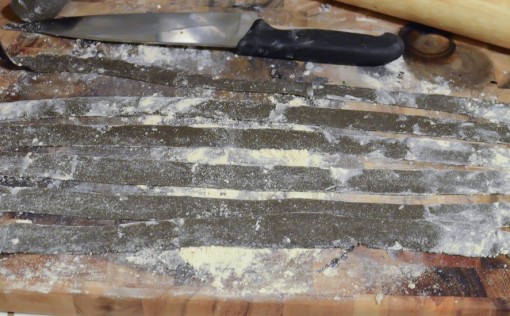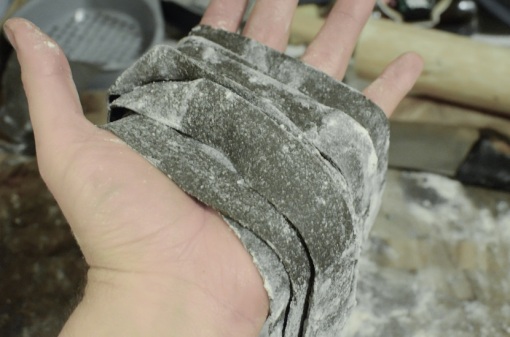 At this point your sauce should be close to done, remove the cover and reduce water water is left in the pan.
Put the pasta in salted water and cook until it is about 2 minutes from being fully cooked.  This should probably take about 3 minutes.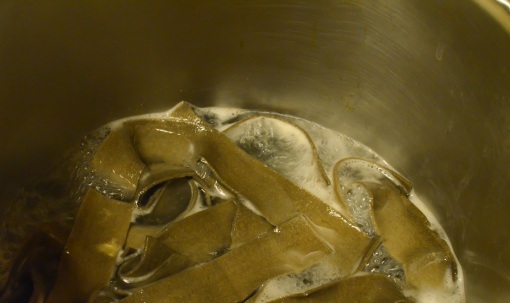 Drain the pasta and immediately put it in the sauce.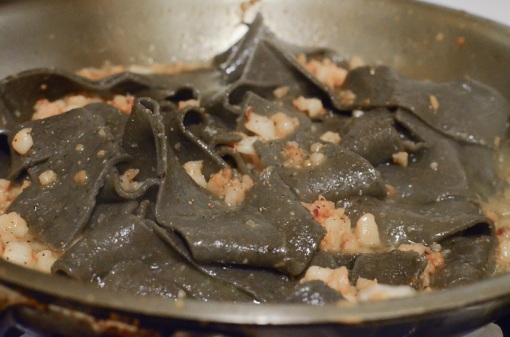 Cook in the sauce, constantly moving the pasta around to avoid sticking, until almost done, and then plate.  The residual heat of the olive oil will finish cooking the pasta on the plate.
Check for seasoning, garnish with Italian flat leaf parsley, and enjoy.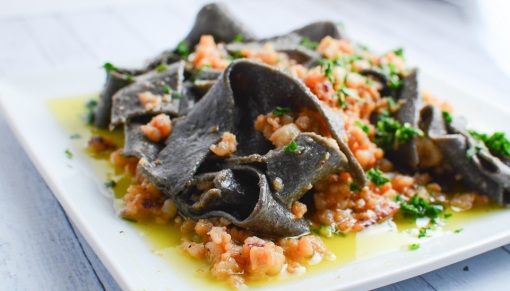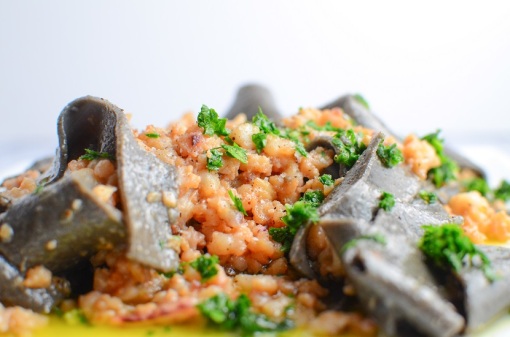 Squid Ink Pasta with Ground Squid
Ingredients
For the Pasta:
2 Cups Whole Wheat Pastry Flour
2 Egg
1 Tablespoon of Squid or Cuttlefish Ink
1 Tablespoon of Water
1 Tablespoon of Reserved Water
For the Sauce:
1 lb Squid
2 Tablespoons Minced Garlic
1/2 Cup Olive Oil
Teaspoon of minced Italian Flat Leaf Parsley
Instructions
Sauce:
Cut squid into rings and then cut one more time.
Dry with paper towels
Place into food processor and pulse a few times, scrape down, repeat pulsing
Put oil and garlic into a frying pan on medium heat, brown garlic slightly
Add squid to pan, lightly saute for 3 minutes
Cover and cook for 10 minutes, checking on it to make sure it's not too hot
Uncover, reduce water from the pan
Pasta:
Place flour on cutting board and make a well that resembles a volcano
Strain squid ink through mesh strainer and combine all wet ingredients, except for the reserved water
Put wet ingredients into flour well and slowly incorporate until all is combined. If too dry add reserved water
Knead for five minutes
Cover dough in plastic wrap
Let dough rest for 30 minutes, minimum of 15 minutes
Run dough through pasta maker on the largest setting about 5 times, fold into itself twice.
Feed dough through each setting twice until you get to your desired thickness. Recommended is the third smallest setting.
Either cut with pasta cutter attachment or roll up and slice to preferred width
Cook pasta in salted water for 3 minutes or until about 2 minutes from being cooked
Place pasta in sauce and finish in the pan, continually shaking and or moving pasta around until cooked
Plate and garnish with parsley
http://foodefile.com/2014/11/squid-ink-pasta-ground-squid/