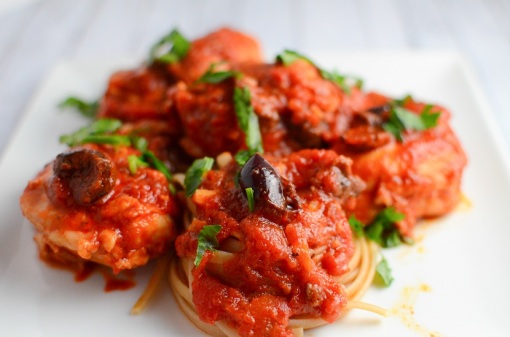 Making this recipe of chicken puttanesca is a perfect weeknight meal.  I love food that can cook while I work out.  By the time my workout is over, the dinner bell is sounding.  Timing is everything in life, or so I read in a fortune cookie.  After a long day of work, cooking dinner can sometimes seem like a real chore.  With this recipe, you can go on auto pilot, and make it happen.  Did I mention it's easy?  Well that too.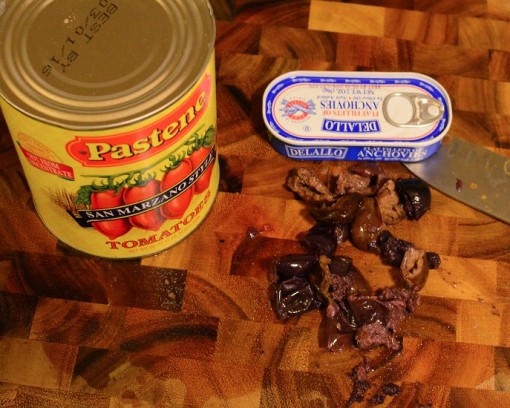 Put Olive oil into a pan on medium heat, and add the anchovies.  Olive oil can burn pretty easily, so don't crank the flame.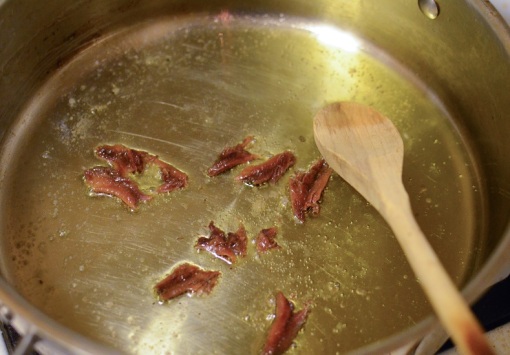 Bust them up with your wooden spoon.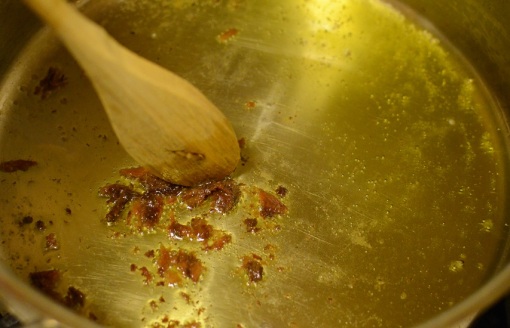 Mush into the pan, until they dissolve into the olive oil.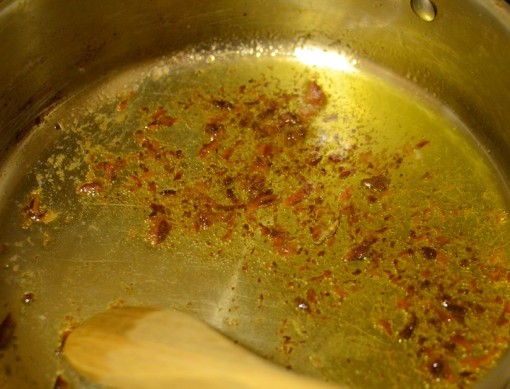 After this you put in your garlic, and hot pepper flake.  Cook for about 30 seconds.  Saute the olives for another minute.  Then toss everything into the pan, and braise for 45 minutes.  The end result should have the consistency of pasta sauce.  If it does not, simply cook uncovered until you get the thickness you want.  Dump it over pasta, and chow down.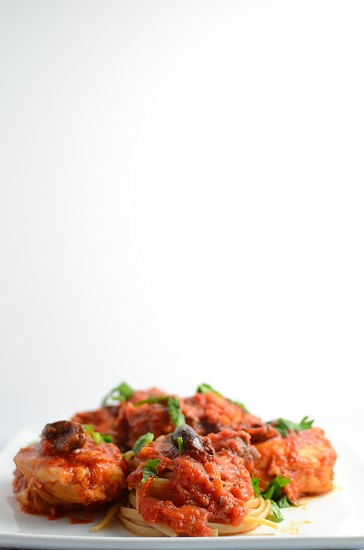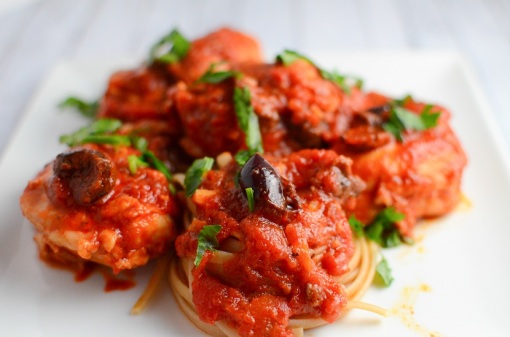 Ingredients
1 2 Pound Can of Tomatoes Crushed or Whole San Marzano Preferred
1 Pound Chicken Thighs
1/4 Pound Linguine
4 Fillets of Anchovies
10 Olives
1 Tablespoon Minced Garlic
2 Tablespoons Extra Virgin Olive OIl
Italian Flat Leaf Parsley For Garnish
1 Teaspoon of Red Pepper Flake (I used fermented habeneros)
Instructions
Put olive oil into frying pan on medium heat
Place anchovies into oil, mash until dissolved 3-5 minutes
Add garlic cook for 30 seconds or until fragrant
Add olives and hot pepper cook for one minute
Put tomatoes in and crush by hand if using whole
Place chicken in pan, stir
Bring to boil, reduce to simmer
Cover and cook for 45 minutes, sauce should have the consistency of pasta sauce, if too thin cook on medium heat until desired thickness is reached
Garnish with parsley
Serve over pasta
http://foodefile.com/2014/12/chicken-puttanesca/