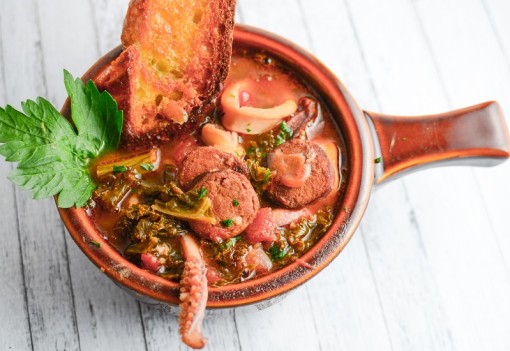 Portuguese stew reminds me that it's winter and I better not leave my house.  Unfortunately, I end up having to go out into the desolate wasteland that is Boston, but in the back of my mind, I know that Portuguese stew waits for me at home. I somehow persevere.  This recipe has all the heavy hitters of a good seafood stew: smoked sausage, beans, leafy greens, seafood, and homemade stock.  Stock recipe can be found here http://foodefile.com/2014/12/fish-stock/ .  I know I sound like a broken record by now, buuuuut, make your own stock, it's worth it, moving on (said in Colbert voice).
There is a huge population of Portuguese in New England, so stew recipes inevitably float around.  I have trouble with authority and following instructions, so of course I need to put my own twist on it. One thing remains a constant – kale and linguica, the most deadly weapon in Portuguese cooks arsenal.   I can't hate on that, both are freakin awesome.  Plus if I toss kale in my recipes, then the hipster part of town will let me into their speakeasies.  Though, I'm not entirely sure I will wear the clear glasses or not.  Whatever it takes to drink from their mason jars, and I'm in.  Jokes aside, I do like drinking from a mason jar.
Are you scared of tentacles and creepy crawlies? Well tell someone who cares.  Kidding!  If you don't like (scared of) squid you can sub out some haddock, cod, shrimp or whatever seafood tickles your fancy.  But, it really goes well with this dish, especially since the stew ummm stews for a while.  Let me take a wild guess, you like fried calamari?  How about I call this calamari, and you try it?  The flavor of squid cooked correctly is actually very mild compared to a lot of other seafood.  I'd say salmon has more flavor, but it seems to get pretty good press, probably due to lack of tentacles.  Close your eyes, hack up some danglies, and put it in the stew!  Fine, still not convinced, use some shrimp, yawn.  I'm totally judging you right now (kidding, not really).
Start by adding the olive oil and linguica into your soup pot and begin rendering some of the fat.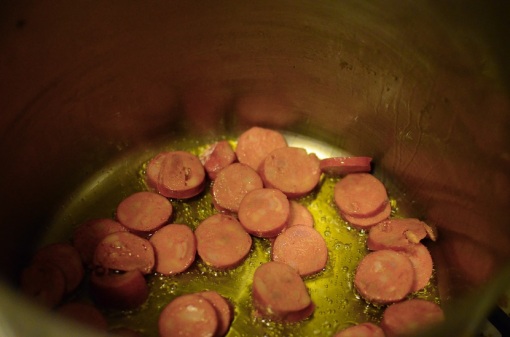 Try to get a little color on the sausage, it brings out the flavor.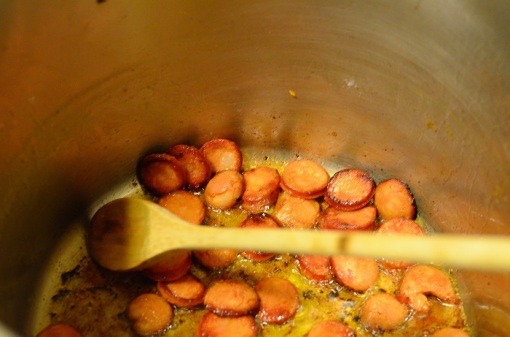 Toss the tentacle laden cephalopods in.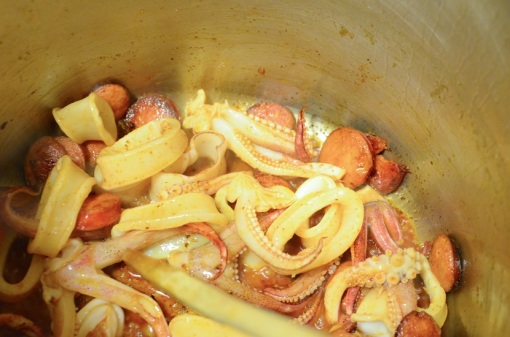 Saute the squid in the linguica for a few minutes
Add garlic, kale, cayenne pepper, and white wine.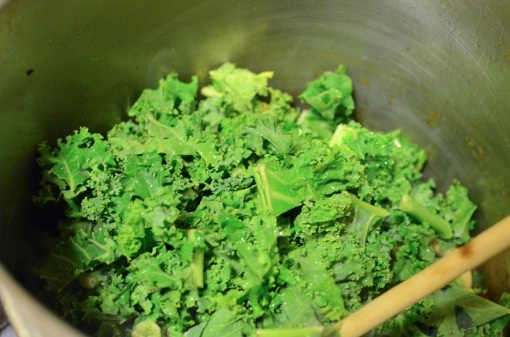 Reduce wine by half and then add tomatoes.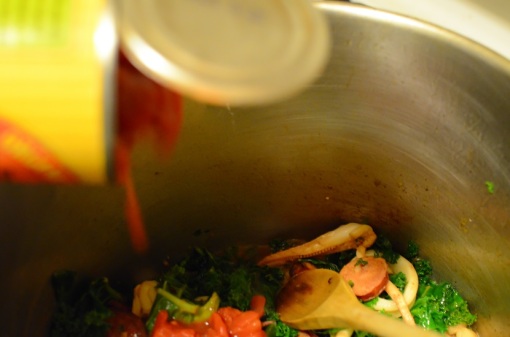 Next add the beans and stir everything together.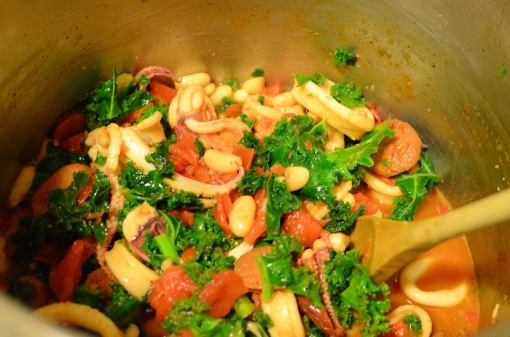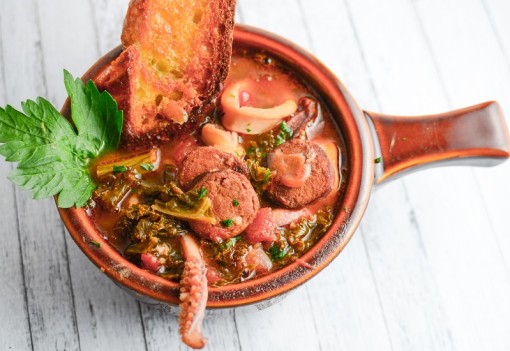 Add the stock, bring to a boil, reduce to a simmer and cook for an hour.  The stew is done when the squid and kale are very tender.  You should be able to cut the squid with a fork.  Season with salt and pepper, garnish with parsley and eat with crusty bread or a home made crouton.  Enjoy and stay warm!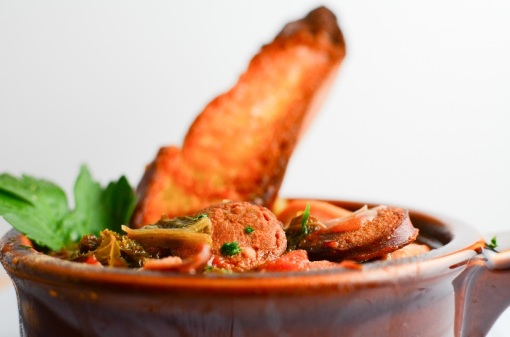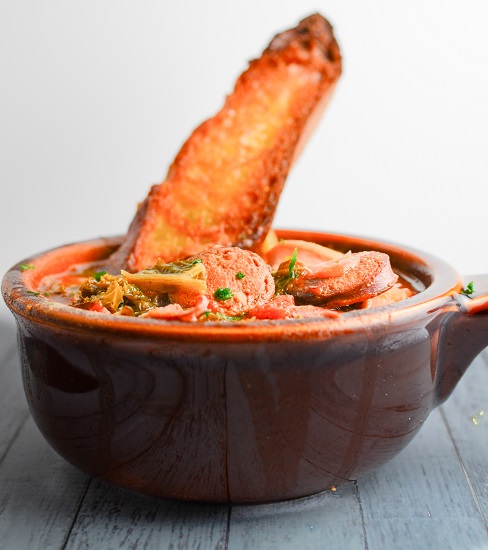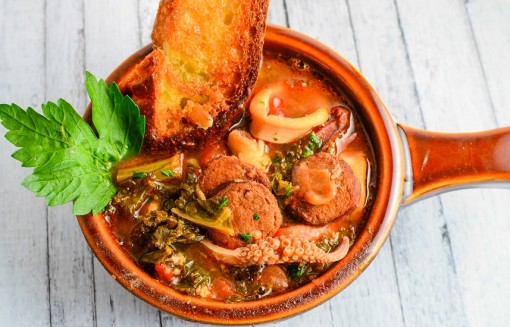 Ingredients
1 1/2 Quarts of Fish Stock (recipe for stock can be found http://foodefile.com/2014/12/fish-stock/)
1 Two Pound Can of Tomatoes
1 Can of White Beans
1LB Squid
1 Eight Inch Section of Linguica Cut into 1/8" rounds (if you can't find linguica and smoked sausage will do ie. andouille, chorizo, kielbasa, etc)
2 Cups Kale Roughly Chopped
1/4 Cup White Wine
1 Teaspoon Minced Garlic
1/4 Teaspoon Ground Cayenne Pepper
1 Tablespoon Olive Oil
Italian Flat leaf Parsley for Garnish
Instructions
Put olive oil and sausage into pot at a medium heat
Render some fat from the sausage and brown. Just looking to render a little fat, don't make them dry
Add squid, saute with sausage for 5 minutes
Make a well in the center and add garlic, cook for 30 seconds or until fragrant
Add kale and stir
Deglaze pot with wine and reduce by half
Add beans, tomatoes and stock
Bring to a boil, reduce to simmer, cover and cook for one hour
Stew is done when the kale and squid are extremely tender
Season with salt and pepper, garnish with parsley.
http://foodefile.com/2014/12/portuguese-seafood-stew/