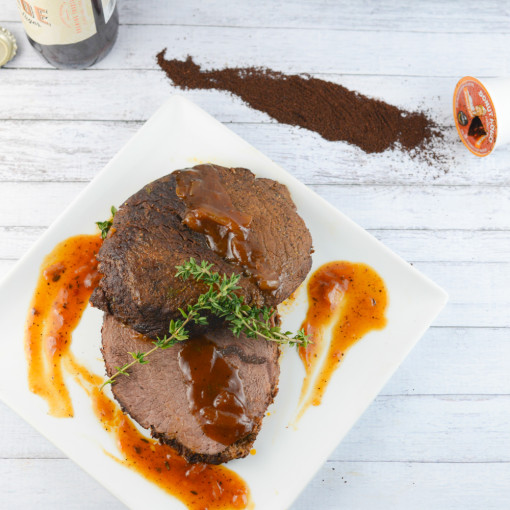 I hate to sound like a broken record but it's cold as hell out there. 19 degrees when I walked my dog this morning. Because of this I have been eating a ton of comfort food: braises, stews, soups, and other belly warming fare. After a long day of shuffling in and out of the cold nothing beats a big bowl of joy, or in this case meat.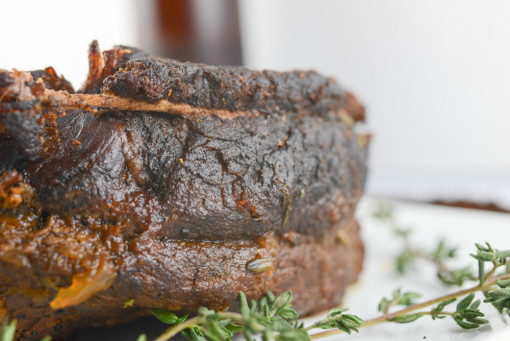 The meat du jour aka chuck roast was kind of an impulse buy at the farmers market.  Winter farmers markets are not as good as their summer cohorts, but still, good wares to be had. I'm obsessed with beets, parsnips, greens and squashes, all of which can be bought at a winters farmers market. I just found one fairly close to my house, that as the wise snoop dog would say, is the shiznit. How didn't I know about this place? Lots of cool veggies, meat and seafood.
As great as my new farmers market is, there are snakes in the grass . Never assume anything, or trust a hippy. For example I bought an "organic pasture raised" pork chop from a random vendor and smoked bacon. Everything they had was organic in the signage, so me being the colossal dumb ass that I am, didn't read the package of bacon. For one, it was smoke flavoring added, and two it had nitrates. These hippies duped me. I'm not on a 100% organic diet, but I'd like to be, and I certainly try to get bacon with the least amount of crap added to it. Swindled by a farmers market hippy, pay attention Bueller. This actually has nothing to do with my blog post since there is no bacon in it. But I forgot to mention it in my braised turkey leg post, you can't let these things stew (see what I did there) or it will keep you up at night.
Now that I got that off my chest (phew) lets talk braised chuck roast. The chuck roast is the best pot roast vessel, but it has many different uses than the classic roast of pots. This recipe is packed with flavor and an amazing crust that comes from a rub that I concocted. When I bought the chuckster, I was planning on going a bourbon Asian route. Alas, those plans were squashed when I got Chinese the night before. A man can only pump so much sodium into his heart before it explodes. Then I thought about a classic pot roast, but I've done that a million times and wanted to up the ante. Thus was born my new favorite rub. Mental note to self, organize your spices you idiot. I am a bit disorganized by nature, and my spices are kept in this big ass paper bag on my counter with littler bags inside of it. I will conquer this cluster (you know what) of spices. My burger/steak seasoning is 50/50 ancho or new mexico chili powder and coriander powder. Sometimes I will cut in other flavors but that is pretty much the way it starts out. For this rub I figured I'd start there. I changed it to 3 parts new mexico chili powder, 3 parts coriander powder, 1 part cumin powder and a guest appearance from 3 parts ground coffee. I ghettofied the coffee part by busting open a decaf k-cup and using that. Don't judge, it worked.
Rub your meat liberally don't be a cheapskate.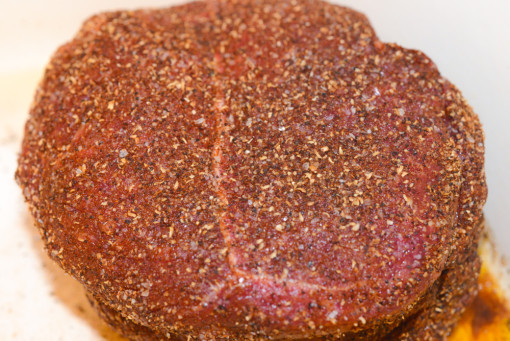 Take the time to sear it properly, this will pay off in the end.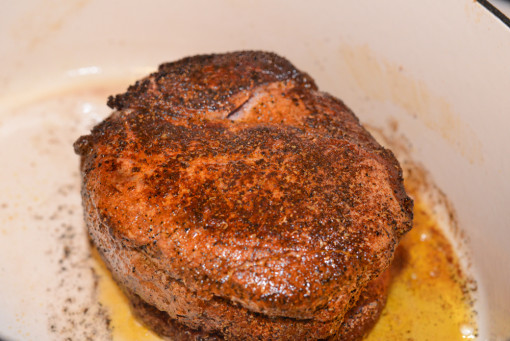 When you sear it well it will turn into this-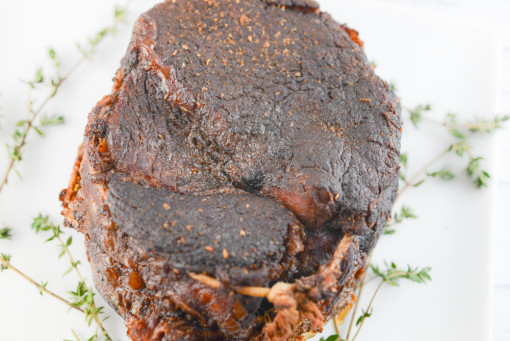 Anyway, you have got to try this recipe, it will blow your mind per the norm.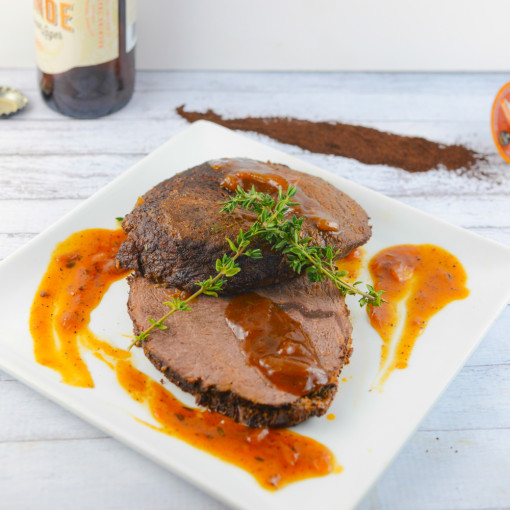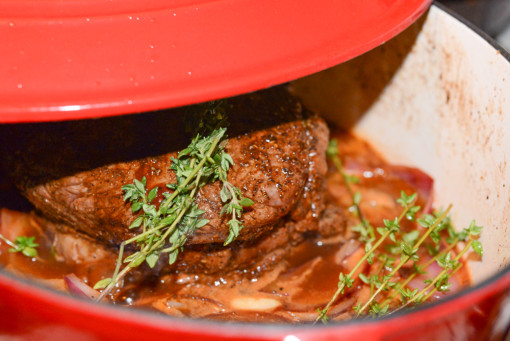 Ingredients
For the Rub:
2 Tablespoons Coffee
2 Tablespoons Ancho or New Mexico Chili Powder
2 Tablespoons Ground Coriander
1 Teaspoon Cumin
1 Teaspoon Dried Thyme
1 Teaspoon Dried Oregano
For the Roast:
3-4 LB Chuck Roast
6 oz. of Flavorful Beer I Used Longtrail Limbo IPA
2 Cups Plus 1 1/2 Tablespoons Beef Stock
1/4 Cup Ketchup
1 1/2 Tablespoons of Honey or Brown Sugar
1/4 Teaspoon Ground Cayenne Pepper (optional)
1 1/2 Tablespoons White or Apple Cider Vinegar
1 Tablespoon Worcestershire Sauce
10 Sprigs of Fresh Thyme
1 Onion Roughly Chopped
1 Tablespoon High Heat Oil Grape Seed Preferred
1 1/2 Tablespoons of Cornstarch
Instructions
Combine all rub ingredients together
Liberally rub roast with salt and pepper, and then very liberally apply rub
In a oven proof dutch oven or large pot heat oil on high heat until it shimmers
Sear all sides of roast until brown and there is a nice crust
Remove roast and set aside
Preheat oven to 300F
Cook onion till softened about 3 or 4 minutes
Deglaze with beer, cook just enough to cook out the alcohol ***
Add remaining ingredients except for the corn starch and 1 1/2 tablespoons of stock
Bring to a boil, reduce to simmer, cover and put in oven for 3 hours
Remove roast from the sauce
Put pot on a stove top and bring to a boil
In a separate bowl stir corn starch and stock together until a smooth slurry is formed
Add half the slurry to the sauce until the constancy is that of bbq sauce. If you would like it thicker add more slurry. If the sauce still isn't thick enough make another slurry and repeat
Cut roast against the grain, serve with sauce and garnish with fresh thyme
http://foodefile.com/2015/01/bbq-braised-pot-roast/