Blackened fish, oh how I love thee.  Blackened fish could never let me down.  If you have ever burnt anything then this recipe is for you.  If burning your fish is wrong, I don't want to be right.  Ok so you're not actually burning the fish, you're blackening the spice mixture.  Potato, tomato, or something like that.  Bluefish is one of my favorite fish, which coincidentally happens to be the fish I catch the most of.  It is with heavy heart that I must come clean – I bought this fillet at the fish store.  In the summer I have a strict policy that no bluefish or striped bass shall meet the vengeance of my debit card.  Needless to say, I can kind of let it slide in the winter and there are no restrictions on what fish I buy.  Basically guilt free, but not 100%.  When you're a Jew, there's always some kind of guilt lurking around the corner.
Blackened bluefish with a brown butter lemon caper sauce is my all time favorite fish recipe – of all time – in the history of time – of me cooking fish.  But, I just made a brown butter caper recipe with halibut a month or two ago, so I decided to use my second favorite recipe.  Aint nothin' wrong with silver yall.  A wise man once told me, "If you aint first. your last".  That guy was a drunk idiot on TV, so I don't take a ton of stock in that malarkey.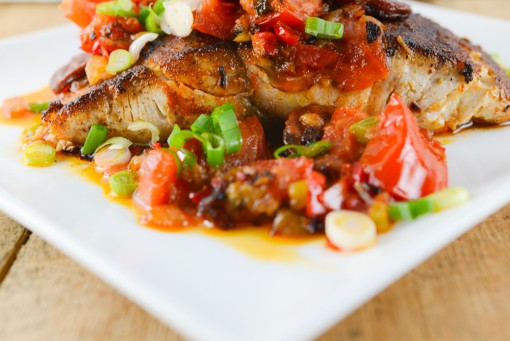 Anyone that has ever eaten my cooking knows that I adore mixing various sausage with seafood (I'm sure there is a dirty joke in there somewhere).  Chorizo or Andouille and tomato go insanely well with seafood.  Hence why they are both in the recipe.  This recipe is a bastardization of jambalaya, minus the carbs.  Either way, I'm a fan, and when summer hits I'm going to be cooking a ton of bluefish this way.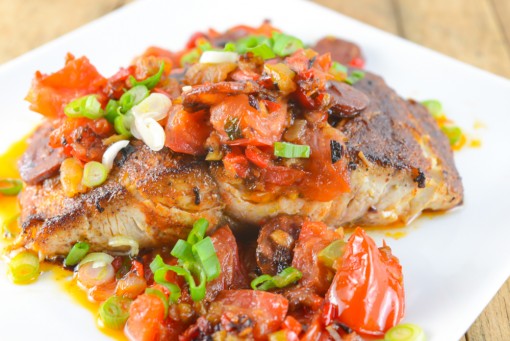 Use a cast iron skillet that is larger than you need for the fish.  Cook the fish on one side and the smoked sausage/veggies on the other.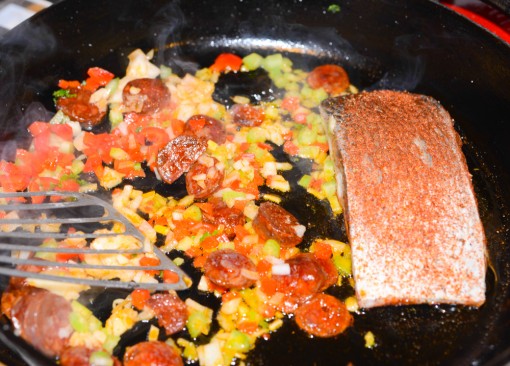 When you flip the fish the skin may curl, push down a bit on it to keep it flat.  Not too hard!  If it is a thin fillet you may want to score the skin to prevent curling. After the flip smother the fish in the tomatoes and stir them for a sec and then put everything on top of the fillet until cooking time is complete.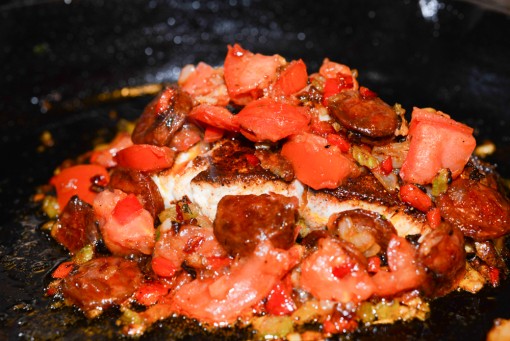 Hopefully you try it, and it becomes your second favorite fish recipe.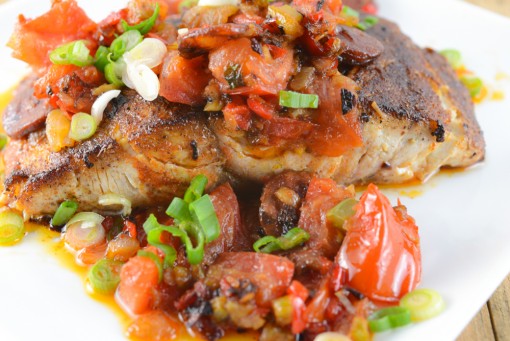 Ingredients
1 lb Bluefish*
1 8" piece of Smoked Sausage *
1 Medium Tomato Diced
1 Ttbs of Diced Celery
1 Ttbs of Diced Bell Pepper
1 Ttbs of Diced Onion
1 Clove Garlic Minced
2 Tbs Cajun Rub Found Here http://foodefile.com/2014/10/blackened-chicken-tips/
Instructions
Apply salt liberally to fish before rub, then put on rub and cracked black pepper
Using an over-sized cast iron skillet twice the size of the fillets put a tablespoon of high heat cooking oil in, when a faint wisp of smoke shows put fillet flesh side down
Blacken for two minutes, reduce the heat and add every ingredient except for tomatoes
Depending on the thickness cook half way to done
Turn up the heat and cook for 2 minutes on the skin side, pushing down on the fillet slightly to prevent curling *
Add tomatoes to pan and stir fry among the other veggies for 1 minute
Take all the tomatoes, veggies, and smoked sausage and smother the fish in it, turn off the heat and finish cooking the fish slowly
ENJOY!
Notes

If you can't get bluefish any flavorful seafood will do. This is a very assertive recipe so you need fish that can hold up to it Narrow fillets will need scoring to prevent curling Any smoked sausage is fine, I used chorizo, andouille, kielbasa, or whatever you can find will work

http://foodefile.com/2015/02/black-and-bluefish/