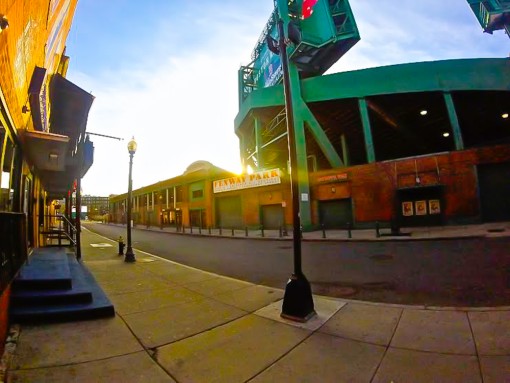 Skip the Lines: Where to Eat Before a Red Sox Game
By
Gabrielle Balestrier
I'll be the first person to admit that ballpark food – particularly that of the Fenway variety – can be incredibly delicious. Hot dogs, sausage sandwiches, popcorn, soft serve, beer, peanuts, and cracker jacks; are all part of the tasty, occasion appropriate and, albeit unhealthy ballpark cuisine. Feasting on baseball eats is a relevant part to the Fenway experience, that every baseball fan should have at some point in their life. Overindulging on Fenway Franks is not the only option for an afternoon with the Red Sox. If you're someone who goes to the park frequently, dining on sausage and beer several nights a week isn't a sound health decision. Even those fans who rarely get to go might not want to spend valuable baseball-watching time standing in line at a busy concession stands. Depending on where you sit, getting a beers could take more than an inning. And then there are the people who prefer a different, more substantial kind of cuisine, consider me one of them.
For all of these people, I say fear not, because the surrounding Fenway area is littered with high-quality restaurants, ready and willing to welcome baseball fans with open arms. There are a handful of establishments, all within chewing tobacco spitting distance, that offer up a variety of cuisines on game night. The next time you have Red Sox tickets, consider these restaurants for your pre or post game meal!
1. Island Creek Oyster Bar [0.3 miles from Fenway]: 500 Commonwealth Ave. Boston MA 02215 617-532-5300 http://islandcreekoysterbar.com
This seafood paradise is a foodie's dream. Ranking right up there with Neptune Oyster Bar in the North End for fish, shellfish and, obviously, oysters, there's a reason it's always packed. In other words, if it's seafood you want, then look no further. Island Creek has an impressive raw bar; due to the fact that it's co-owner runs an oyster farm in one of the oyster capitals of the world – Duxbury, MA. Just the excuse you need to overindulge on the half shell. Not surprisingly, the rest of their fish entrees are equally delicious. Try their fluke or cod to go with the oysters, you won't be disappointed.  And, while it might not be beer, the restaurant still offers a great alcohol selection. They have made a name for themselves with their wine and cocktails, so you can still get a buzz before the game. Remember though, if Island Creek Oyster Bar is your restaurant of choice, make a reservation or give yourself plenty of time before the game starts. This popular restaurant almost always has a wait.
2. Amsterdam Falafelshop [0.3 miles from Fenway] 642 Beacon St. Boston MA 02215 857-317-2742 http://falafelshop.com:
The good news about this new Kenmore restaurant (and there is a lot of good news) is that it's a quick serve environment. If you're looking for something fast before or after the game, this is the place. They don't serve alcohol, but the franchise is already making waves with its excellent falafel-centric, Mediterranean dishes. Their falafel is perfectly crispy on the outside and not at all dry on the inside. These falafel balls go perfectly with the myriad of toppings they offer, including hummus, baba ghanoush, pickled vegetables, Mediterranean salads, and tahini. If those aren't enough reasons to give this place a shot, they pride themselves on having healthy options so you won't sit in the stands feeling stuffed, and can save room for the important stuff – beer and ice cream.
3. Sweet Cheeks Q [0.3 miles from Fenway] Fenway Triangle Trilogy 1381 Boylston St. Boston MA 02215 http://sweetcheeksq.com:
You may know that part of this restaurant's fame comes from the fact that chef/owner Tiffani Faison participated in Bravo's Top Chef. What you probably didn't know, is that she is committed to using all natural and responsibly sourced meat. Not only does that speak to the character of the establishment, but it also provides for delicious, mouth-watering meals. Sweet Cheeks Q brings southern comfort foods all the way up to Eastern New England. Combine the juicy pulled pork, chicken, brisket and so on with rich, traditional sides, and you have a perfect southern meal. What's also perfect is that eating at Sweet Cheeks Q will transport you to summer BBQs, picnics, and freshly mowed grass; all of which go swimmingly with baseball.
4.The Citizen Public House and Oyster Bar [0.2 miles from Fenway] 1310 Boylston St. Boston MA 02215 617-450-9000 http://citizenpub.com :
If you just can't decide on what kind of cuisine you are in the mood for – small plates, seafood or meat – then The Citizen Public House might be the right option for you. It's hard not to find a satisfying meal or snack at this restaurant, with it's exquisite raw bar, excellent starters, and unique main dishes. They add an interesting spin to a number of favorites, like with their spicy fried pickles, or their bourbon BBQ pork tacos. They deliver on the alcohol front big time, with a number of quality craft local beers on tap, and an awesome selection of whiskey. In other words, you can't miss if you go with Citizen Public House for your game day meal.
5. Mei Mei [0.4 miles from Fenway] 506 Park Drive Boston MA 02215 857-250-4959 http://meimeiboston.com :
Another Fenway restaurant that makes locally sourced ingredients a priority, Mei Mei creates and produces some of the highest quality meals around. In just their second year as a brick-and-mortar, this food truck turned restaurant has successfully conquered the world of Chinese-American Cuisine. They make their plates to-share, so it's a perfect spot to bring a group of ravenous baseball dwellers.  You and your friends can feast on a host of creative dishes, like honey walnut shrimp and grits, porky mac and cheese, and springtime green curry. And they love accommodating visitors in and out of the kitchen, too. Their friendly staff will send you to the ballpark happy, full and ready for some baseball.
By
Gabrielle Balestrier – Contributor
When Gabrielle is not working for Boston-based start-up, Learnivore.com, she is pursuing many passions. She loves both watching and playing sports, especially soccer and running. Additionally, she spent a year as a line cook, and still enjoys cooking, baking and nutrition. She is also a passionate writer, avid reader, outdoor enthusiast, and travel junkie!