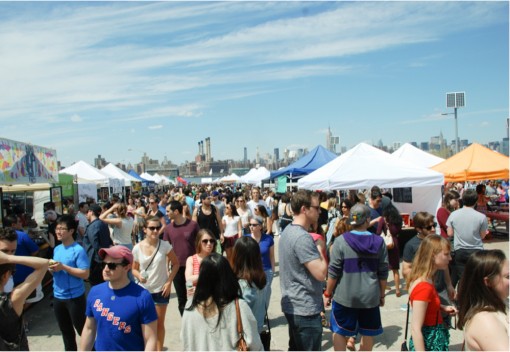 By
Nick Byrne
Smorgasburg: The food equivalent to Willy Wonka's Chocolate Factory. A wonderful, infinite food abyss, something only Harold and Kumar could have dreamt up. A pregnant woman's paradise if you will. It's an array of vast food possibilities, countless cuisines, deserts, and more – a gastronomical galaxy. Let me guide you through this magical place, bite by bite, into one of the most epic food crawls known to man.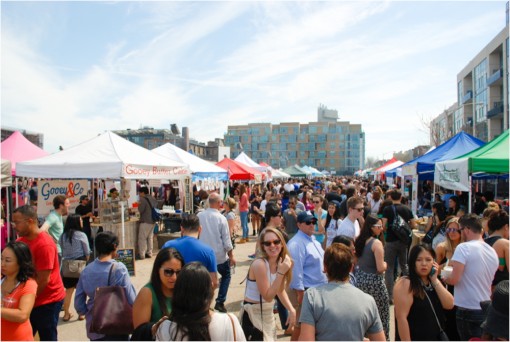 As of April 4th Smorgasburg has re-opened its delicious doors to New York City. For those of you who are unfamiliar, Smorgasburg is a food bazaar composed of over 100 different vendors from the NYC area and across the region. A combination of cuisines, all set up in conveniently placed booths making it as easy as taking two steps to go from Thai to Mexican – creating one of the most eclectic groups of purveyors I have ever seen. The epic buffet is hosted on Saturdays at the East River State Park (Kent Ave. and N. 7 St.) – on the Williamsburg waterfront; and on Sundays at Brooklyn Bridge Park's Pier 5. Both locations are open from 11am to 6pm. The markets are open rain or shine.
As a young man who suffers from Agoraphobia (fear of public places) with the combination of acute social anxiety disorder, I would usually steer clear of anything remotely close to Smorgasburg – due to the condolence of massive crowds. However, I couldn't let that stand in my way because for as much as I hate hungry herds of people, I love food just a little bit more. As I nervously sat in the back seat of my cab I began to tense up. Trepidation accumulated as the driver neared closer to my drop off point, Kent Avenue and N. 7th street. Just beyond the outskirts of the venue I could see the food zombies descending from the ferry. Manhattanites, brave enough to cross the river, billowing in. Just as quickly as I tipped my driver I questioned why I was there. But then my nose caught a quick scent of something freshly grilled, some type of beef perhaps, and I had my answer: I'm here for food.
I got out of the cab and the warm 75-degree spring sun welcomed my body. Smorgasburg is known to be a bit of a free for all; so I arrived around 12:30, the calm before the storm. There was no rhyme to my reason; I wanted a little taste of every type of cuisine offered. With just about 100 vendors to seduce me, I had to be prudish, yet also adventurous.
I started off with Thai, because why the hell not? Queen Cobra Thai to be exact. One of their specials was Roti Mataba: Thai style roti bread , stuffed with chicken, onion, potatoes and chopped jalapeno mixed in with a Thai curry paste – served with sweet cucumber relish on the side. $ 7.00 of deliciousness.
Personally speaking, Thai can be hit or miss for me; but this was a big hit. Each ingredient was fried together perfectly and the cucumber relish served as a perfect aftertaste nosh.
I immediately wanted something sweet to compliment the savory roti, which was an easy task in the Smorgasburg. I promenaded over to Gooey & Co. for a Gooey Butter Cake. Two layers of cake and custard baked together to form a crispy top and bottom that encased a gooey middle filling.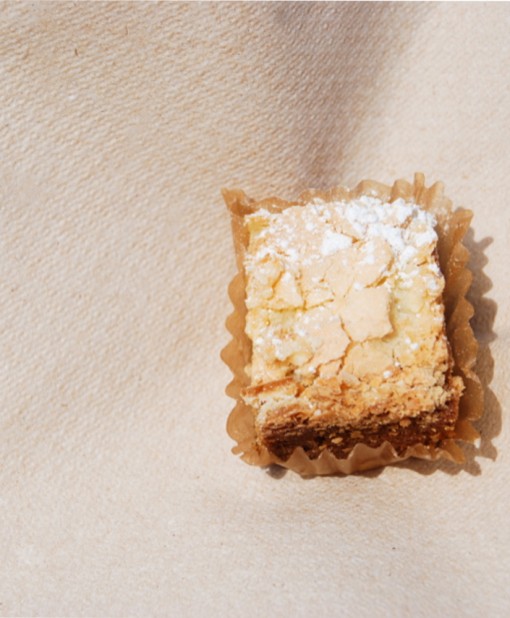 Made from scratch with organic and all natural farmers market goods, the $2.00 treat was succinct and delicious. Suddenly my anxieties had left me; a desire to stuff my face grew stronger and had overcompensated for any apprehensions.
Up next for my pallet was a simple, classic dish – fish and chips. Having most recently enjoyed fish and chips in London, I was in need of a little English nostalgia. Handsome Hank's had fish sandwiches that looked sensational. Although I expected a battered cod, Handsome Hank's used whiting fish, a fish I've never tried before. Similar in texture, I couldn't help but to notice that the taste was not up to par. The bread was thick and fresh, but perhaps a little too thick for the thinly sliced whiting. Their coleslaw was a delicious side and when spread on top of the sandwich made for a decent American version of the English classic.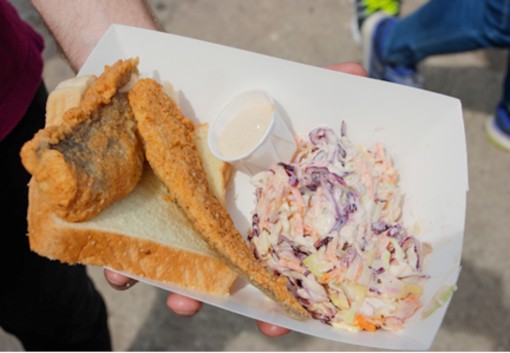 I also appreciated the three cow-like utter sauce dispensers they had on hand (cocktail, tarter and ketchup.) Sauces and dips are my guilty pleasure and to have them readily accessible is always a huge compliment to any meal.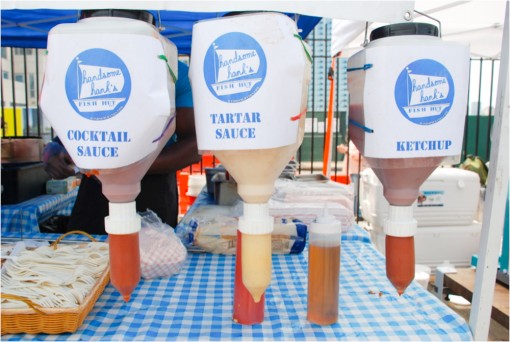 Sandwiches have always been a favorite food of mine, which created an easy segue to Cemitas, a Mexican sandwich shop. I love Mexican and I love sandwiches, so this one had my mouth all over it. A Cemita consists of the following: bun, chipotle sauces, papalo (a Mexican herb), avocado, cheese, pickled onion, tomato, lettuce, meat, mayo, a black bean spread and bun.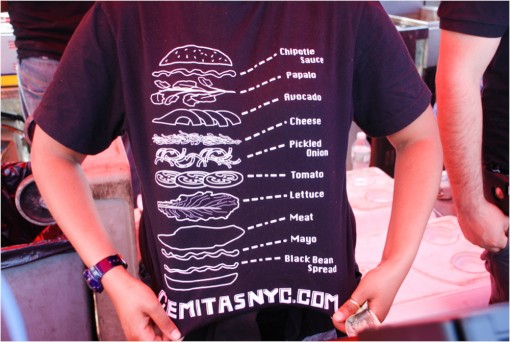 My meat choice was fried chicken and damn, was it good – a hearty sandwich and filling to say the least – only $9.00. I knew I had to pace myself and eating this entire, monster of a sandwich was going to due me in.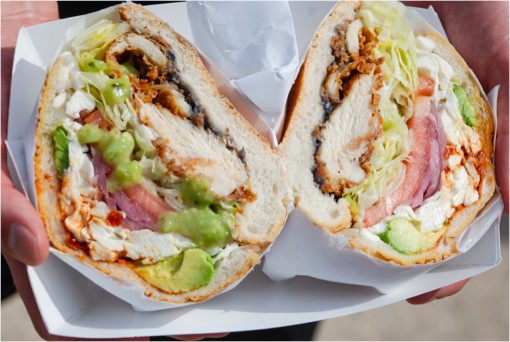 Just as I was contemplating on digging into the second half a passerby commented to his friends how delicious and awesome it looked. Rather than stuff myself into a state of food comatose or participate in the unfathomable garbage-toss, I decided to offer the other half to the stranger. He accepted it whole-heartedly and a look of exultation washed over his face.
After that good deed and great sandwich I decided it was time for another treat. I found myself at Alchemy Creamery. An ice cream shop where all products served are dairy-free, gluten-free and vegan. The three flavors they had on tap were: Strawberries & Cream, Citrus Chamomile, and Chocolate Coconut. They were served in a "kone," cup, push-pop or vortex (where any topping you requested was mixed in.) Each "kone" had its own flavor as well: Chocolate Hazelnut, Cinnamon Brown Sugar and Toasted Coconut.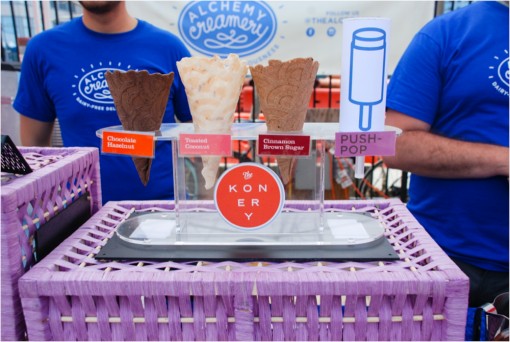 The base of the "ice cream" is a blend of almonds, cashew, coconut and hazelnut – so if you have any type of dietary restriction against ice cream, this is a viable option. Look out if you have any type of nut allergy, you may will die. I felt like reverting back into childhood for a moment so I ordered the Strawberries & Cream push-pop because the last time I had a push-pop it was "Cool Cream" flavored and served in a Flintstone's Push-Up and I was 8. Although not exactly the same, how could it be, this was a tasty alternative to ice cream. Guilt free, yes, just as good as the real thing? Never. But if you have dietary restrictions, I would suggest this option for sure – $5.00.
As the crowd started to grow since my arrival I knew it was now or never before I went to embark upon the main attraction: The Ramen Burger. I had been hearing about The Ramen Burger for over a year and I knew it would be a magnet to foodies of all shapes and sizes. I waited 15 minutes, which wasn't as unbearable as I predicted, to order my FIRST Ramen Burger. The burger consisted of a fresh USDA Prime ground beef patty, which was then sandwiched between two skillfully, formed buns.

The unique aspect of this burger is that the buns are made from freshly cut ramen noodles, accompanied by a special shoyu glaze (type of soy sauce), and market fresh vegetables. There's something about grilled ramen, which goes so well with fresh Angus beef. A world without such an option would be like a world with out peanut butter and jelly, which prompts the question: what kind of Ramen Burger-less world have we all been living in? The concoction of the juice that came from the grilled ramen, the juice from the Angus beef and the special shoyu glaze created one of the most delicious tastes my mouth had ever had the pleasure upon meeting. It was a beautiful brew of all the right things, without the immediate bloat of a regular burger bun. As I finished my last bite I turned around to notice that the line I once stood on had almost tripled, and that to made it all the more delicious. I ordered mine with cheese of course, $10.00.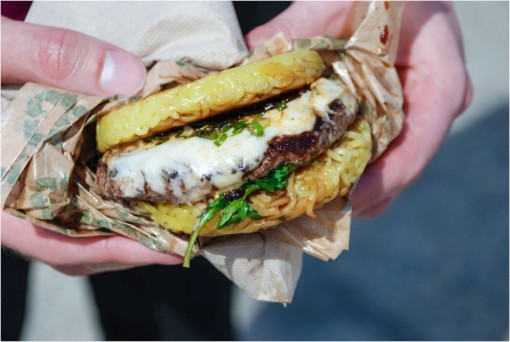 From that point on the stakes were higher than ever and I had room for just a little bit more. I wanted to try as many cuisines that I could possibly handle which led me to the Puerto Rican dish Mofongo. The anatomy of Mofongo is meat (in this case chicken), cilantro, pork cracklings, plantains and bell peppers. Its all served in a shell that is the result of plantains, garlic, and adobo spices smashed together with a motor and pestle to form a bowl shape. I had the option of choosing Creole veggies or Creole chicken as my filling and I went with the chicken route, which consisted of: a sofrito base, tomato sauce, bell peppers, cilantro, onions and pork cracklings -$10.00. It was pretty good; I always enjoy being able to eat whatever my dish is served in. It highlighted all of my favorite aspects of Caribbean cuisine, all of which balanced each other out to form a flavorful stew.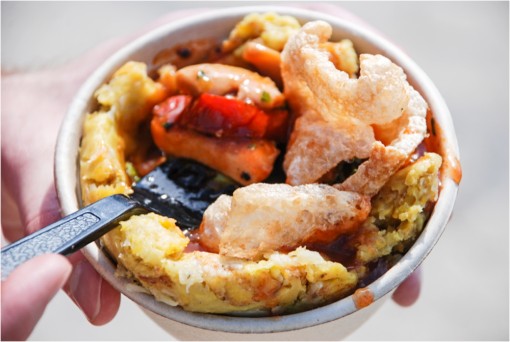 As I finished yet another course I realized 12:30 quickly turned into 2:30 and as the 2nd hour came to a close I took another look around at all there was to be offered: everything from cookies, to sweet tea, barbequed ribs, burritos, ice cream sandwiches, fresh mozzarella, oysters, lobster rolls, Bolivian cuisine, sausages – however, with all of those options, I knew there was only one thing left for me – a beverage. Between the ensembles of food that I had consumed and increasingly warm sun, I knew my journey was coming to an end. Amongst the variety of yet to be devoured food options I also noticed that the once crowded arena had turned into a bit of a feverish frenzy. Lines became infinite and labyrinth like, almost indecipherable from where they started and where they finished.
I felt like I reached my limit just in time to grab lemonade and a bite of a doughnut while trying my best to avoid the serpentine of chaos that was beginning to ensue.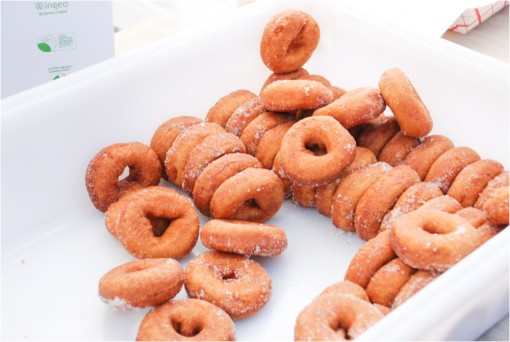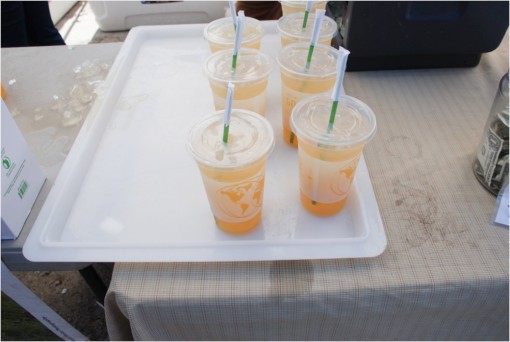 I sought temporary refuge at Vermont Maple Lemonade stand. Nothing caps you off like fresh squeezed lemonade with maple syrup. For $5.00 I received my mini powdered butter doughnut and lemonade and finally reached my point of being stuffed contention. I also felt like my day had finally reached a culmination and it was best to leave while I could still walk. I was extremely satisfied with the assortment of food that I feasted upon, and can't wait to go back to try the rest of what Smorgasburg has to offer – my eye is on the lobster roll.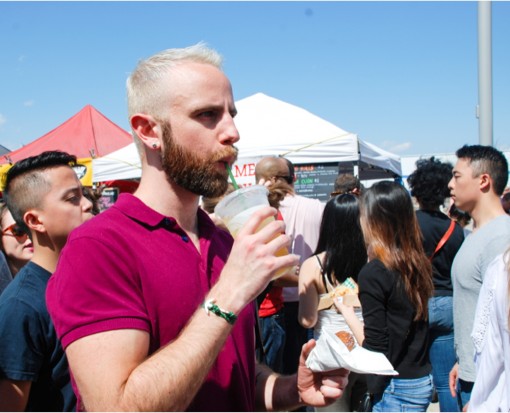 Nick Byrne
Instagram @nicholasjulianb
Nick resides in Brooklyn, New York. He is an avid writer and an enthusiastic foodie.