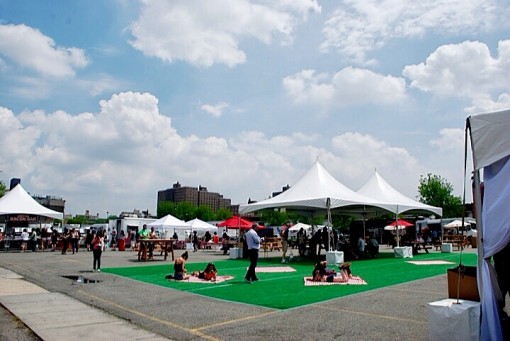 By
Nick Byrne
I like bacon and I like picnics, so this week's food excursion seemed like a no brainer.  Williamsburg gave home to The Great Big Bacon Picnic, which was held at the Old Pfizer Factory (Brooklyn, New York.) Unfortunately, the event was only being held on May 16th and May 17th; so the second best option is to try and eat vicariously through this blog until next year. Session dates and times were: Saturday afternoon 12:00pm – 2:30pm with VIP access from 11:00am, Saturday night 6:30pm – 9:00pm with VIP access from 5:30pm, and finally, Sunday afternoon 1:00pm – 3:30pm with VIP access from 12:00pm. I decided on Sunday from 1:00pm – 3:30pm, no VIP access needed for this simpleton (general admission was priced at $99 a ticket and $249 for VIP.)  I presumed that an event that caters to everything bacon would have been created by Park's and Recreation's Ron Swanson, however I stood corrected. Although many of the men there may have resembled Mr. Swanson, the event was actually created by Craig and Lon Taylor, two brothers with a mutual fixation with bacon.
Upon first entering I was greeted by animal rights activists/protestors/extreme vegetarian enthusiasts wearing pig masks. One man was in a pig ensemble from head to toe, tail and all, and was lying down on what I can only presume was supposed to represent some type of butcher table. He was doused in fake blood and squealing for help. This type of anarchy always pulls at my heartstrings – slightly. I hadn't even entered the arena and already I was faced with some type of societal ambiguity. Pigs are irrefutably cute, and I loved the movie Babe as a kid, but it seemed like all the bacon in there was already prepared, and I convinced myself that each pig had led a meaningful, fruitful, fun, free-ranged life.
The picnic was an indoor/outdoor event. Entering the outside of the venue was lackluster and disappointing at first, aside from the protestors of course. I got there around 1 o'clock, the time that they designated for us average non-VIP folk, and I couldn't help but to feel underwhelmed. Its one thing to find relief in a lack of a crowd, but it's another to find awkwardness in a baron environment – it was pretty quiet. Outside there were three food trucks set up, one Wild Turkey tour bus, a vodka stand and The Great Big Bacon Bar. It was evident that I was standing in the middle of a parking lot, surrounded by cars. "VIP" tents were set up to the right, and even that section seemed quite desolate. Us poor people were provided with a small area carpeted in a green astro turf and a little overhead shade provided by a large canopy. There were a few other wooden benches and tables throughout the parking lot.
The High & Mighty Brass Band played underneath the canopy, but it just didn't quite feel festive enough. In comparison to Smorgasburg this location seemed to fail, like a bad high school prom held in a gritty gymnasium – perhaps the protestors were on to something. I first sought out alcoholic refreshments, because if I was going to get my money's worth in my allotted 150-minute time frame, I was going to have to start drinking heavily.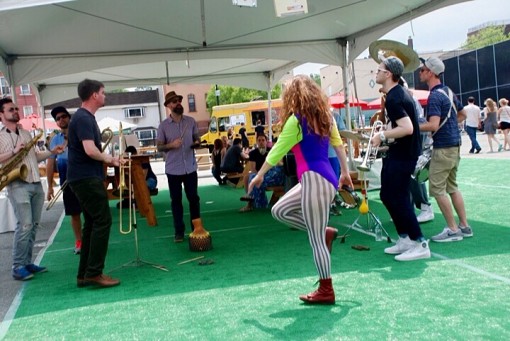 I sought alcoholic refuge at the Deep Eddy Vodka stand. I had never tried Deep Eddy Vodka, and it was delicious. The vodka is filtered over charcoal 6X, which creates a clean, smooth, and better-finished tasting vodka. It's also 10X distilled and comes in a variety of delicious flavors: Ruby Red, Sweet Tea, Lemonade and Cranberry. Most of the beverages were served with soda water, or you could just order it straight up. There was minimal nostril burn and zero gag reflex with drinking the vodka straight, which is extremely dangerous and yet also refreshing. Each flavor tasted delicious, especially for vodka.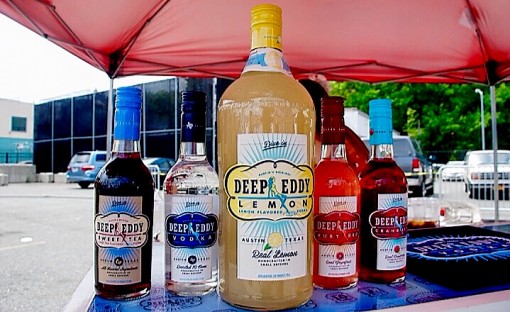 One drink turned into two, which turned into a quick drinking tutorial over at the Wild Turkey tour bus, which turned into the key ingredient in forgetting about the protestors and minimal crowd, and diverting my attention onto the bacon.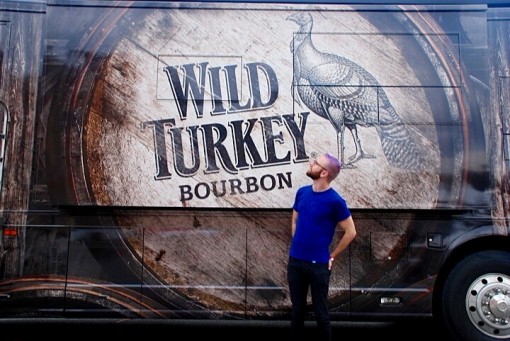 As I staggered down the steps of the tour bus I set my eyes upon The Great Big Bacon Bar. The crowd seemed to pick up slightly at this point and the band's music suddenly began to jive with me.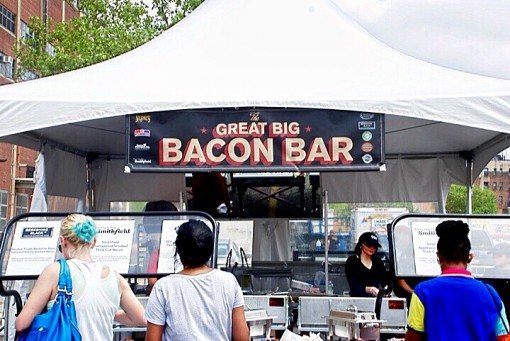 The Great Big Bacon Bar is the world's greatest, most innovative take on a breakfast buffet. Forget the eggs, pancakes, and fruit and just focus on the showpiece item, the bacon.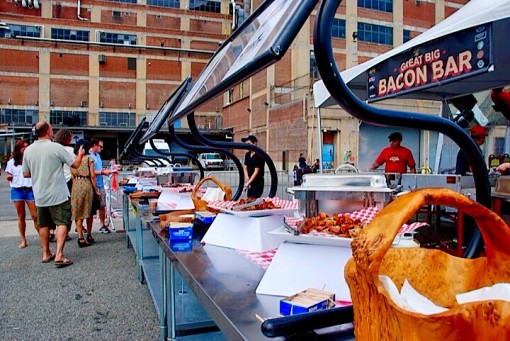 The bacon bar included a nice assortment of bacon options, including: Plumrose Premium Thick Cut Bacon, Nueske's Applewood Smoked Bacon, Smithfield Applewood Smoked Thick Cut Bacon, Peace, Love, and Good Food Black Pepper Bacon, Maple Bacon, Real Canadian Bacon Peameal Back Bacon, Smithfield Cherrywood Smoked Thick Cut Bacon and Berkshire Black Uncured Hickory Smoked Bacon. I'd have to say after trying a few bites of each type of bacon, I could confidently conclude that they all were delicious. However, one stood out in taste above the rest, the Smithfield Cherrywood Smoked Thick Cut Bacon. It surprised me; it wasn't as salty as it's predecessors, more of a sweet, maple taste. It was extremely good, and my mind immediately ran rampant with all of the different dishes I could make with it in the future. It was the perfect mix of sweet and smoky flavors.
Post bacon bar, I was ready to try some actual bacon dishes. The first outside truck I fell victim to was Big D's Grub Truck. They were offering bacon tempura with wasabi aioli sauce. I loved the idea of tempura-style fried bacon on a stick. However, I'm more of a medium-to-crispy bacon kind of guy, and this was just very fatty. I tried two pieces just to be sure I didn't get the short end of the stick (pun intended) but the second slice was just as fatty as the first. In retrospect this makes sense because how else would you get a stick through a slice of bacon unless it was thick and fatty? A tasty idea though, just not for me.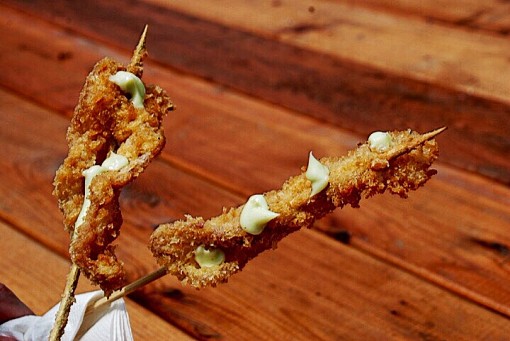 Secondly, I went over to Hard Times Sundaes and tried their bacon cheeseburger with caramelized onions. They served it in squares, rather than a whole burger, which just makes more sense, and it was a little square of meaty-goodness.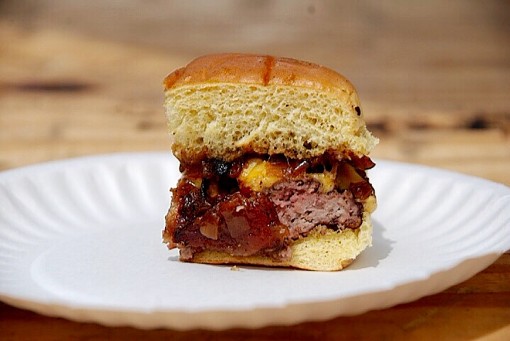 The burger was cooked well, the bun was soft and fresh, the onions were perfectly caramelized and the bacon was just crispy enough. I could have had 4 whole burgers worth but I knew I had to allocate the space in my stomach more pragmatically than that.
The third truck, Bacoburger, offered another spin on a burger, in a fundamental slider form, except their hamburger meat had bacon bits integrated within the patty.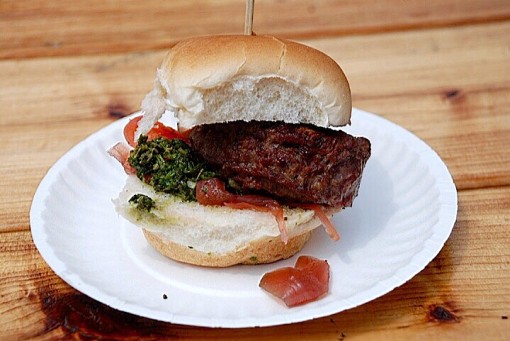 The "bits" were more like chunks, and they made for a delicious base to a burger patty. You can't really go wrong with a bacon/beef-blended burger, but to top it off it came with sangria-marinated onions and a chimichurri sauce that gave birth to a succulent and original burger.
Following the burger, I made my way inside, where all of the action was clearly taking place. Out of the desolate environment of the parking lot, I had finally entered the real domain dedicated to bacon. There was energy, grease covered floors, inebriation, a ubiquitous scent of cooked bacon and Michael Jackson's Don't Stop 'Til You Get Enough booming throughout it all – concocting one of the most unusual and greatest ambiances that I have ever experienced. Don't Stop 'Til You Get Enough quickly turned out to be the theme for the rest of my day; with 90 minutes to spare I knew I had no time to waste in devouring everything that the inside venue had to offer.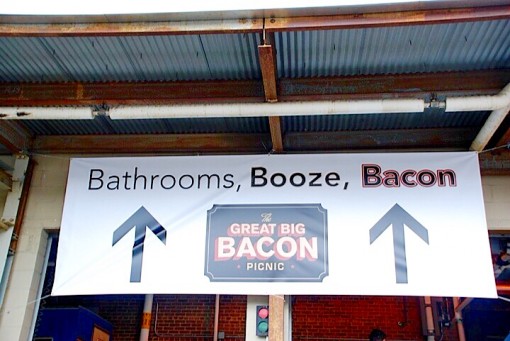 Although it was busier, it wasn't swamped; with over 100 chefs, restaurants, and culinary experts, all offering bacon-inspired innovations, the crowd that did form was able to easily disperse throughout the many different options – limiting any lines or crowding. Aside from the food there was also a copious amount of beer / whiskey selections…
because apparently nothing goes together better than bacon and moonshine.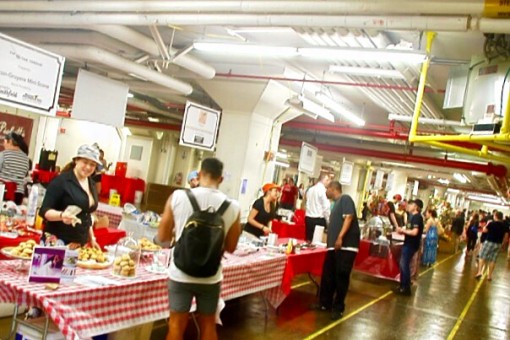 The first thing I tried inside was an All-Natural Hotdog Stuffed With Pepper Jack Cheese and wrapped in bacon, provided by Nature's Taste. I'm a huge advocate of pigs in a blanket, so naturally I was inclined to love it.
Next, Hill & Dale presented a Deviled Egg topped with crispy house-smoked pork belly. Another one of my favorite Hors D'oeuvres, executed succinctly, deliciously, and of course with bacon.
Midwood Flats created an Heirloom Tomato Smoked Bacon Panzanella Salad. It was refreshing to find some vegetables in the mix, and yet again another great bacon-appetizer.
Cent'Anni had a Gnocchi Carbonara with smoked bacon, onions and spring peas. Their gnocchi was fresh, and cooked perfectly. The bacon, peas, and onions all came together to create a wonderful little pasta dish.
Like a pregnant woman in heat I soon started to crave something sweet, which led me to Urbo and their Smoked Bacon Stuffed Oreos. This seemed to be a bit of a headliner of the event, one of those items that you hear about while questioning its actual existence. The small piece of bacon seemed to go naturally between the freshly baked cookie and creamy, sugar center.
One of my top favorite foods is a classic BLT, so I became enthralled when I found out that Sweet Brooklyn Science had paid homage to the classic sandwich by contributing mini BLT sliders. The buns were so fresh and soft, that they almost glistened. Underneath was the perfect bacon, lettuce, and tomato ratio. Not to mention a delicious chipotle mayonnaise topping the whole thing off.
It seemed like every chef there was reading my mind, because as I made my way to the next food stand, Streets, I found yet another favorite food of mine, sushi! They were serving Tuna Bacon Truffle Rolls. I'm exceptionally picky about my sushi; raw fish is no laughing matter. However, I've never come across a sushi roll that incorporated bacon, so I had to try it. It was delicious, just like everything else, and it came with a little shot to which I was sternly directed to take immediately following my sushi. The shot glass was rimmed with bacon bits – amazing. There were so many other bacon creations, but at this point I had my fill. I waddled my way over to the whiskey and beer encampment and had the pleasure of trying a wide selection of whiskeys, moonshines, bitters and ales.
I liked that each type of bacon included in the outside bacon bar was incorporated into one of the restaurant's / purveyors dishes inside. I also appreciated that each restaurant / purveyor didn't necessarily have the bacon dish that they were offering on their normal menu. It was interesting to see the different chefs push the creativity envelope in coming up with something new, while using bacon as their main ingredient. Unlike Smorgasburg, where all the purveyors basically gave you their best dish or what they're most known for, bacon picnic chefs had to create something entirely new for the day. Overall it was an awesome experience. With the high-ticket price in the back of my head, I was a bit apprehensive at first, especially with the lifeless and unbecoming outdoor portion. However, in retrospect, that wasn't even that bad after seeing how bountiful and lively the inside was. Some huge pros had to be that there were no children (21+), there was alcohol and lots of it, and although it was pricey, it was all-inclusive, which meant you didn't have to keep reaching into your pockets for cash. Also this created a slight exclusivity due to the requirement of a ticket, and the final pro was that it was bacon themed. I would advise against paying such an exorbitant fee for VIP, it would have been completely unnecessary. I ended the day back outside, on the green turf – roasting like a pig in the sun.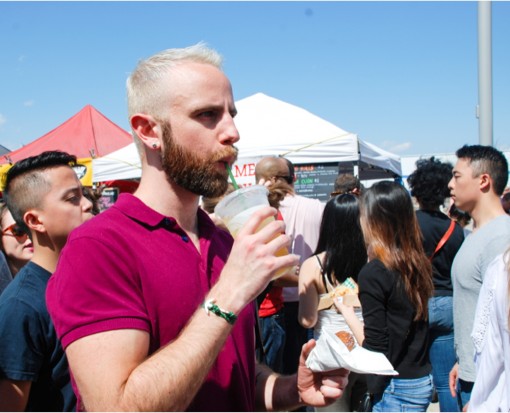 Nick Byrne
Instagram @nicholasjulianb
Nick resides in Brooklyn, New York. He is an avid writer and an enthusiastic foodie.