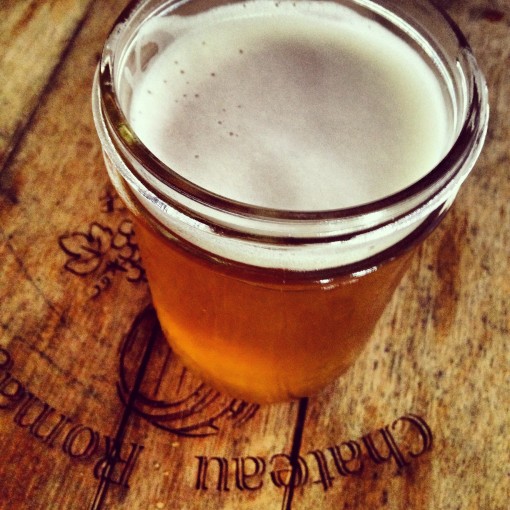 By
Amy Youngmann
When 90-degree days arrive and mark the start of summer, the streets of suburbs and small towns bustle with lemonade stands. What is it about the tartness of cold lemonade that makes a day under the blistering sun suddenly so enjoyable? My nostalgia for 10 cent lemonade makes me crave something sour on the first few steamy summer days. While freshly squeezed lemonade still holds a special place in my heart, it is slowly being challenged by a fierce competitor — sour beer.
Now, hear me out. I completely understand and share the love for a Corona with lime or a wheat beer on a sunny beach day. There's something about that sour pucker in my jaw that screams "summer!". Sour beer (at its most extreme) induces the same tight feeling in your mouth as Sour Patch Kids and Warheads, with the added plus of being both alcoholic and refreshing. For those who are new to the world of sours, here's a little background on the most available styles and some solid examples of each.
Gose (pronounced go-suh)
An old German sour that has been recently resurrected, Goses were considered obsolete but are now making a comeback. Thank you, hipsters! These salty wheat beers taste citrusy (typically lemon, but I am a personal fan of blood orange) with a tinge of coriander. Goses are the ideal sour for refreshment, as they are lighter and not as intense as other styles. Think, relaxing on your back porch in a shaded chaise lounge. They pair well with smoked salmon, oysters, and bitter greens (like arugula).
Anderson Valley Brewing Company, The Kimmie, The Yink, and The Holy Gose Ale
(Available April – October, 4.2% ABV)
If you can get past its slightly funky scent, this beer offers a clean, tart lemon flavor. It's a great example of a typical Gose, and a perfect place to begin your journey of sours.
Westbrook Brewing Company, Gose
(4.0% ABV)
It pours hazy golden and the lemon zing is more sour and tart than in the previous brew. A bit saltier, it has a detectable presence of coriander. This is a Gose without much depth, making it crisp and easy to drink.
Wild/American Wild
These sours are brewed in America and can rage in color, malt, and hops. They are often barrel aged and may be more sour or funky depending on how long they've been chillin'. Barrel aging alters the taste of each specific beer and therefore these can adapt a woody taste. American Wilds usually have a fruit or citrus note (i.e. sour apple, raspberry, cherry) and are a good companion for pungent cheeses, seafood, and sausage.
Russian River Brewing Company, Supplication
(7.0% ABV)
Aged for one year in Pinot Noir wine barrels alongside sour cherries, this beer pours reddish brown with an aroma of sour cherry and green apple. Supplication tastes tart all the way through, and its barrel aging is revealed on the finish.
Jester King Brewery, Das Wunderkind!
(5.0% ABV)
Aged in whiskey barrel, this sour pours a soft yellow color with a floral, hoppy scent. Notes of lemon, pineapple, and tropical fruit are detected in this slightly tart, drinkable beer. Overall, Das Wunderkind is crisp and refreshing with a dry finish.
Lambic
Brewed in Belgium, Lambics are aged and light bodied. They have a tartness reminiscent of hard cider or white wine, and are usually dry with a sour aftertaste. Lambics are typically a blend of at least two different beers, and some are sweetened before drinking to reduce their extreme level of sour.
Boon Brewery, Boon Geuze
(6.0% ABV)
Be prepared for carbonation; this sour borders on a champagne-like appearance. It smells of citrus and sour apple, which is reflected in its flavor. With a clean, dry finish and a hint of grapefruit, this Geuze is refreshing and will leave you scavenging for more.
Lindemans Brewery, Geuze Cuvée René
(5.5% ABV)
Hazy golden and not as carbonated as Boon Geuze, Cuvée René smells of sour apple and raspberries. With the first sip, it immediately gives you a pang in your lower jaw. As you continue drinking, the flavors expand from lemon lime to sour apple to bitter. On the finish comes a desired sweetness which balances out the flavors and makes this Geuze complex while remaining drinkable.
So, if you're bored of your go-to beers and on the hunt for something new, do your taste buds a favor and surprise them with a sour. Best of all, sours have the ability to be appreciated by wine and beer drinkers alike, because they incorporate elements of both. Of course, I wouldn't recommend bringing a 30 of sours to your next picnic but for the adventurous drinkers they are a delightful treat. Maybe you can even convert some of your wine-o friends to indulge in the bliss of a summertime beer.
About the author:
I am a self-diagnosed foodie and beer enthusiast who is always anticipating my next meal. Every week, I cook at least one new recipe I haven't made before. Bagels and avocado egg bakes get me out of bed in the morning. The majority of my time is spent doing the things I love — cooking, writing, hiking, daydreaming, and laughing. Powered by sunlight and iced coffee.