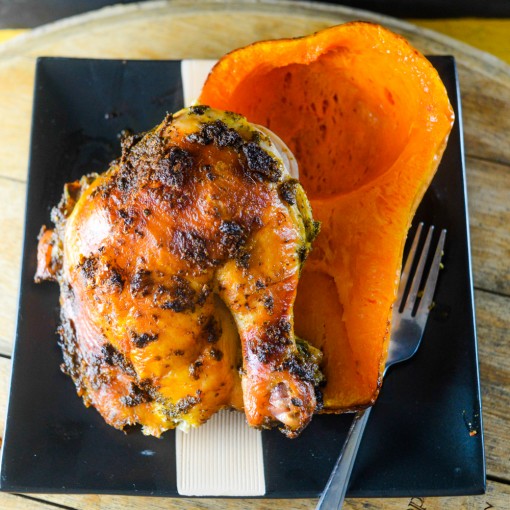 Sometimes I enjoy making extravagant meals, that takes days of preparation, hours of work and constant attention. Usually, that isn't case.  USUALLY, I'm in a rush, going somewhere, trying to work out, have to walk my dog, tired from work, don't want to cook, tempted to order take out, make an order of take out online only to cancel it or justifying why it's OK to eat a pu pu platter and a dinner combo. But when there are  recipes that I can bang out either while I'm working out, in the pressure cooker or in general under 45 minutes, I'm a happy dude.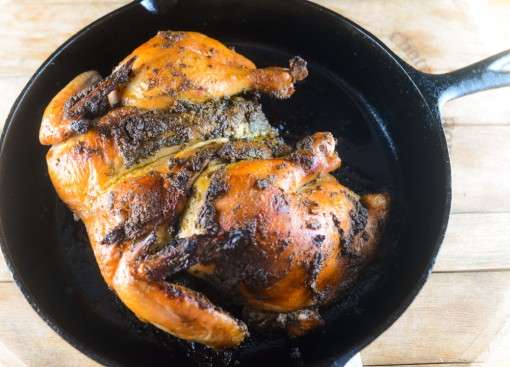 This Butterflied Pesto Chicken is quick, painless and easy! I hear your groans about needing to marinate it overnight but suck it up, it takes like two minutes to make. Stay with me people, your taste buds will thank you if you do.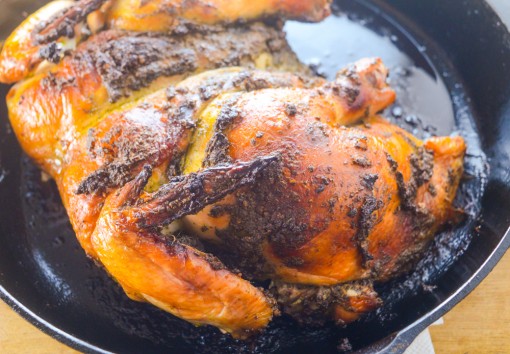 The end result of this recipe is spectacular and your guests and family will think you slaved away for weeks to show up with this bronzed bird of epic mouth sensation to your dinner table. But I can keep it a secret  that this was easy and was done in under an hour (probably – use a thermometer 165 degrees please) .
So the first question is: how the hell do I split that chicken so it looks all fancy and like a butterfly. If you flip the bird around on it's breast you will notice a bone that runs from back to front. Basically all you do is cut on either side of the bone and remove it. Then you open it like a book on your cutting board with the breast facing up and push down slightly, until you hear a crack and it lies pretty flat. Done, congrats you just did it.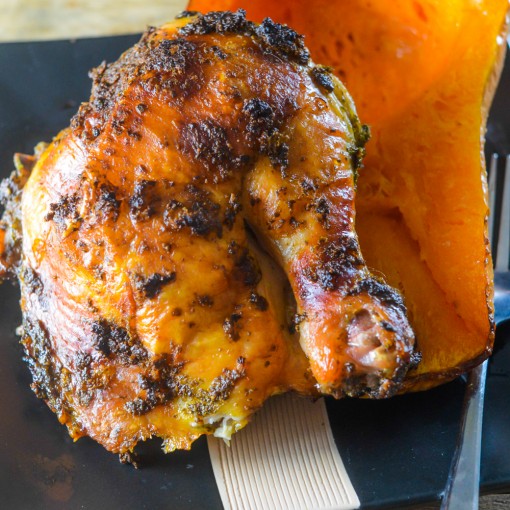 Weeknight Roasted Pesto Chicken
Ingredients
1 3-4 lb Chicken Backbone Removed and Butterflied
Pesto:
2 Cups of Fresh Basil
5 Cloves Garlic
2 Tbs Pumpkin Seeds
8 Sun Dried Tomatoes
1/2 Cup Olive Oil
1/2 Juice of a Lemon
Instructions
Combine all pesto ingredients together in food processor
Blend until smooth adding extra olive oil as needed
Gently lift up the skin of chicken and push pesto mixture as far under as possible, using a teaspoon helps
Rub the chicken with excess pesto on the outside of the skin
Refrigerate overnight
In a preheated 450 degree oven cook chicken breast side up until thermometer reads 165 degrees - about 45-80 minutes depending on size
Let chicken rest for 15-25 minutes and enjoy!
http://foodefile.com/2015/05/weeknight-roasted-pesto-chicken/