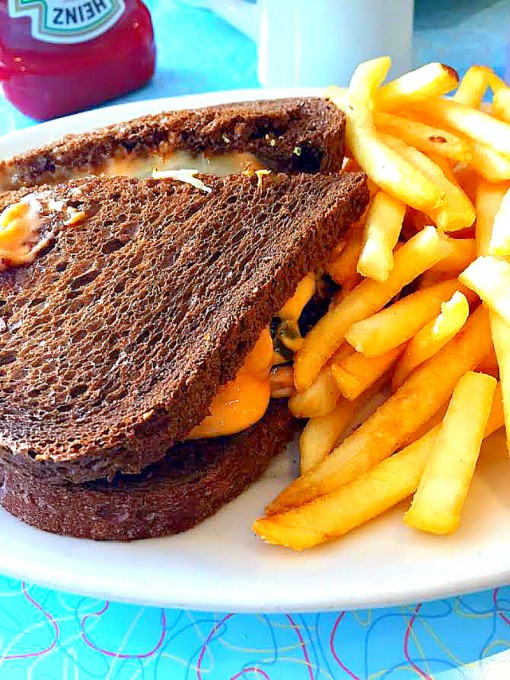 By
Drew Barile
Having recently moved to Boston from New Jersey, I can honestly say one thing the Garden State has down is the diner.  I can name 10 solid diner's within 3 square miles back home. Since moving North, I have been on a quest to find that little piece Jersey here in Beantown. I thought it was a hopeless search, until one day I stumbled across Zoe's in Cambridge.
I have to admit, I was walking in at 10a.m. on a Sunday, so I was prepared for quite a wait, especially since I noticed families, groups of friends, and students flocking towards the door. I should note that this is the Zoe's on Mass Ave, just a couple minutes walk from Harvard Square, not to be confused with the Chinese Restaurant.
Upon walking in, it immediately brought back memories of retro diners I loved to frequent at 3 in the morning on warm summer nights. It has the counter, jukebox and vinyl; all staples of the quintessential diner. It was bustling inside and even though there was a good crowd, we were immediately seated. There is a good combination of large tables and classic diner booths, situated cosily around the large restaurant.
The menu. Wow. Boasting a combination of Greek and American cuisine, with breakfast served all day, you could easily take an hour deciding what to eat. This menu is huge and man does everything sound amazing. I quickly found myself trying to look around me, seeing what other patrons ordered. As I switched between reading the menu and watching the food buzz by, I was more confused than when I started.

The waiter was very attentive and gladly put up with my indecisiveness. But when you have a menu this big filled with quality items, I'm sure it happens a lot. I finally decided on the Monte Cristo, my favorite sandwich – of all time.
 I'm also a giant sucker for Ruben's and Zoe's has a section of the menu dedicated to them, even a few options that are geared toward vegetarians. For my vegetarian companion, this section was a god-send. They offer two vegetarian choices, one with a veggie patty and another with a portabella.
Once the decision had been made, we eagerly awaited our food to arrive. We must have seemed like kids on Christmas morning, constantly turning our heads waiting for our server to arrive with our culinary treats. We didn't have to wait long at all, bonus! When our plates arrived I swear I had a twinkle in my eye.
The Monte Cristo was packed with the perfect proportions of ham and turkey, but wasn't sloppy or gratuitous. I opted for sweet potato fries as a side, which I would definitely recommend. As for the portobello reuben. The sandwich was huge and the rye bread was perfection. A special side note to those people out there who appreciate a good honey mustard. Ask your waiter for some, it was easily some of the best I have ever had. The rest of the meal consisted of very little talking, which I think speaks volumes for the quality of food. We easily cleaned our plates.
For the vegetarians out there, Zoe's should be noted in your must try list next time you are in the area. With all of their outrageous breakfast combos, they offer a vegetarian breakfast sausage, as well as a tofu scramble. If you are a veggie and miss having eggs Benedict, Zoe's offers two alternatives: The Florentine Benedict and California Benedict. Beyond the breakfast menu and salads, they offer a tofu kabobs, plus a roasted eggplant and portabella wrap.
The verdict…….
Stop what you're doing and go to Zoe's. You won't be disappointed – and if you are, then more food for me. I can honestly say I could come back here and try something new and different everyday; walking away satisfied.