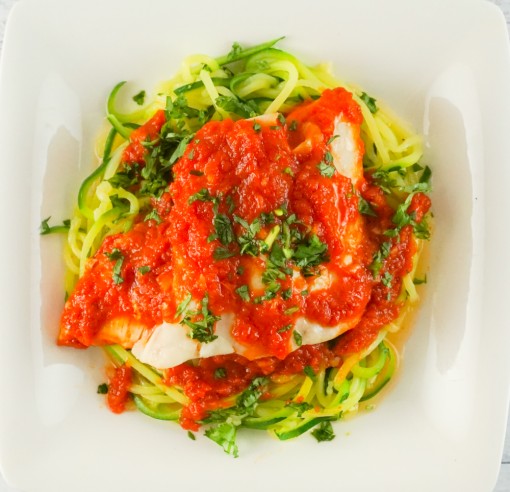 By
Adam Baratz
Around mid May the saltwater fishing starts to improve in the New England region. Striped bass and bluefish make their annual migration along the east coast of North Carolina, Maryland, New Jersey, Connecticut, up through RI and as far north as Southern Maine. I'm from Boston and my favorite area to search for those fish is Cape Cod.
Most people don't know this but Cape Cod or the Cape as locals refer to it is actually an island. Separated by the 7 mile long canal called The Cape Cod Canal – quite the creative name.
Island or not it's a beautiful area that draws people from all over the globe to vacation and, go fishing. I could easily live on the Cape (if I have a winter house somewhere warm) and live a more relaxed, slower paced life. So if any independently wealthy women out there are looking for a house husband or cabana boy I'm available.
The drive from Boston to the canal is about an hour and then another half hour to most of my fishing spots. Ideally, I like to travel with a friend to make the arduous 1 ½ hour trip a bit more entertaining and it's always more fun to share an experience, like fishing with another human.
So like the enterprising almost middle aged man that I am, I tried to arrange a comrade of mine to accompany me on this fishing venture. Actually if I'm being honest, my friend Sam called me looking to go freshwater fishing. But I weaseled my way into saltwater and after the initial phone call he agreed.
Then came a barrage of phone calls telling me different things about his gear, asking at minimum 100 questions about what we would do, which eventually met his question quota. Then on the eighth and final call, he informed me that his boss had just told him he could work extra and that he wouldn't be able to make it. This exchange pretty much sums up my life.
Flaky friends aside I wasn't going to let this stop me from taking my first trip of the year to the ocean. When you coop me up for six months out of the year in a one bedroom apartment with seven feet of snow, I go a tad stir crazy. Seriously, S-E-V-E-N feet of snow in five weeks. Are you f***ing kidding me? Anyway, this is a food website not a psychiatrist's office, I will stay on topic.
I loaded up my car with fishing gear and a giant empty cooler. This is a waste of space I'll never need this cooler, I should just bring a trash bag because nothing's going in it, but what if it leaks?  Was my first though. Keeper sized striped bass are 28", not an impossible task but the season is early and there weren't a ton of larger ones migrated.
An hour and 10 minutes later and I was at my first stop – the bait store. Though, I didn't go there to get bait, I was looking for new fishing lures, which I hoped would fool the crafty striped bass. The quality of fishing advice you can expect to receive from a bait store employee greatly correlates with how much deniro you fork over. I spent 40 bucks on all my wares and the bait store guy ended up telling me of two spots I had never heard of – sweet! Money well spent. It was more logical than tying him to a chair, shining a bright light in his face and beating the truth out of him.
On my way I went to track down the fishing spots the bait dude told me about. His first suggestion didn't look that great to me, so I hit the second one instead. As I closed my car door, applied some sunscreen and gazed at the ocean's horizon I felt the tightness in my back loosen and my mind start to wander to thoughts of summer and relaxation.
An hour and a half on the jetty ended up being a fruitless effort of tossing my lure out and reeling it back with nothing to show. No big deal I can try the bait guy's first suggestion and after that grab a half pound lobster roll at my favorite spot.
When I arrived at the second spot I saw two other fisherman plying the shore line with little success. I again felt like this would be a waste of time but relaxing so there's that. My first cast with my pencil popper (a lure that skims the top of the water) and I saw a boil behind it. The only conclusion that I came up with that it was a hallucination. Another boil and I knew this was no acid flashback. The fish then jumped out of the water twice swiping at my long wooden offering, no hook up. Finally – SLAM! Within a few minutes I winched the fish to shore, 33 inches of deliciousness, well over the keeper size. I bled it out and decided to take off, grab some  ice and get the lobster roll I had been dying for.
I had lunch, fished another spot and closed the door to another wonderful day on the Cape.
Which is all well in good but this is a food site, not fishing. So what did I do with all this super fresh awesome filleted out striped bass meat? Well thank you for asking…..
THE PART ABOUT COOKING
The pairing of fish and tomatoes is always a home run. In all honesty I wanted to eat this fish over pasta in an anchovy tomato sauce. But as luck would have it I managed to pack on 10-12 pounds over the winter, so I've been trying to cut back on my pasta intake (NOT happy about either of those things).
So in order to appease the voices in my head, I have been eating vegi noodles and it's practically the same thing as pasta – yeah right. But it's better than nothing and tastes pretty dang good. Instead of putting this fish over pasta, I decided I'd go with zoodles. Which coincidentally enough is one of my favorite words. I was once called a zoodler, I didn't hate it.
I figured I'd cook the fish the normal way I always do it, blanch the zoodles and call it a day. I opened my cupboard to grab a can of anchovies, only to find fully stocked shelves sans a can of teeny tiny fish. With a dejected gleam in my eye I turned around and came face to face with a bottle of fish sauce. Eureka! Fish sauce is just fermented anchovies, it's practically the same thing.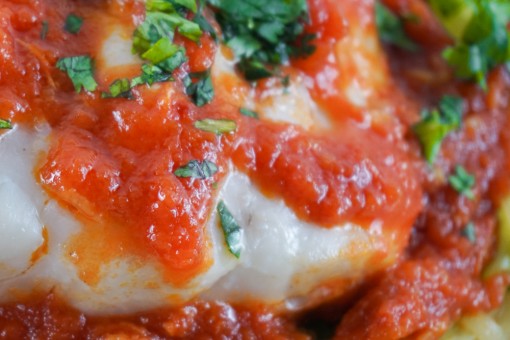 Thus was born my ThaiTalian creation that is this recipe.
Usually I will put in some fermented hot peppers, red chili flake or fresh chile peppers. But in keeping with the ThaiTalian theme I decided to use Sambal Chili sauce, which is basically ground chilis, salt and garlic. It's just so crazy that it could work and it did – obviously.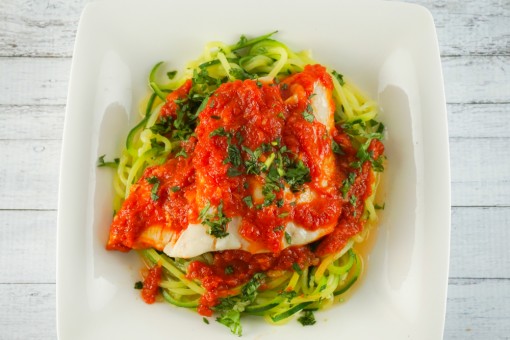 If you made it this far in my ramblings I'm very impressed, you better subscribe to my mailing list. And as always, I hope you share your food and recipes with the people you care about – enjoy!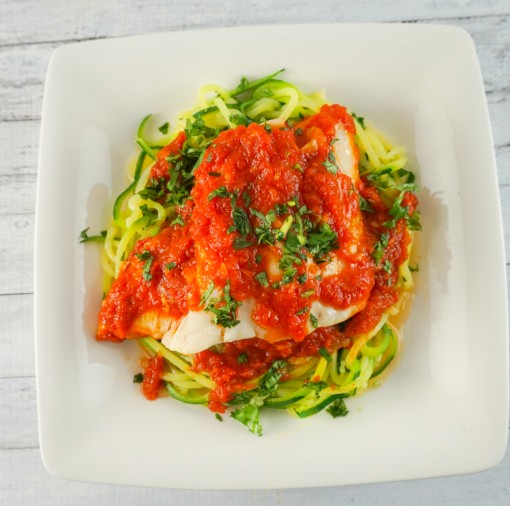 Hookin' And Cookin': Springtime Striped Bass
Ingredients
1 1/2 lb Striped Bass **
1 28 oz Can of San Marzano Tomato Puree
2 tbs Olive Oil
1 tbs Fish Sauce
1 tbs Minced Garlic
1 tbs Sambal Sauce
6 Zucchinis Cut into Zoodles
Instructions
Preheat oven to 400 degrees
In an oven proof large saute pan which has a cover heat oil on a medium heat and cook garlic 30 seconds
Put in fish sauce and sambal sauce, stir to combine and cook for another 30 seconds
Stir in the can of tomatoes and reduce to the consistency of a fairly thick marinara, thicker than usual because the fish and zoodles will give off liquid
Gently place fish in sauce, bring to a boil, cover and put in the oven for 10-15 minutes until fish is done, timing depends on thickness
While fish is cooking blanch zoodles in salted boiling water for about 2 minutes and drain thoroughly
Serve fish over zoodles with sauce
http://foodefile.com/2015/06/hookin-and-cookin-springtime-striped-bass/