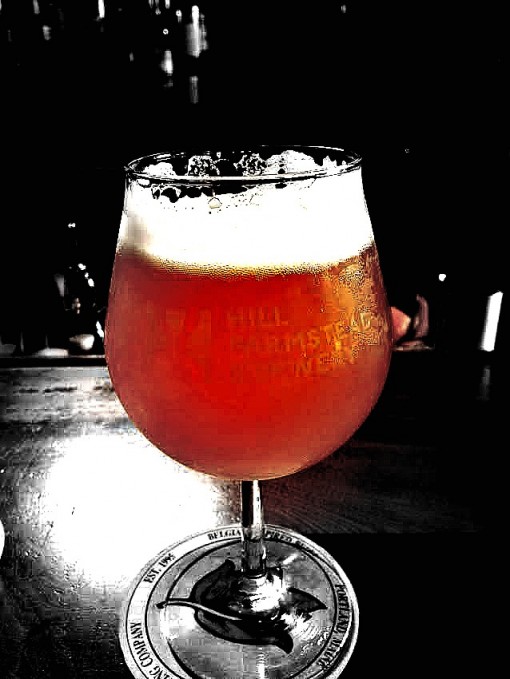 By
Adam Baratz
My friend invited me over his house since his parents were away; he had struck gold, his father's beer stash.  These are the things dreams are made of for a high schooler. At that age, any time alcohol was found would have been cause for celebration.  I was greeted at the door with a high five, and a ice cold Harpoon IPA.  Paradise, I've arrived.
You're thinking, ok this guy started to love IPA's when he was 16, what a gangsta.  I am most definitely a gangsta, this I assure you.  We both cracked our beers and took a sip, each of us with the same reaction.
"Sh*t man, I think this beer is rotten"
We tried to push through but couldn't.  The hops bomb in our bud light drinking maws was too much to handle.  Didn't even get past the halfway mark.  What an embarrassment.  A pure disgrace. We agreed to "never speak of this again" and went out in search of beer that tasted like water. Though I guess our pact has officially been broken.
Fast forward 15 years and I formed a friendship with a craft beer junkie who finally convinced me to try IPA's yet again.  To start it was a love hate relationship – bitter and delicious.  In the beginning I was constantly asking myself if I actually was enjoying this beverage. With a slow progression I developed a true love for the IPA genre of beers. Eventually I've come to learn what flavor profile I'm trying to achieve; hoppy but not overly bitter, without the taste of a car doing a brake stand in my mouth.  Burnt rubber is no bueno.
A very important thing to take into consideration with any beer that's hoppy, be it a double IPA, regular pale ale, or single IPA – freshness.  I have a tendency to only buy beer that has a date of when it was bottled.  A lot of beer companies put a "best by" date, which pisses me off.  Best by whose standards?  The brewer could mean it's best in 6-12 months.  While a six month old IPA isn't going to be spoiled, it certainly will NOT taste it's best.  Anything over three months and it starts to develop an unpleasant tastes while muting the flavors you want.  0-2 months is the ideal, and if you can get it right from the brewery, even better.
One more tip would be to not drink it iced cold. These days I do like it cold but beginners take note that if you warm it up for 10-15 minutes it will mellow out that hoppyness a tad.
Starting out in the world of IPAs can be overwhelming.  As you progress down the list, your palate will change and evolve.
10. Goose Island IPA
9. Dogfish Head 60 Minute IPA
8. Stone IPA
7. Lagunitas IPA
6. Uinita Hop Nosh IPA
5. Racer 5 IPA
4. Victory Hop Devil IPA
3. Troegs Perpetual IPA
2. Founder Centennial IPA
1. Sculpin IPA
Out of this list the last two are my favorites and if you can get the grapefruit sculpin even better. The way I designed this list was to introduce you to the most readily available IPA's. Of course there are much better, smaller batch IPA's that I've enjoyed on many a hazy evening. However, beer geeks are a vicious crowd that buy up the good stuff fast, so you have to be quick. Otherwise grab a couple brews off this list and enjoy.
Here you see the author a few beers deep acting like a creep, enjoy. Lawsons Sip of Sunshine – one of the top IPA's!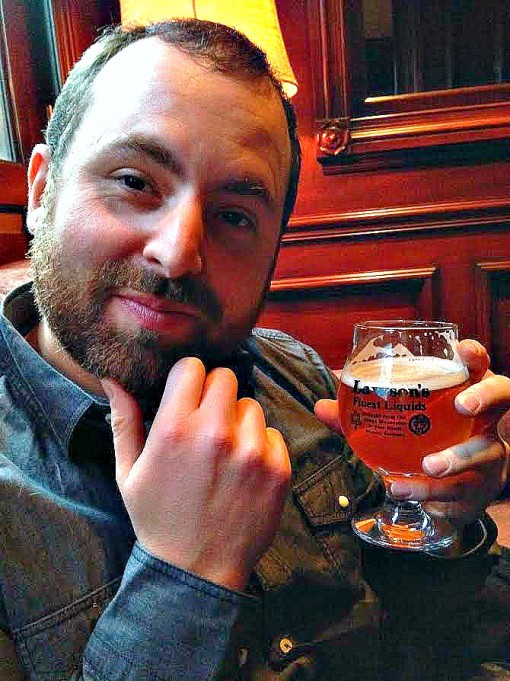 P.S. The beard is gone – viva la summer!