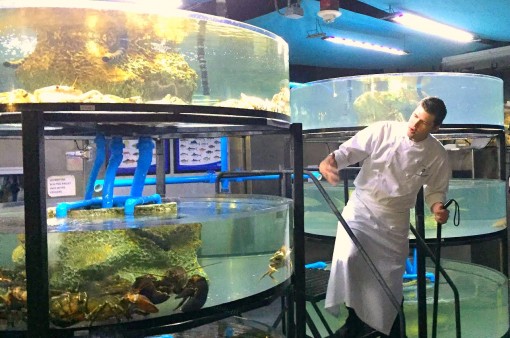 By
Nancy Ortega
When visiting Miami or living in Miami like I do, you must visit the staples like the Fontainebleau Miami Beach. Yelp invited the "Yelp Elite," to take a behind the scenes tour of how food is prepared for all the restaurants, followed by dinner at (drum roll please) StripSteak.
On our tour, we went below the Fontainebleau to see "BleauFish," also known as "water world." The idea behind Bleau Fish is to provide the nine Fontainebleau restaurants with fresh fish by utilizing their ocean to table live catch program. The hotel hosts about six tanks with a variety of fish including lobsters and crabs.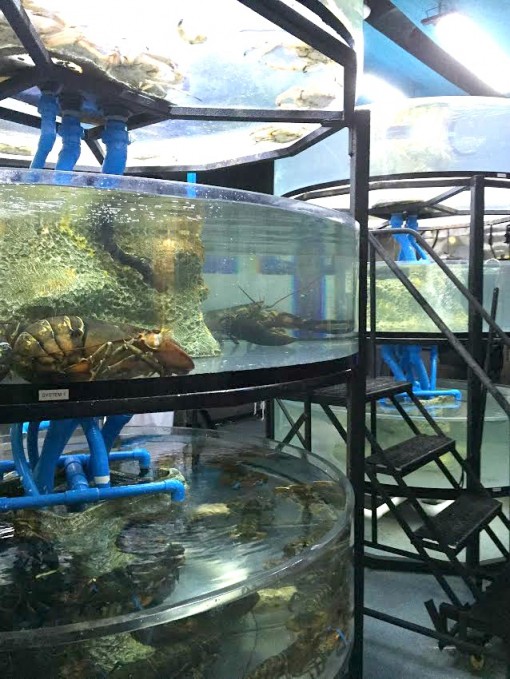 The concept behind the program is to keep the fish stress-free, which allows them to be tastier at consumption. The spiny lobsters are kept at a comfortable temperature of 70 degrees because that's what makes them happy, say's Executive Chef Thomas Connell. These 300-gallon tanks are quite the delight to see, unfortunately not everyone gets a tour. They save the experience for VIPs or Event Coordinators who will be booking the ballrooms for large-scale events.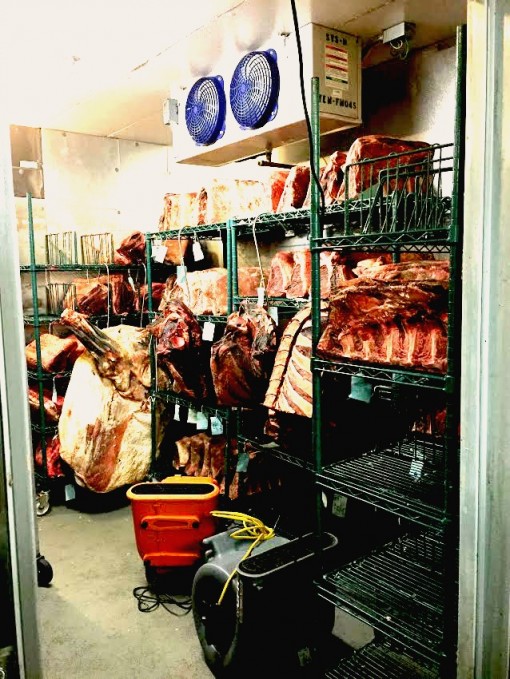 After our tour we proceeded to StripSteak, where we were met with a welcome drink. We took our drinks to our dinner table and began spectating the different plates being brought the table one by one.  We tried a little bit of everything but the highlights I loved were:
Appetizers:
YELLOWTAIL SASHIMI if you're into raw fish… select this dish. Neatly made with shaved cucumber, fresno chili, shiso and uni. $22.00
DUCK & RICOTTA CAVATELLI a must have, it's a combination of mushrooms, fava beans, ricotta salata and pea tendrils. $22.00
Meat:
DRY-AGED KC STRIP 16 OZ, these meats are aged to perfection and will cost you a cool. $46
AUSTRALIAN TOMAHAWK 50 OZ, can be easily shared but you may want to covet it for yourself because it is the most flavorful meat you'll ever taste. $150.00
Sides:
MAC AND CHEESE Although known for their meats, Stripsteak can make a hell of a black truffle mac n cheese. $12.00
Desserts:
KEY LIME PIE. Key West, Florida is usually known for their pie. Well, Key West you just found your match. $12.00
HAND CRAFTED CHOCOLATE DOUGHNUTS, ganache filling with chicory anglaise. $13.00
I recommend coming to StripSteak for special occasions and grabbing a table near the large windows for a nice view. You can also share your experience with the restaurant by using their hashtag and handle. #dineBLEAU @dineBLEAU
Cheers!