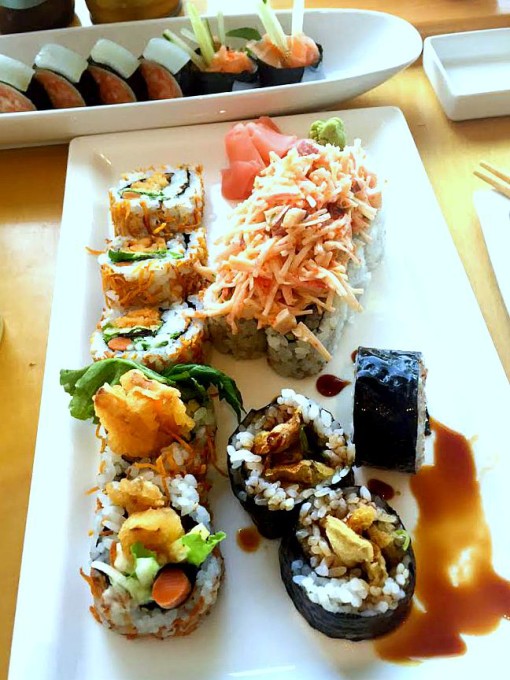 By
Drew Barile
Being a big fan of sushi and Japanese style-dishes, I'm always on the hunt to find the next great meal. I happened upon an amazing spot in Allston recently, and it has become a permanent staple in my restaurant circuit. The place is called Fish Market Sushi Bar.
Given its location and size it might be easy to miss, but you shouldn't pass judgement by its facade and location. If you weren't looking for it, you would drive or walk right past. The restaurant is quaint, with modern decor which creates a welcoming and fun atmosphere.
I recently took my girlfriend there on a date. We sat at a table right in the front window, which was perfect for people watching.  Fish Market's menu had all the usual suspects, but they also have creative items that I've never seen anywhere else. Make sure to check out their specials chalkboard, which is located above the L-shaped bar, much like the exterior of the restaurant it is miss-able, but they have awesome options.
We ordered a bottle of saki and Sapporo to start, as we perused the menu.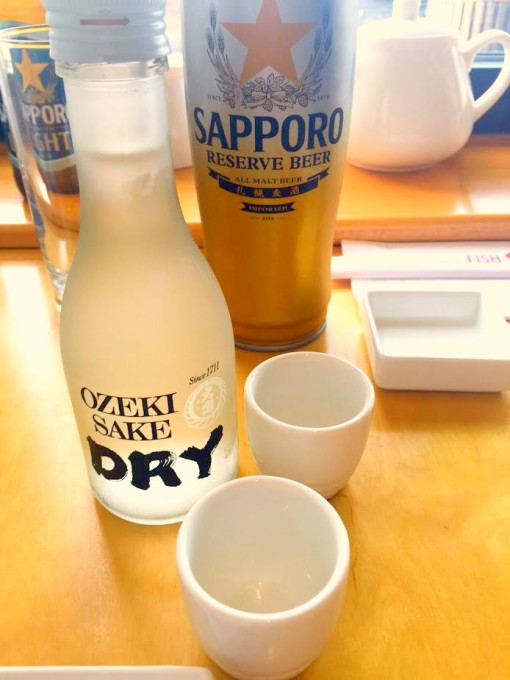 Fish Market had a small, but nice selection of various sake and adequate beer list.  After drinks, we started out with a couple appetizers, the seaweed salad, purple sweet potato fries, and the takoyaki.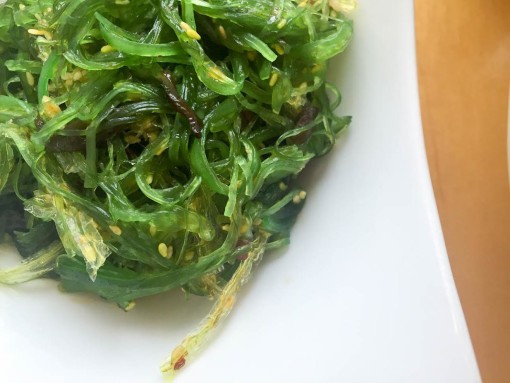 We would have missed the fries if it weren't for the specials board, but happened to notice them at the last minute. They were more tempura-like than french fries, which really complimented the purple sweet potato. The dipping sauce was out of this world, it was like an Asian take on a sweet and spicy aioli.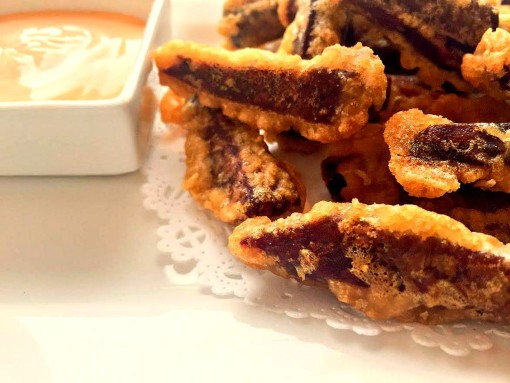 The takoyaki is deep fried octopus croquettes, with bonito fish flakes, mayo, and takoyaki sauce. This is by far  one of the greatest dishes I've ever had in any Japanese restaurant, possibly any restaurant in general. The mayo and sauce complimented the octopus perfectly, the smooth creamy mayo blended with the sweet and salty sauce in a symphony of flavor.  The serving size was four croquettes, which was more than enough, but had you begging for more. This is a must order appetizer when you visit.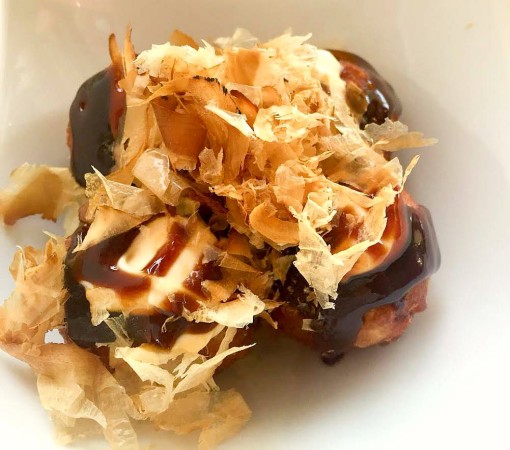 For our entrees we had an assortment of dishes that were magic for our palettes.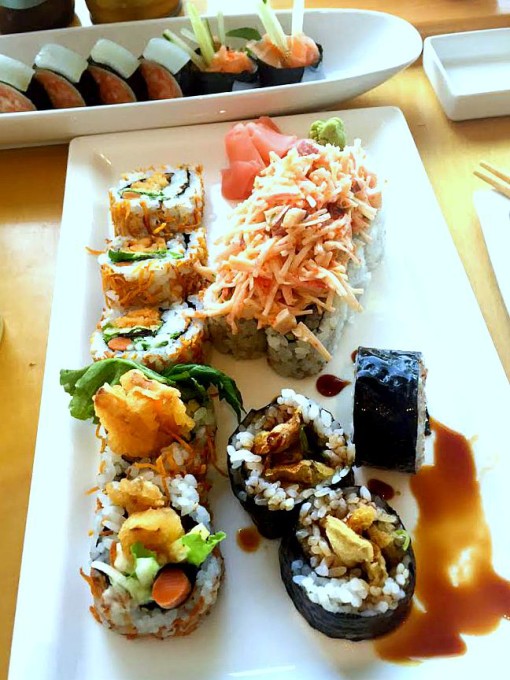 We picked two vegetarian options, the shiitake mushroom tempura maki and flaming maki. The shiitake mushroom tempura maki was a nice change from the usual sweet potato maki that is offered at most places. The flaming maki was a real treat – mixed greens with ginger sauce, mayo, cucumber, sweet potato, and sweet egg topped with shredded sweet potato. It was a myriad of flavors that all stood strongly individually and melded perfectly as a combination.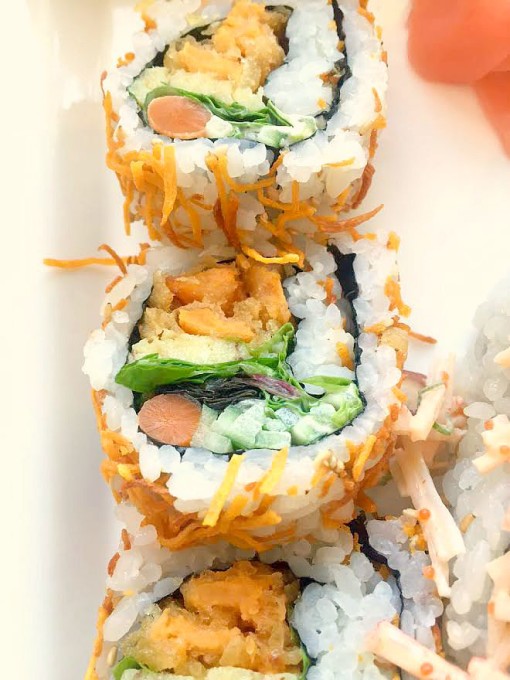 I am a huge fan of octopus and squid. Any restaurant that features any tentacle derivative food instantly becomes a favorite in my book. I chose the tako salad maki and dragon eye maki. The tako salad maki was a classic cucumber avocado roll topped with octopus, crabstick, and flying fish ro,e mixed with spicy mayo.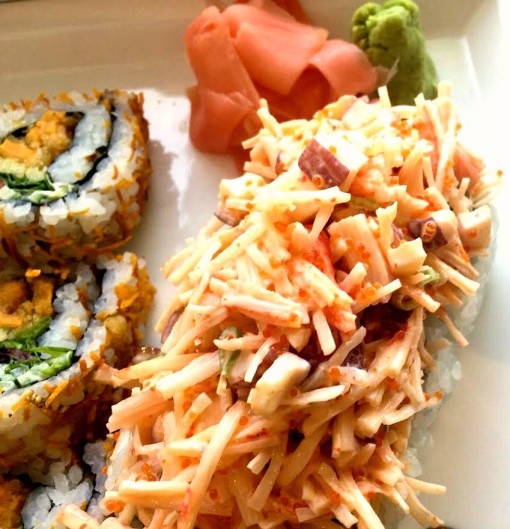 The dragon eye maki was unique, and refreshing after the apps. It consisted of salmon, wasabi flying fish roe, japanese basil wrapped with cucumber and squid, with a ponzu sauce. These were some of the most unique combinations I have seen and eaten at a Sushi bar, and the presentations were stunning.
The service was perfectly timed, we had time to enjoy each dish without being rushed. The waiter was quite knowledgeable, and also took the time to explain each dish as they were brought out.
Fish Market is a great spot for a date or a smaller party. We didn't have to wait, but have heard that the wait can get pretty long during peak hours.
Fish Market Sushi Bar was a great find and is my new favorite sushi joint. I recommend everyone try it. Overall Fish Market has quality service, fresh ingredients, hip & quaint atmosphere, and so far the best tasting sushi I have had in the Boston area.  The pricing is moderate, but once you taste the food, you know you are getting the best tasting and freshest food for your dollar. I plan on making myself a regular fixture and will try everything they have to offer.