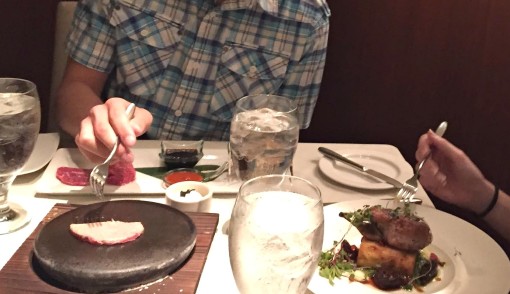 By
Rebekah Covey
Growing up, I never had the opportunity to experience high-class restaurants. Only recently have I been able to indulge in eating at high quality establishments which I never dreamed that I would step one toe in. My parents could never really afford to take us to super fancy places and it didn't bothered me; BUT after getting a taste of the high life, my palate has adapted, and I am ready for my napkin to always be on my lap.
Abacus is definitely one of those life-changing places.
Abacus is a concept restaurant, created by Kent Rathbun, in Dallas, Texas well known for its unique flavors and high-end atmosphere. This restaurant completely shifts the paradigm of what unique food could be and turns it into something unimaginable, yet unbelievably delicious. Although this restaurant is pricey, it is worth every penny in the service you receive, the freshness and flavor of each dish.
Our reservations were at 10 o'clock, as we approached the building was on the dark side due to our European dining time. I went with my fiancée and his uncle, they had never been. Although, his uncle had cooked in the restaurant many times, he didn't have a great idea of what our experience would be like. Pulling into the parking lot, mandatory valet welcomed us. As we stepped out of the car into the restaurant, I was blown away by the interior. It was very modern in its decorations and there were so many people. We were seated in a separate room, near a window, but there was no hindrance to the aesthetics.
The server was magnificent– very attentive and knowledgeable about the menu and the intricacies of food being served. One of their signature dishes are the lobster shooters. It consists of six shot glasses, with a lobster dumpling placed inside. On the tray with the shooters is a flask like container with red chile-coconut sake that is poured over the dumplings. Then you take the shot. We were not 100% sure about this dish, but surprised in how wonderful it actually was.
Although the lobster shooters are a signature dish, it did not take away from the other food served.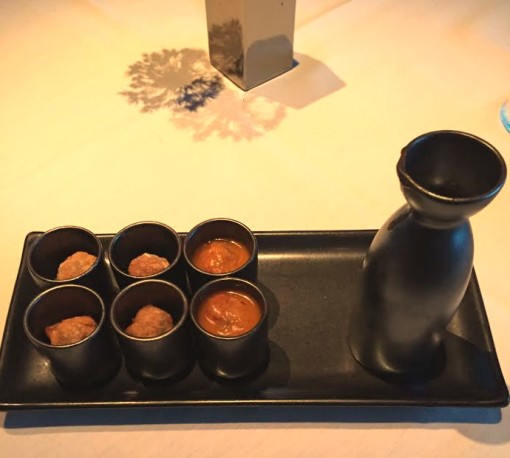 Small plates such as the Steak Tartare topped with a quail egg, Ishiyaki, and a spicy sausage stuffed quail on a polenta loaf.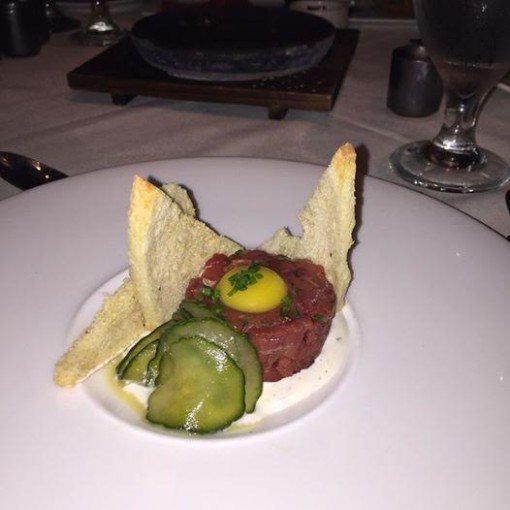 The pinnacle of the small plates was the Ishiyaki. 3 oz of steak, sliced very thin, was served with a hot rock in order to cook the meat. Alongside was a house-made sauce, based on Kung Pao that gave the steak and our palates a kick.
There's always a time in life when you consider where you might have gone wrong in your life. In that moment, I wondered where I went wrong in my food choices. Never have I been blown away by food so much that I had no words for it. Even talking about it right now, it's difficult to form sentences that do the food enough justice.
The dinner plates included a 14 oz New York Strip, a Scallop dish with pea puree stuffed ravioli, and Venison. The New York Strip was well prepared and cooked to perfection. Upon ordering the Venison, the server made it clear the quality and freshness of the food by explaining how the Venison was actually flown in from New Zealand– allowing for a less gamy and more enjoyable flavor. I remember taking a bite and wanting to cry from how wonderful it was. The meat was not gamy, it had amazing flavor. It was like eating the meat version of cotton candy.
Lastly, the scallop dish was sweet, but not in an overbearing way. The scallops were seasoned with only salt and pan seared on one side.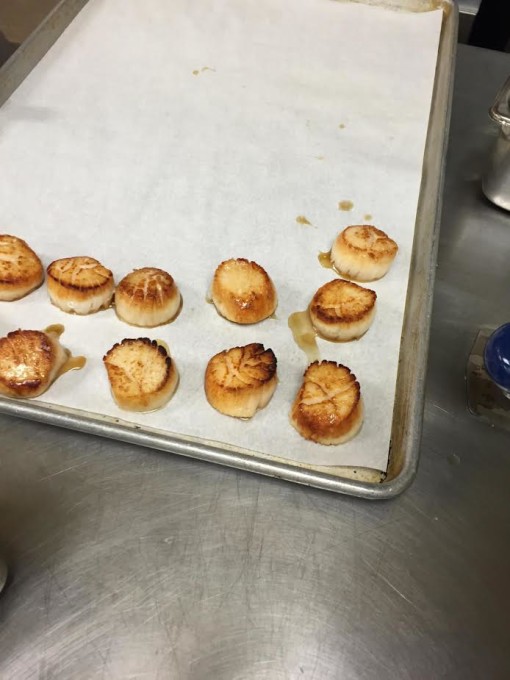 Served top of ravioli stuffed with a sweet pea puree and a sweet carrot puree, it brought the entire dish together in a way that was light and satisfying.
For dessert, the best option was to go for something light. Although there were dishes such as the chocolate "thin mint"– made with a flour-less brownie– or a goodie box filled with kitchen made candies, the better choice was the sorbet. Although light, the sorbets were packed with flavor. The two better flavors were the Tropical Fruit and Red Berry. It was like eating an actual bowl of fruit without the heaviness of the sugar. It was a perfect end to an amazing meal that was worth the big bill in the end.
Abacus is a restaurant that you may walk into wondering how the food will actually be. The dishes are designed to be different– something you cannot find in any other restaurant. Although it can make restaurant goers hesitant, it is absolutely worth the time and money. Leaving the restaurant, I felt that my life had been changed. I know it sounds exaggerated, but until you try it, you'll have to trust me. The food is unique in its own way, taking in influences from other cultures. The best way to sum up an experience at Abacus is best stated by the owner: "Ordinary has its place, just not here".