By
Drew Barile
Moonshine 152 is a recently new restaurant, opening earlier this year taking over the old Franklin Southie, where chef and owner Asia Mei previously worked. The space has modern decor, but still feels like a charming neighborhood spot, with a full length bar, high top tables, and booths. I opted for the outdoor patio which was perfect for a cool summer night, with planters growing on the walls and lights strung above the tables.
The menu isn't huge, which at first look seemed sparse, but as I started to scan through the menu, I quickly realized I had some hard decisions ahead of me. Moonshine has an additional rotating specials menu every night, as well as a constantly changing drink menu. The server was very helpful, especially when it came to making decisions for the meal. Wanting to try a variety of things, she was great at suggesting what dish to pick based on the heaviness of the other items my girlfriend and I wanted to have.
I love olives and my girlfriend loves anything fried, so the Fried Olives & Homemade Pickle Plate was a natural choice for us, found on the"Order Fire" section of the menu, which has smaller sized appetizers. The Blue Cheese Dressing accompanying the olives was insanely good, making this dish a big hit. Although the pickled vegetables weren't what drew us to the dish, they were excellent, especially the green tomatoes. The pickled vegetables might have been my favorite aspect of the dish.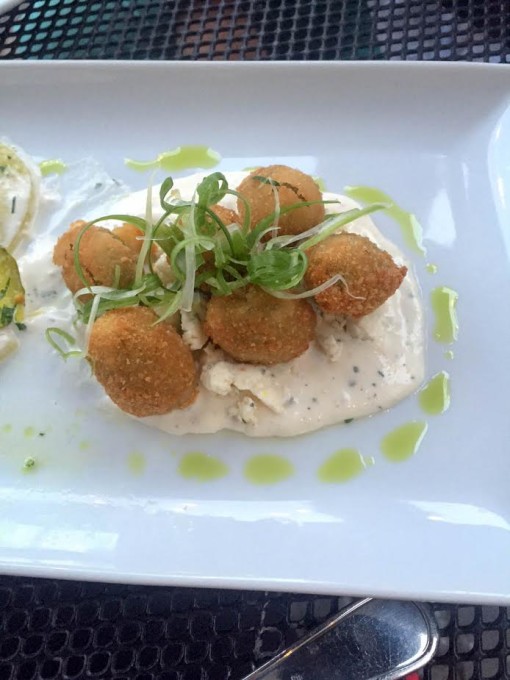 As I said in another review, I'm a sucker for seafood, so I opted for the grilled calamari & octopus dish. It was served on top of a salad of Cara Cara oranges, baby spinach, and citron butter. Now, I'm not big of salads in general, but I could easily eat that dish for every meal. The calamari and octopus were cooked to perfection, both very fresh.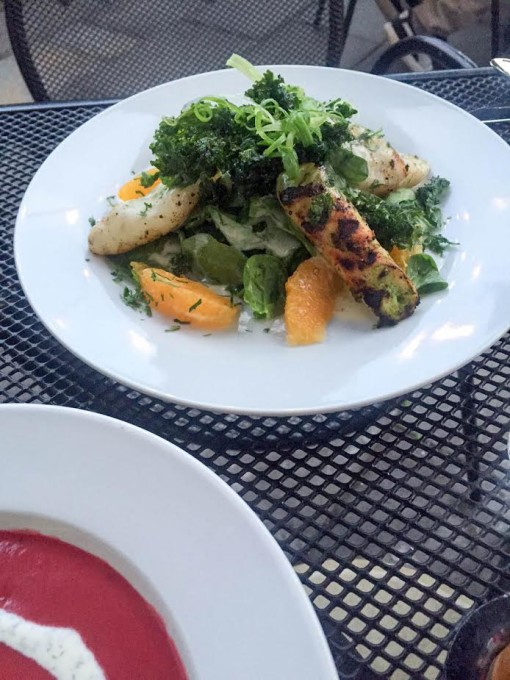 We also got the chilled beet soup, with dill creme fraiche and cucumber ribbons, which was refreshing.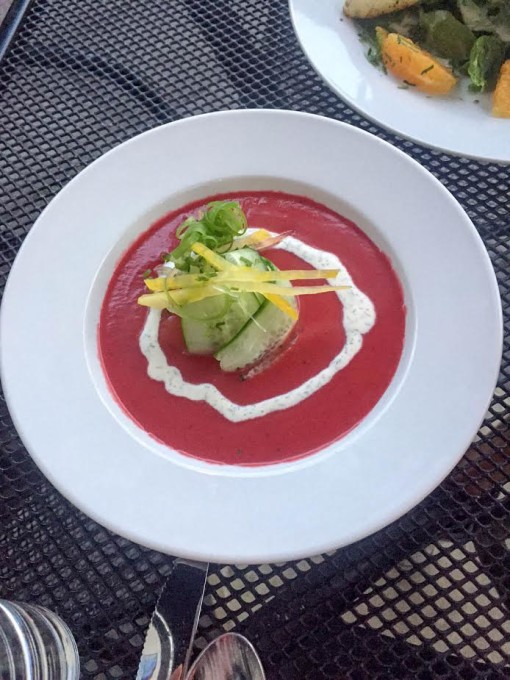 For an entree, we decided to split the portobello frites. The dish was grilled portobellos with crispy zucchini strings and a spicy tomato sauce. Tomato sauce isn't one of my favorites, but I was pleasantly surprised with the creativity of the sauce which was both fresh tasting and very spicy. The grilled portobellos juiciness was an indescribable symphony of melt in your mouth goodness, with a slight chew. The zucchini strings were the perfect accompaniment to the sauce and shrooms. I have to note how exceptional the service was with this dish; the chef split it into two miniatures of the original dish, since we mentioned to the server that we would be splitting it.
The biggest surprise of the night was the dessert. Even though the dessert menu was small, we decided we couldn't leave without trying something. Our choice was the Butterscotch Pudding. Looking back I can't figure out why we picked this, because I haven't had pudding since I was a child, and the nostalgia it conjures is a hard candy your grandmother would eat. This was up there as one of the greatest desserts I have ever eaten. It was truly an adult interpretation of something you would love to have as a child, served with chantilly creme and toasted amaranth crumble. The consistency was more of a mousse, the creme and crumble perfectly complimented it. There was a brawl for the last bite.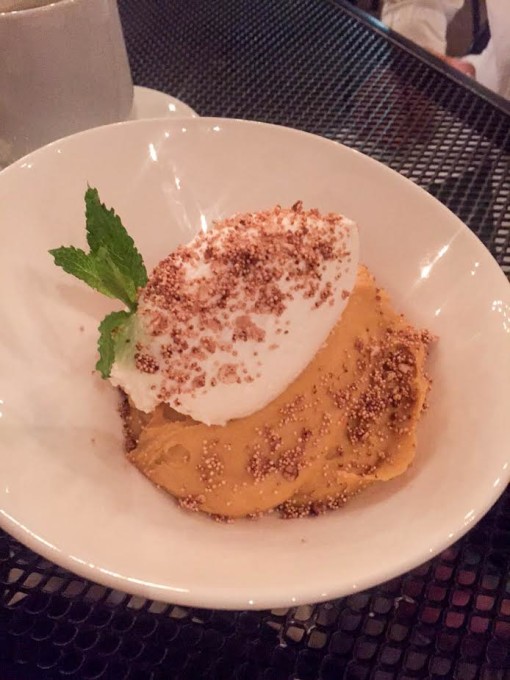 A couple side notes re: the menu that I didn't check out. There is a "Late Night" menu with some additional special entree dishes as well as a brunch menu with a rotating "Ron Swanson Special" that would make any Parks & Rec fan proud.
All in all, I will gladly return to Moonshine 152, with its dedication to bringing a sustainable and fresh take on street-inspired food to the Boston.