By
Nick Byrne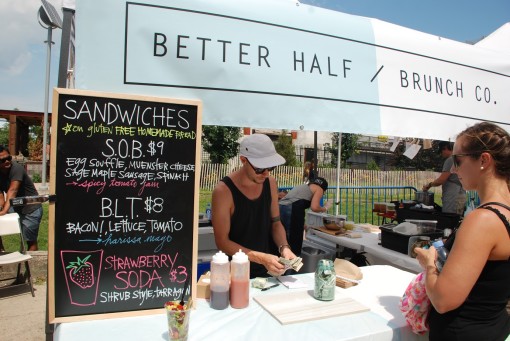 It's that time of year again, when back to school ads begin to prematurely pollute our televisions and the days start to get a little shorter, the time of year when you can taste the bittersweet beginnings to another summer's end. Although we still have a few solid weeks left, I've taken this time to reflect upon my summer foodie adventures: brunches, dinners, new restaurants even a picnic devoted to bacon and of course, Smorgasburg. Luckily for those of us who haven't had the chance to explore and divulge the foodie haven that is Smorgasburg, they don't close their doors until November!
I had heard through the foodie grape vine that there was a new vendor, Better Half/ Brunch Co, who had popped up on the Smorgasburg radar. Better Half isn't just new to Smorgasburg, they are new to the industry – and that intrigued me. I continued to remain intrigued when I learned about the concept and story behind the company. The owners, Jeffrey and Sydne, have a shared focus of bringing wholesome fast food to New York, with homemade recipes and farm fresh ingredients – virtually preparing everything themselves, utilizing their own unique recipes. Anyone with as much creativity and innovation as Better half, is enough to seal the deal for me. I knew I had to make a second trip and check them out. So, last weekend I had the pleasure of returning to Smogasburg, with my main focus on Better Half. Bypassing the allure of the delicious and various options, I set my blinders on to try the newly introduced and highly ambitious, Better Half.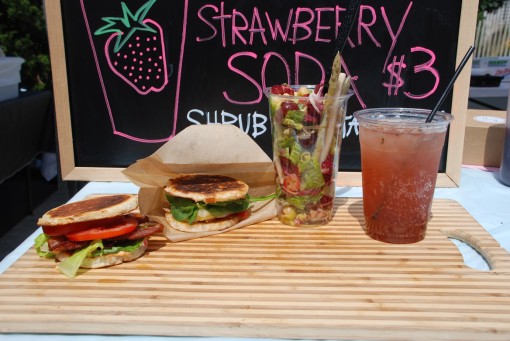 I first tried the summer inspired Shrub Style Strawberry Soda with tarragon. The fresh, all natural soda was refreshing, crisp and full of Strawberry goodness. This was my first time trying a Shrub Style Soda, and I can't wait to try Better Half's other flavors. They've recently started a ginger peach and pepper shrub.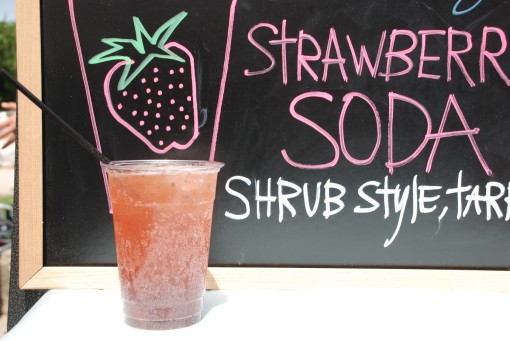 Secondly, I tried their Bloody Mary Chopped Salad. Take all of your favorite ingredients of a Bloody Mary (minus the vodka) and substitute the vodka with delicious spicy tomato vinaigrette. From someone who loves his vodka, I wasn't disappointed by it's absence – this delicious concoction of food that I had before me made up for it. Served in a tall cup, the Bloody Mary consisted of fresh romaine, chunks of salami, tomatoes, chickpeas, peperoncino and pickled asparagus. Better Half pickles their own vegetables, and the outcome is delectable. The Bloody Mary Chopped Salad was zestful and fresh, filled with a perfect combination of spice and just the right amount of saltiness.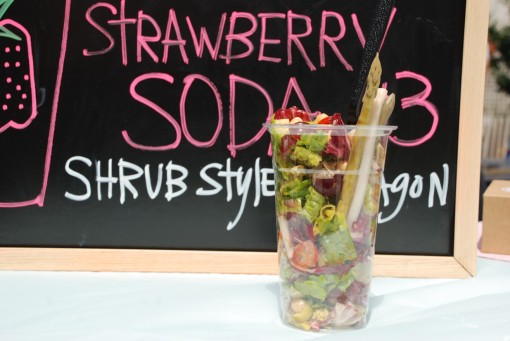 Both of their signature sandwiches feature gluten free homemade bread, which is most closely comparable to an English muffin. The B.L.T. is of course comprised up of bacon, tomato and lettuce – but remaining consistent with their top quality food initiative, they used a thick slice of tomato that was plump and juicy, bacon that was hardy and fried perfectly and lettuce that was crisp and fresh. The juice from the tomato and bacon was soaked up excellently into the gluten free, homemade English muffin creating it's own natural sauce. The top layer was accompanied with harissa mayo, which added the most succinct amount of spice to the sandwich, and made this B.L.T. a Better Brunch one of a kind in it's own right.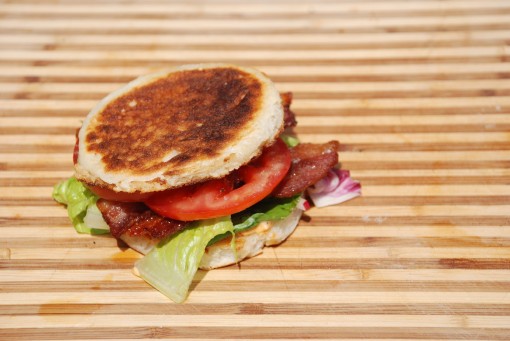 The show stealer of the day without a doubt was the S.O.B. sandwich, also served on a fresh, gluten free, homemade English muffin. America's favorite Egg McMuffin inspired the S.O.B. sandwich, and no shade to McDonalds, but this version easily surpassed it. The foundation is a light and fluffy egg soufflé, topped with melted Muenster cheese. The S.O.B. also features juicy sage maple sausage and fresh spinach. Better Half takes innovation up a notch and tops the sandwich off with a spicy tomato jam, which when all nestled together, created a wonderful, new classic, breakfast sandwich!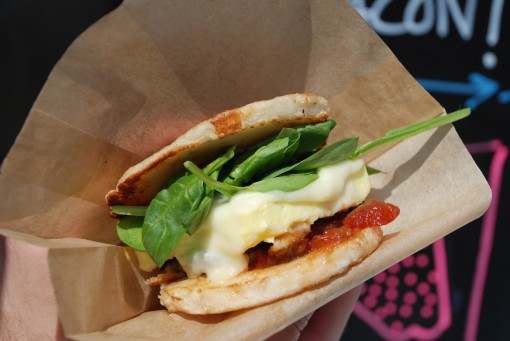 After inhaling the 2 sandwiches, salad and beverage with my usual Neanderthal mannerisms, I had the pleasure of sitting down with Jeffrey and Sydne to discuss their future hopes for Better Half/Brunch Co. and what they hope to bring to us New Yorkers.
What is the thought process behind Better Half/Brunch Co. Conceptually speaking, what makes Better Half different from anything else in the city?
Our concept for Better Half Brunch Co. is a weekend vibe inspired by grab and go brunch fare – we wanted to offer something that evokes the glory of fast food but with quality ingredients and attention to detail. Our sandwiches stand out cause we are hand making our gluten free tigelle on a hot flat top. (Tigelle is a style of English muffin from Emiglia Romana). Every bit of our egg sandwich is hand made except for the cheese and spinach … Better half is inspired by that magical moment when food surprises you with its full potential.
What has your experience been in the culinary world thus far?
We both have been working in restaurants for many years  – Sydne in the kitchen and I've worked in service. Sydne has spent much of her time in New York as the Executive Chef at Cafe Cluny downtown and as a sushi chef at Bond Street. I've worked for Mario Batali at Otto, was managing captain at Momofuku Noodle Bar and spent years with the Franks at Frankies 457.
What are your future hopes/aspirations for Better Half? Where do you hope to see Better Half in the next few years?
We are working towards a brick and mortar location in the city. It will be called BETTER HALF. We call our Smorgasburg booth BETTER HALF BRUCH CO. because it is a specific menu for Smorgasburg and weekend indulgences. We are opening a grab and go / made-to-order breakfast and lunch spot in the city where customers can have both healthy, clean food and indulgent, comfort food.
I know a lot of your ingredients are homemade, is there anything that's special about your ingredients or recipe or preparation?
This is truly what we think sets us apart and makes the S.O.B. so special is that virtually EVERYTHING is made by us with our own recipes that we spent a lot of time testing and going over and over with to get exactly the right equation so that when you bite into an S.O.B, it seems effortless, comfortable and 'just right'. We even make our own flour mix for the English muffins. The sausage was a blend between a breakfast sausage and a pate de compagne/French country pate. The tomato jam was a tweak on an old recipe that was served for leek & cream braised eggs for brunch out of a pizza oven. Going into our 2nd month, we are starting to work with vendors/farmers that get/grow their products upstate and hope to get more involved as our business grows.
Are there any special dressings that go on either the BLT or Breakfast sandwich? The spicy tomato jam for instance, how is that made?
Our spicy tomato jam is the secret star of the S.O.B. Egg sandwich. It's a classic summer fruit jam starring summers best  – the tomato. With a pop of jalapeño and a touch of sugar it is salty sweet and spicy. Our Harissa mayo is a simple sauce using Harissa (Tunisian hot chili pepper paste) to evoke the spice & warmth of Northern Africa & complement the juicy cool, thick slices of tomato & the salty, crisp bacon.
Random question… but where are you preparing all of these dishes?
We use the Kitchen at Entrepreneur Space on Long Island once a week to prep for all of our needs for market. We spend most of our time there making the egg soufflé, sausage and tigelle muffins.
What was a major catalyst or inspiration for you to start your own business?
We both had a strong urge to not only to do something on our own, but to fill a niche we felt was lacking in the city which is really WHOLESOME grab and go breakfast and lunch. Fast food can be wholesome and we aim to prove that.
And there you have it! Support local businesses, support new businesses, support good businesses, and support S.O.B. sandwiches. Head down to Smorgasburg and take advantage or what's left of this ephemeral summer and go pay Better Half/Brunch Co. a visit – you'll be glad you did!
You can find Sydne and Jeffrey at the East River State Park location on Kent Ave. and N. 7 St.—the Williamsburg waterfront on Saturdays 11-6. And check them out on Instagram: @BetterHalfNYC