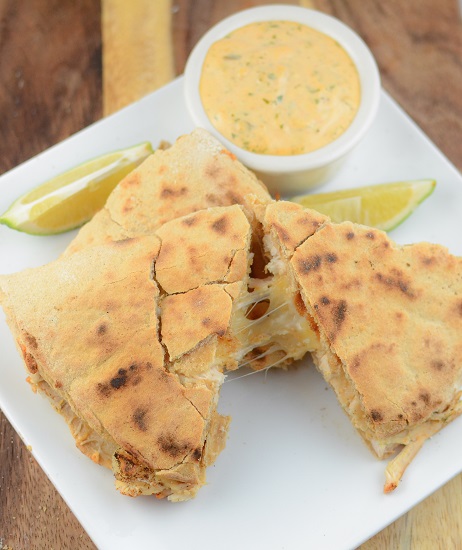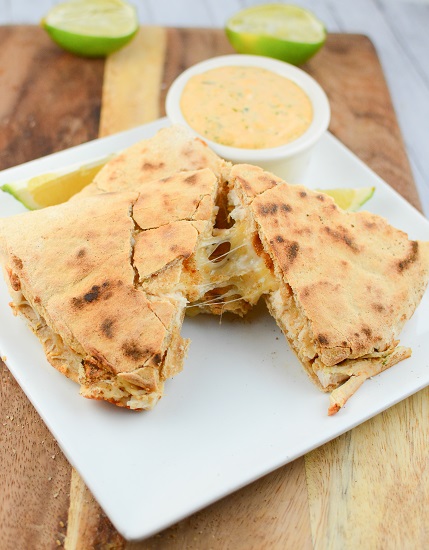 Is it a flat bread calzone? Is it a quesadilla?  Is it a sandwich?  I can't answer such questions, but what I do know, is this recipe is off the charts delicious.  Perfect weeknight recipe, that is tailor made for leftovers.  Mine has chicken in it, but make it with, steak, fish, tofu, shrimp, raccoon, whatever.  Though, me, I stay away from the road kill.  What you do in your free time, is your business, no judgment here, maybe a little.
Combine all the dough ingredients in a bowl, and stir with a wooden spoon until it forms into a dough.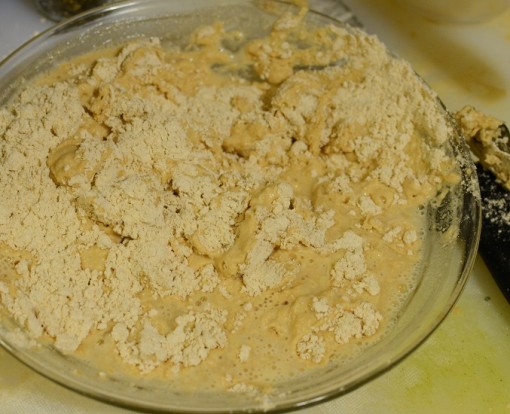 Knead the dough for a minute or two, and form into a ball.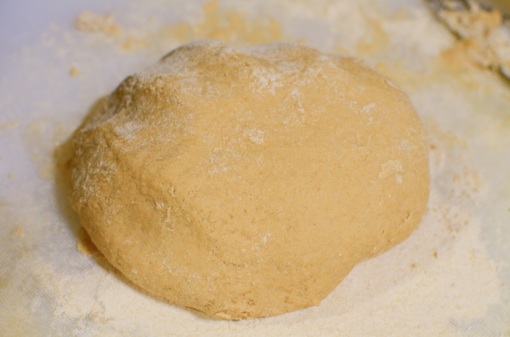 It should resemble the moisture level of pizza dough.  Let it sit for 30 minutes covered in plastic wrap so the gluten relaxes.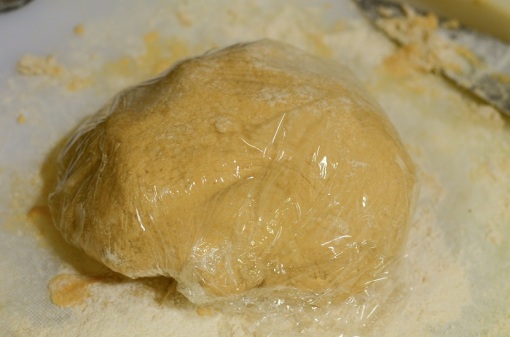 Press out with your fingers like making a pizza.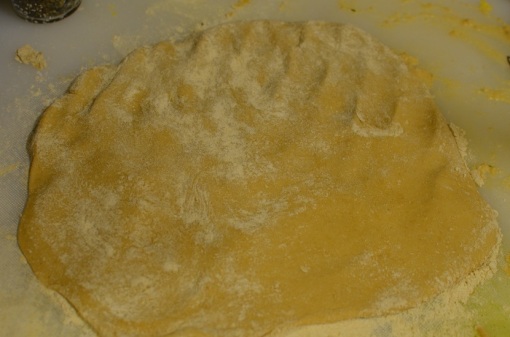 Roll it out, and cut the borders into a circle.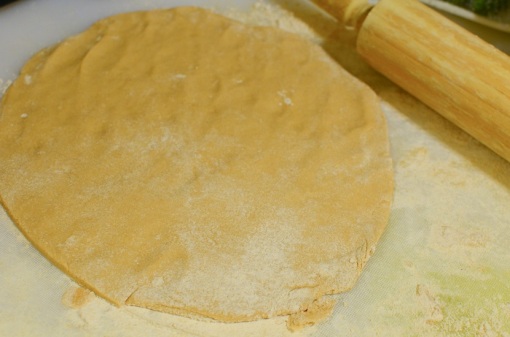 Cook in a dry preferably cast iron pan on each side for about two minutes until it starts to slightly char and bubble.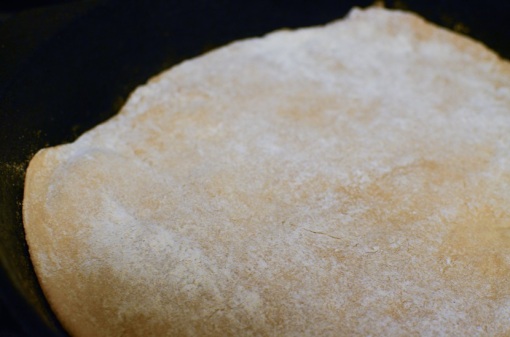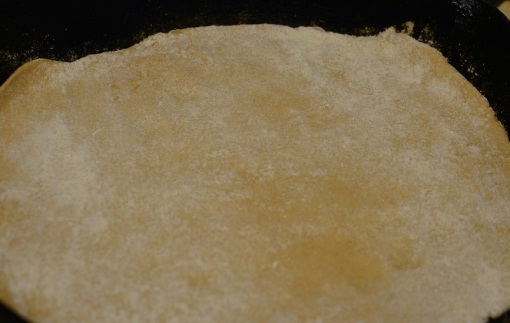 Put the chicken and cheese on one side of the flatbread.  You should put the cheese on the bottom and then chicken and then another layer of cheese.  Apparently, sometimes I don't take my own advice.  Either way it will work.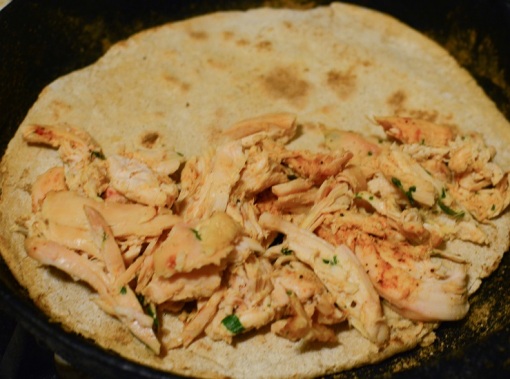 Fold it over, and press down firmly.  If you have a bacon press you can put it over top to weight it down.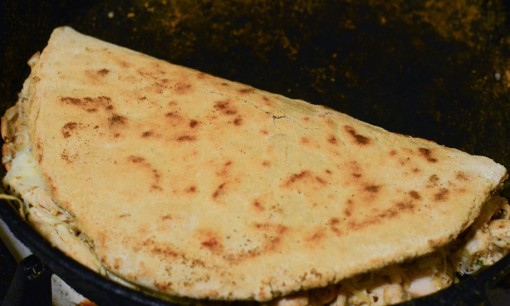 Cook on each side for a couple of minutes until the cheese starts to melt, and both sides are stuck together.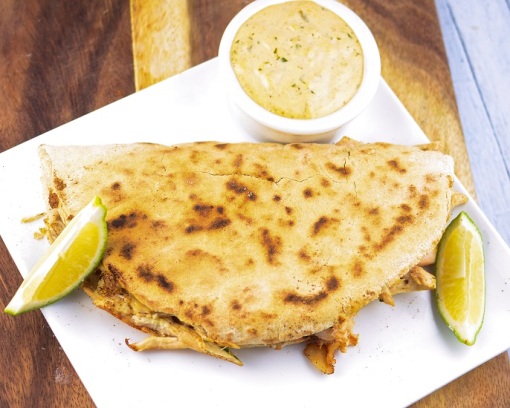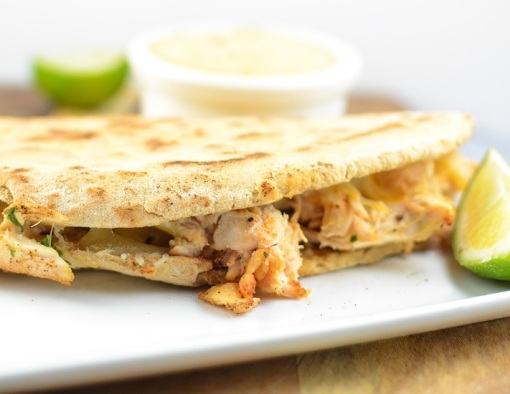 Cut with a pizza cutter into whatever size you like, or eat as is.  No rules on this site.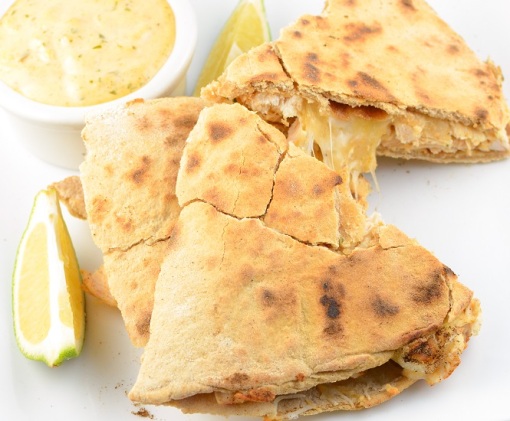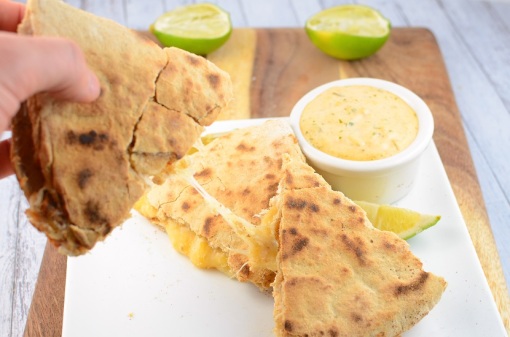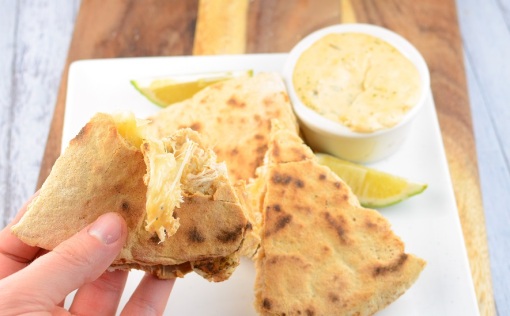 Once I dipped into the sauce and took a bite, the photo shoot was over!  Enjoy! This flat bread calzone is going to blow your mind.
Chicken Flatbread Calzone
Ingredients
For the Chicken:
1 Cup Cooked Chicken
1/2 Cup Shredded Mexican Blend Cheese
1 Tablespoon Water
1 Teaspoon Chili Powder (I used New Mexican Chile powder)
1/2 Teaspoon White Vinegar
For the Flatbread:
2 Cups Flour Plus 2 Tablespoons (I used whole wheat pastry flour)
1 Cup Water
1 Tablespoon Olive Oil
Extra Flour for Dusting
For the Dipping Sauce:
1/2 Cup Mayo
Juice of Two Limes
1 Clove Garlic Minced
1 Jalapeno Roasted
1 Tablespoon Minced Cilantro
Instructions
Combine all flatbread ingredients in a bowl
Stir until a dough is formed. If too dry add more water, if too wet add more flour. The consistency should be similar to pizza dough
Cover with plastic wrap and let rest for 30 minutes
Divide dough in half
Roll each piece of dough out to a 10" circle
Combine all chicken ingredients together except for cheese and microwave for 45 seconds, or until heated through
Heat an extra large skillet on medium high heat and place flat breads on. If both don't fit make in batches
Cook each side for about 2 minutes until it bubbles and chars slightly
Place chicken and cheese on flat bread and fold over, pushing down, a bacon press could be used to hold it down
Cook on each side for 2-4 minutes until cheese is melted
Dipping Sauce:
To roast the jalapeno hold over open flame until all sides are black. If you have an electric stove you can roast in a dry pan until all sides are blistered black. Take a knife and scrape 80% of charred skin off, leave some to add a smokey flavor
Squeeze the juice of two limes into a bowl
Put mayo in the bowl and whisk to combine until smooth
Add remaining ingredients and stir
http://foodefile.com/2014/12/chicken-flatbread-calzone-roasted-jalapeno-aioli/