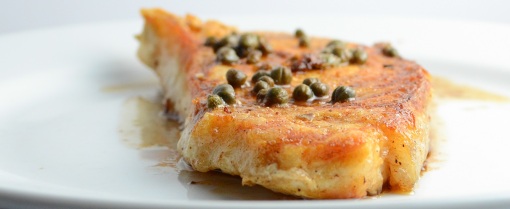 Halibut in brown butter sauce, heck any fish in brown butter sauce, is going to be a bomb of simplistic awesomeness.  All of a sudden I'm a food blogger, and I need to constantly be creating, scheming, and making up new recipes, but if I could eat one thing, and one thing only, it would be this.  Especially if the fish is fresh, which leads my to my next point, seek out the freshest fish possible.  If there is a fish market in your town, skip the supermarket.  Get to know your fish monger, and you will learn a thing or two.  Nothing brings out the flavor in fish better than a brown butter sauce.  Toss in some lemon juice and capers, and you're gonna want to throw creativity out the window, and eat this, and only this.  But don't do that, subscribe to my blog, and cook some weird stuff!  Contradictions much?  Maybe.
I consider myself a fisherman of sorts, and when summer hits, I will be off in my kayak, or on the beach hoping to hook up with trout, large mouth bass, small mouth bass, striped bass, bluefish and avoid the sharks.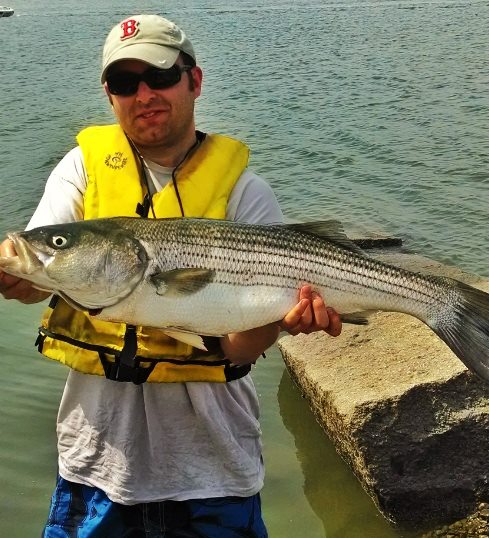 Such is the life of the weekend warrior fisherman in the New England region.  I fancy myself a bit of a romantic, so of course fishing isn't just about killin' an grillin'.  The entire experience resonates through me.  When I have trouble sleeping at night, (which is a lot) I think about laying on the jetty, sun beating down, listening to the waves, not caring if I get a bite or not.   Before I know it zzzzz.
Right now the deep freeze is setting in, when I walked my dog after work I was on my phone, sans headphones, hat and gloves. By the time I got back to my place my hands were barely functional.  New England life can kick my ass sometimes, but at least spring will be here soon, and the trout will possibly be dumb enough to eat my lure.  Most of the trout around here are stocked by the state, but even though they are farm raised, they taste great.  And wouldn't you know it, that brown butter sauce works awesome on the trout.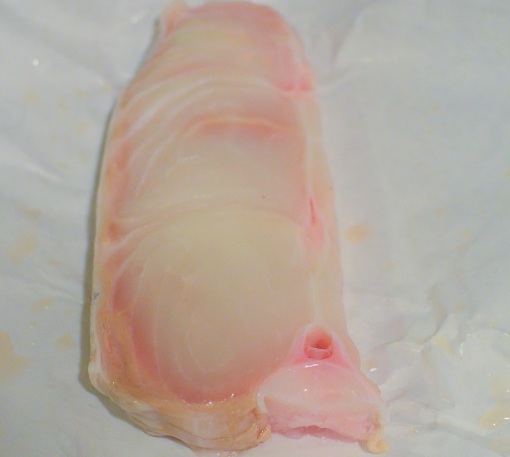 Brown butter sauce is extremely simple, and I'm all about the simple.  That said, the technique takes time to get good at.  The more you baste the fish in the butter, the better.  Keep the pan on a medium heat, too hot and it's black, too low and it's just butter.  Quite a fine line, but after you do it a few times, easy peasy. The idea is to form a crust on at least one side of the fish.  It helps if you dredge the fish in flour or cornstarch.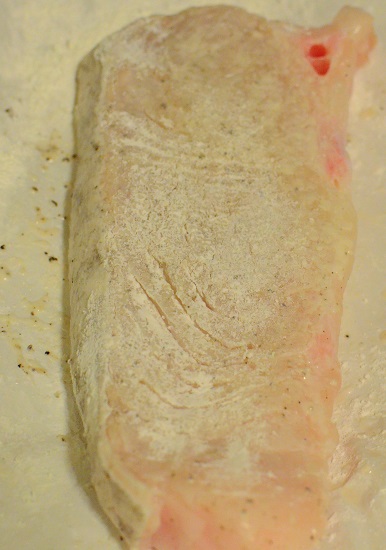 A trick is to start off with grape seed oil (or any high heat oil), cook the majority of the first side of the fish on a medium high heat to get some crispies going on.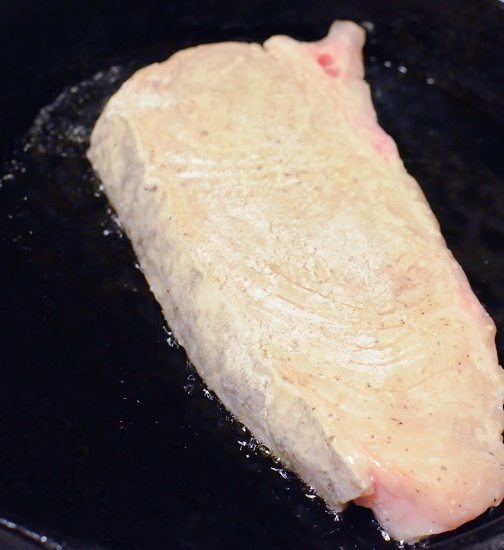 Then wipe most of the oil out, but leave a little to raise the smoke point of the butter.  Put the butter in the pan and once it starts to slightly brown, flip the fish.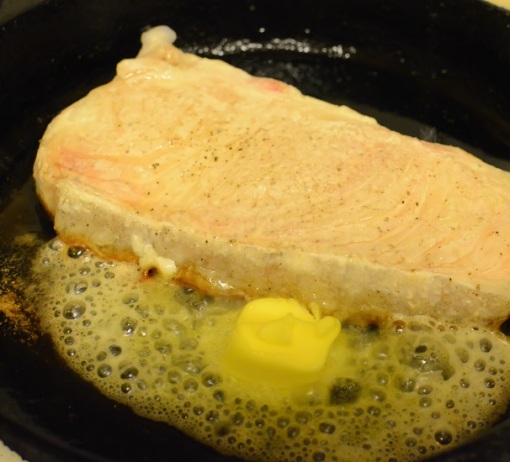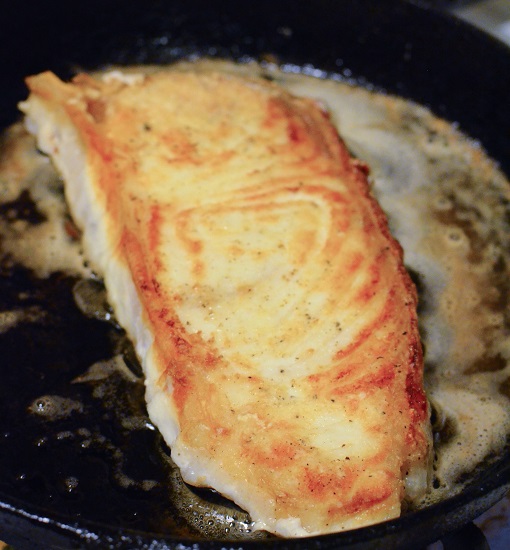 Cook the second side at medium high heat for about a minute to get a crust.  Reduce the heat to lowish medium, tilt the pan at a 25 degree angle so the butter is pooled up at the side.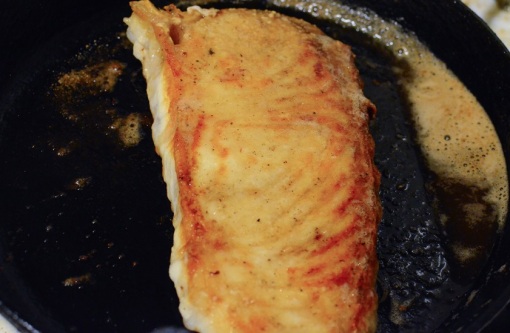 Spoon the butter over the fish as much as your attention span can handle.  I won't hold it against you if you stop for a few minutes, and just let it cook.  This isn't risotto, it will be OK.  About halfway in squirt the lemon juice, and drop in the capers.  As the fish is getting closer to being cooked, you can take a slight peek inside.  Do not cut deeply into it, just a little teeny peek.  When it is almost cooked, but slightly raw, take the fish out of the pan and put it on a warm plate.  Spoon the brown butter over it and let it sit for 5 minutes.  The residual heat of the brown butter will cook it to a perfect juiciness.  If this last part freaks you out, just cook it until it's done, and smash it into your face.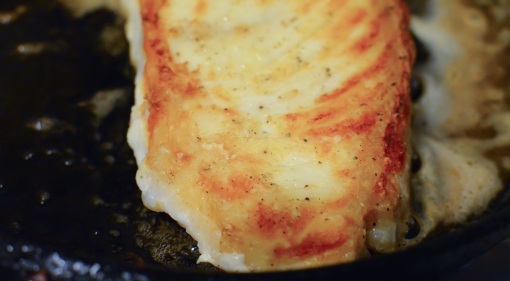 Halibut in Brown Butter Sauce

Ingredients
3/4 LB Halibut Steak
1 Tablespoon Butter
1 Tablespoon Grape Seed Oil
2 Teaspoons of Lemon Juice
1 Teaspoon Capers
Cornstarch for Dredging
Instructions
Salt and pepper fish, dredge in cornstarch, shake excess
Place cast iron or non stick pan on a medium high heat with grape seed oil
Carefully place fish into oil to avoid splashing
Cook first side until fish is 40% cooked and wipe out 90% of the oil
Place butter into pan, when it starts to brown flip fish
Cook second side for 1 minute at a medium high heat to form a crust and reduce to medium low
Tilt pan to a 25 degree angle and spoon butter over top of fish, basting constantly
When fish is getting closer to being done put in lemon juice and capers
Keep basting with the lemon juice and capers
When fish is just barely raw place on a warm plate, spoon sauce over fish, and let rest for 5 minutes, residual heat will finish cooking
http://foodefile.com/2014/12/halibut-brown-butter-sauce/