I'm not sure there is a better food to eat with friends and beers.  What better food to eat on the bowling alley, when you have your hands all over dirty balls.  Nothing a shower in purel can't cure.  When I cooked these tonight I had every intention of eating half with brown rice, and steamed broccoli.  Umm, yeah, I don't know if even I believe my own lies.  If a person eats 3 pounds of wings as dinner, I wouldn't judge.  So hopefully you don't when I tell you I ate them all!  It's paleo, or something.  I'm primal damn it.  Until I eat pizza tomorrow.
Most buffalo wings are done with Franks Red Hot, garlic, and butter.  There is a bar near me called the Publick House that has an unbelievable beer list, and their Buffalo wings are on the same level.  This is what inspired me to scheme up this recipe.  When I googled Sriracha Buffalo Wings, I realized they probably weren't' the first geniuses to put sriracha sauce in place of Franks. At least I had a starting point to what flavor I was going for.
This isn't the popular opinion, but I don't think frying is the best method for wings.  I try to stay away from frying in general, it's a pain, and adds a lot of fat to your food.  I cook my wings on a cooling rack at fairly high heat, and then finish under the broiler to get some charring.  The air circulates all around the wings, which creates for the crispiest skin of all time.  Just make sure that they have their space, and aren't touching each other.  Much like a long car ride as a kid with my three brothers.
For more Sriracha awesomeness, go to http://srirachaheaven.com/sriracha-recipes-cooking-with-hot-sauce/ where this and other fire breathing recipes reside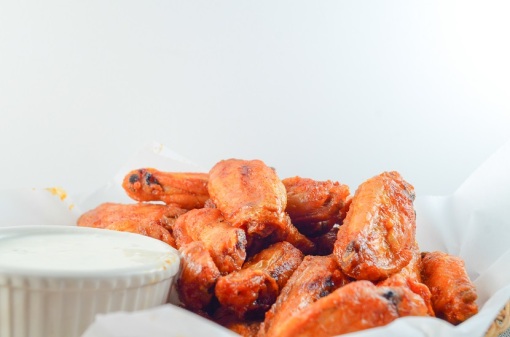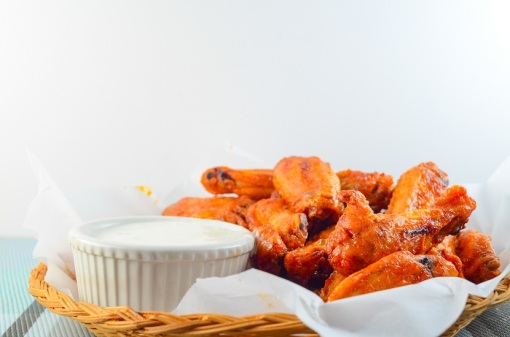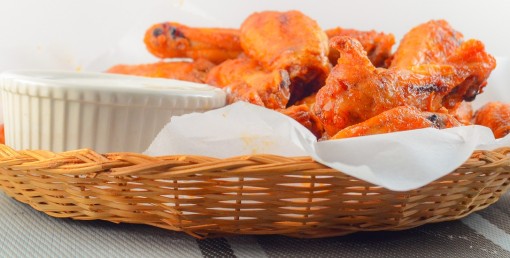 Ingredients
3 LBS Chicken Wings Split in Half Tips Removed
2 Tablespoons Butter
2 Tablespoons Sriracha Sauce
1 Teaspoon Minced Garlic
1/2 Teaspoon Honey
Instructions
Wings:
Preheat oven to 450
Dry wings thoroughly, place on a cooling rack with a pan underneath to catch drippings, apply salt liberally
Cook each side for 15 minutes
Turn broiler to high, broil on the second to highest rack each side for 1-3 minutes or until some charring occurs. You can do it with the door open so that they don't burn
Sauce:
Melt butter in a pan on medium low heat
Add garlic, cook for 30-60 seconds or until fragrant
Take off the heat and whisk in honey and sriracha sauce
Place sauce in a large stainless steel bowl and toss wings. Serve with blue cheese or ranch dressing.
http://foodefile.com/2014/12/sriracha-buffalo-wings/