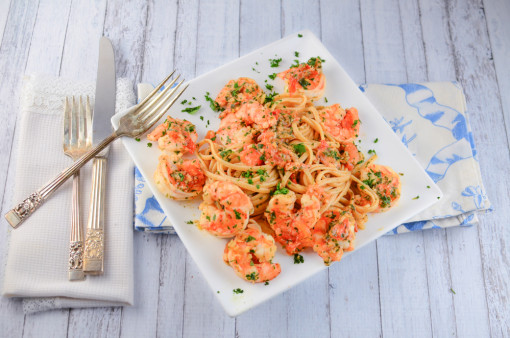 The more I write my blog, the more I realize Italian food is my favorite thing to cook.  I'm not sure anything will ever replace sushi, in my favorite to eat category.  But, If I'm being totally honest, I stink at making sushi rolls.  Being a dude I'm of course too stubborn to take a sushi class, even though there is one half a mile from my house.  Maybe one day, I doubt it.  Until then I will have to suck it up, and pay the outrageous prices to get a good sushi meal.  Anyway, this post isn't about my quirkiness, or sushi.
The key to Italian cooking is simplicity.  Buy great ingredients, and let them do the talking.  I am as guilty as the next person of taking a wonderful dish, and adding one too many ingredients, thus making it taste like nothing.  When you add too much, it muddles the other elements, so you hit one bland note of what am I eating?  Don't be like me, use restraint.  I need to play that on repeat whenever I make soup.  If you put cheese on this dish someone's (maybe your) Italian grandmother may pop out of nowhere, and smack you with a wooden spoon.  I wouldn't do it, just sayin'.  A cheese like pecorino or parmigiano are amazing gifts from whatever god you are into, but 99.9% of the time they don't belong near seafood.  The real hardcore Italians say no dairy with seafood ever, but sometimes rules were made to be broken.
Investing in good wine is almost as important as buying fresh shrimp.  Don't use anything labeled "cooking wine".  I have no idea what this is, but it aint wine.  Buy a nice bottle of white for you to drink, and use part of it to cook with.  Heck buy two bottles, I won't judge you.
Being an over opinionated male, I obviously have a thought on what shrimp to get.  Stay away from the farm raised stuff, unless you're 100% certain where it's coming from, and how they run the farm.  I have seen videos online showing the way some shrimp farms do their thing. I'm not going to dive too deeply into the grossness level, but take my word for it.  A quick google video search, and you can figure it out.  I'm not saying there aren't any good shrimp farms out there, it's just hard to know what you're getting.  Not to mention, wild shrimp tastes a bazillion times better.  The best size shrimp to buy would be U10-U15, the number refers to how many shrimp per pound.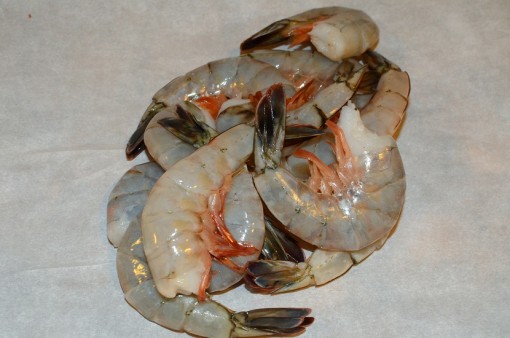 If you're buying wild shrimp chances are that you need to peel and devein them yourself.  To peel, gently push your finger under the shell and wiggle it out.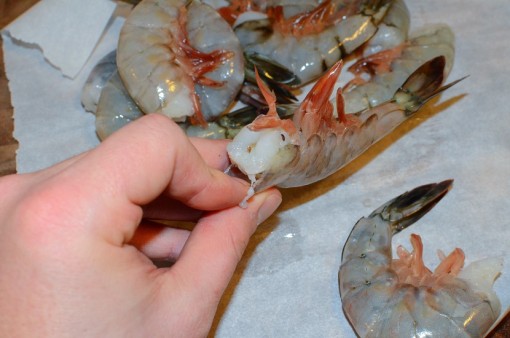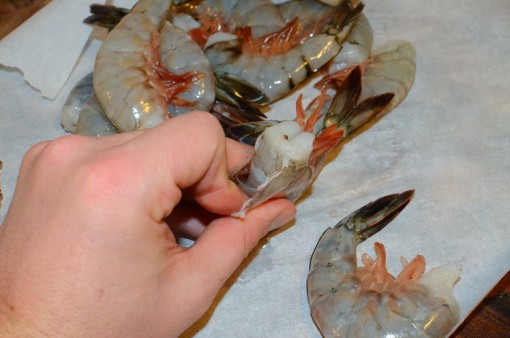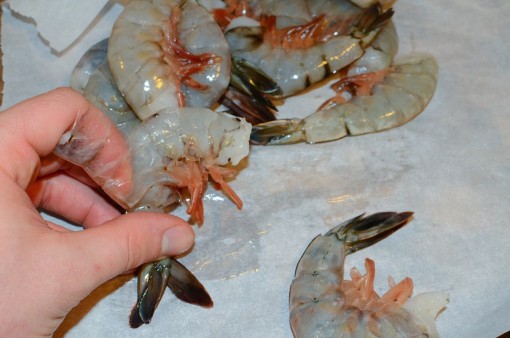 Next hold the shrimp so the back is facing up.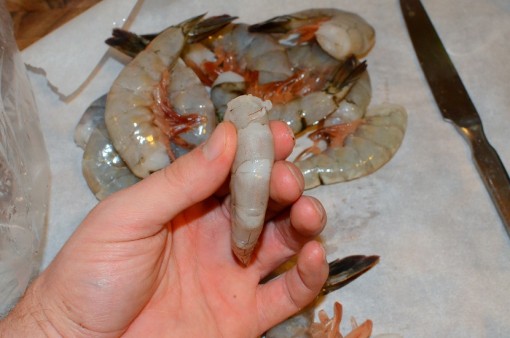 With a butter knife, make a shallow cut to expose the digestive tract.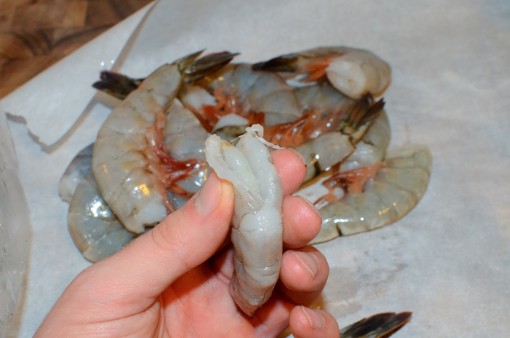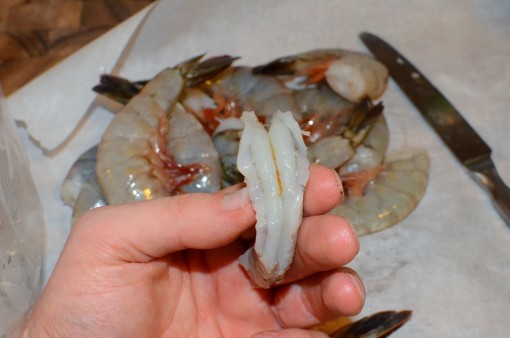 Pull it out with your finger or scrap it with your knife.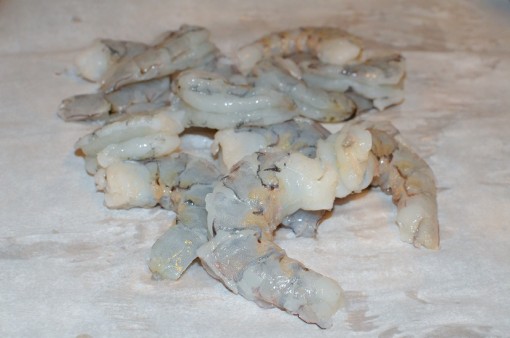 Save the shells they make awesome stock.
 So simple, but with a good product anything can be a masterpiece.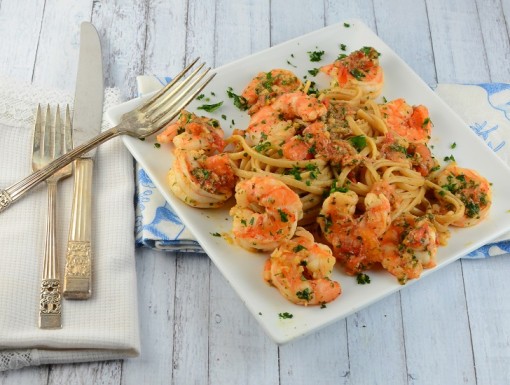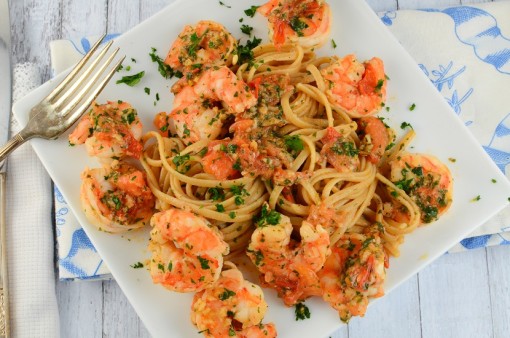 Shrimp Linguine in White Wine Sauce

Ingredients
1 1/2 Pounds of Shrimp Peeled and Deveined
½ Pound of Linguine Cooked 1 Minute Underdone
1 Cup White Wine
1 1/2 Tablespoon Minced Garlic
¼ Teaspoon Red Chile Flakes or One Chile Pepper (optional)
¼ Cup Italian Flat Leaf Parsley
Juice of One Lemon
½ Pound Tomatoes Roughly Chopped, the Redder the Better
2 Tablespoons Extra Virgin Olive Oil
Instructions
Place olive oil, chile, and garlic in a pan and cook on a medium heat until garlic is fragrant
Turn up the heat and saute the tomatoes for 2 minutes
While the heat is high put the wine in and reduce by ¾
Add lemon juice and shrimp
Bring to a boil, reduce heat to medium simmer, cook for 7-10 minutes covered until shrimp is almost done
Add parsley cook for one minute
Add under cooked pasta and finish in the pan mixing everything together
Season with salt and pepper and serve
http://foodefile.com/2015/01/shrimp-linguine-white-wine-sauce/