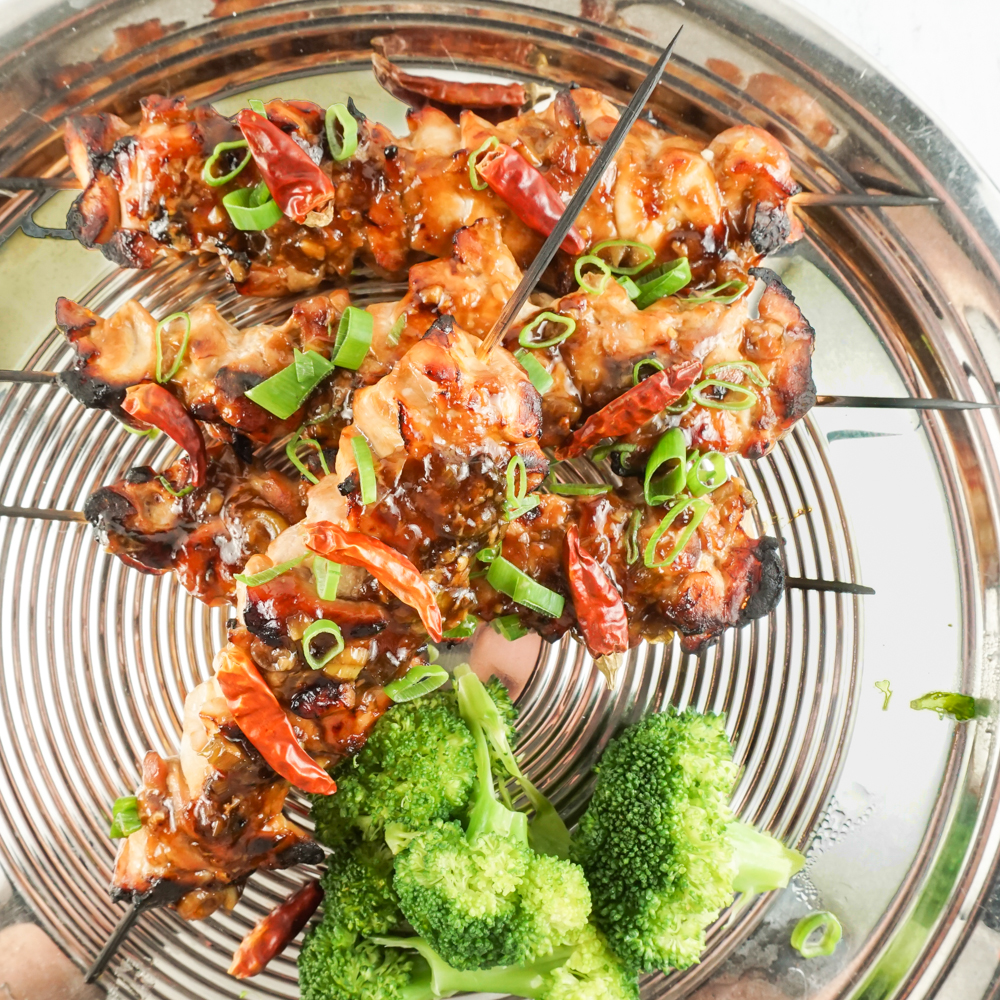 By
Adam Baratz
Two of my favorite things in one place – meat on a stick and Chinese food, General Gau's chicken Chinese food to be exact. The best part. Totally. Guilt. Free. I don't think I've ever ordered take out Chinese and said to myself boy that was a great choice, good thing I got that instead of cooking. Not really a brain buster, that never happens, because after Chinese you're A. bloated, B. hating yourself and C. hungry again in twenty minutes.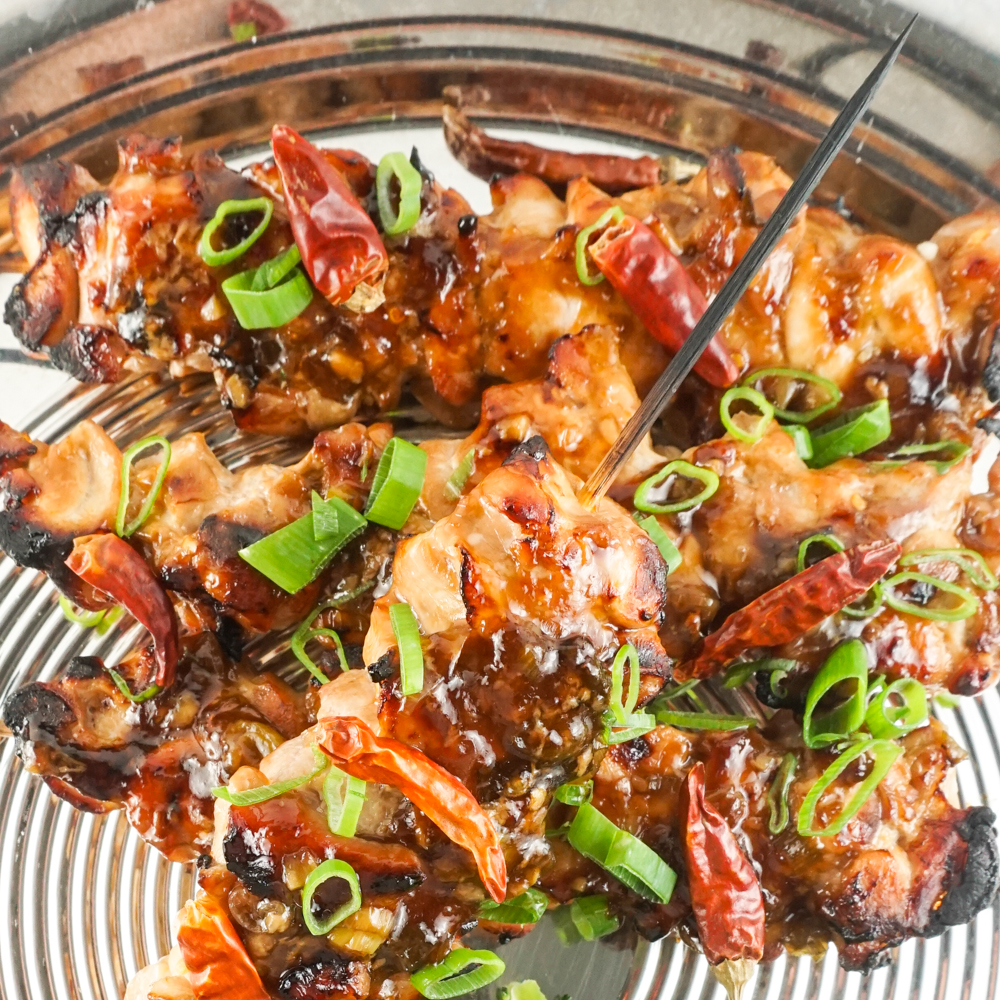 Lucky for you and I this General Gau's Chicken Kabob will fill you up and leave you feeling great. By grilling instead of frying you lose a billion calories and add that awesome char that you will only get when sugars caramelize over fire. Nothing quite like an open flame putting a slight burn char onto your meat of choice. Plus, meat on a stick, amiright?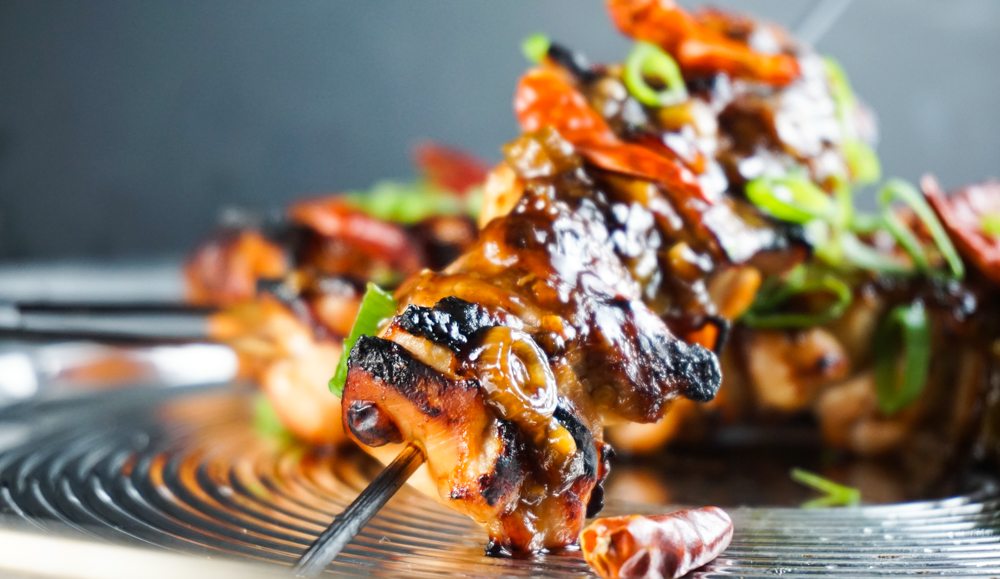 All romanticism aside, I do have a bone to pick with SOME meat on a stick. Why must you insist on being drier than the Sahara? The name of the game is not to see who can get the most moisture out of the meat. The usual suspects for a desert-like piece of protein are: the meat is not cut evenly, the wrong cut of meat is used, the meat is cooked too long. In this recipe we utilize the best part of the chicken aka chicken thighs. I know the low fat crowd is rolling their eyes right now but if you take a few extra minutes to trim the fat you will survive. Not to mention a lot of the fat melts off, while basting.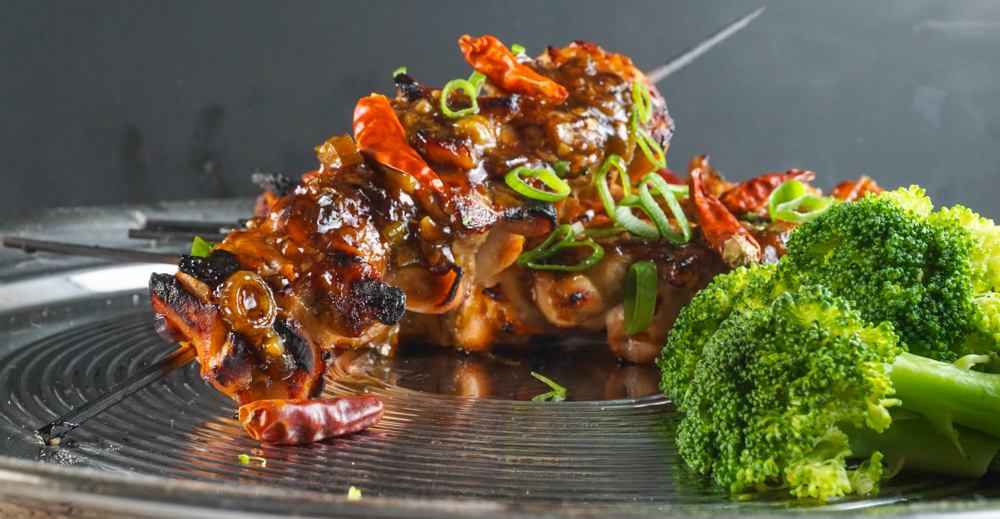 So that's about it, eat my chicken, you will be glad you did! As always, make more than you can eat and share with your friends and family.
General Gau's Chicken Kabob
Ingredients
1.5 lbs Chicken Thighs in Bite Sized Pieces
Marinade:
1 tbs Soy Sauce
1 tbs Chinese Rice Wine
1 tbs Rice Wine Vinegar
Sauce:
3 tbs Homemade or Low Sodium Chicken Stock
2 tbs Chinese Rice Wine
1 tbs Rice Wine Vinegar
1 tbs Dark Soy Sauce
1 tbs Low Sodium Soy Sauce
1 tbs Minced Garlic
1 tbs Honey
1 tbs Chopped Green Onion Tops Reserved
3-4 Dried Chinese Chiles
2 tsp Cooking oil
2 tsp Corn Starch
2 tsp Cold Water
Instructions
Marinate the cut up chicken for 1 hour but no longer than 2 hours
Put chicken on skewers tight together, if pieces are flat fold in half before putting on kabob
In a sauce pan heat oil on medium heat, cook garlic and white/light green section of the green onions reserving the tops for garnish
Combine everything in sauce pan except corn starch and water
Bring the sauce to a medium boil
Combine water and corn starch to form slurry and put into sauce stirring as you do so
On a medium heat grill kabobs for 6-8 minutes per side basting once or twice per side
Chicken is done once it has an internal temperature of 165 degrees
Garnish with green onion tops and dried chiles, serve with steamed broccoli and rice
http://foodefile.com/2015/06/skinny-general-gaus-chicken-kabob/