This is my second installment of a sriracha based chicken recipe, and hello flavortown.  The first sriracha recipe was bufalo wings http://foodefile.com/2014/12/sriracha-buffalo-wings/.  I got the inspiration from a bar near me called Publick House in Brookline Massachusetts.  The recipe came out great for buffalo wings, but they didn't taste much like the bar's version.  I will definitely make the buffalo wings again, as they were delicious, but I didn't hit my goal.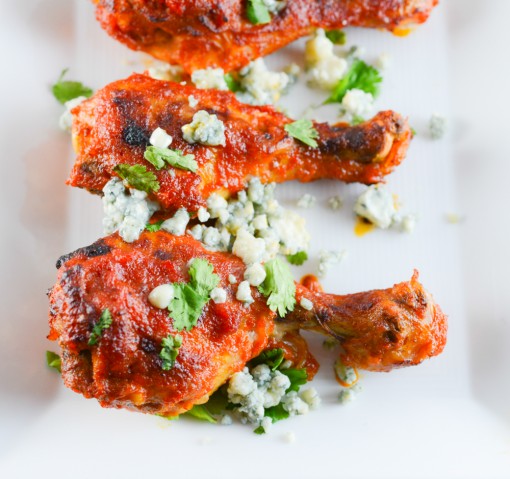 I racked my brain, and did lots of googling to try to figure out how to get the sauce just right.  Enter: my Sriracha Fire Drumsticks.  I figured, hey, buffalo wing sauce is simple so lets stick with that train of thought.  I saw a recipe on Food and Wine's website for a healthy buffalo wing copycat.  The recipe was completely wrong for what I was looking for, because they added all sorts of veggies and vinegar.  BUT!  Instead of butter they used tomato paste.  Light bulb!  My recipe uses the combination of water, tomato paste and sriracha, which is a match made in spicy heaven (or hell).  Ordinarily I'm not a huge fan of tomato paste, especially not for marinara sauce as it often mutes the other flavors.  However, sriracha is so strong that it can even overpower tomato paste much like the smells that occur after you eat it.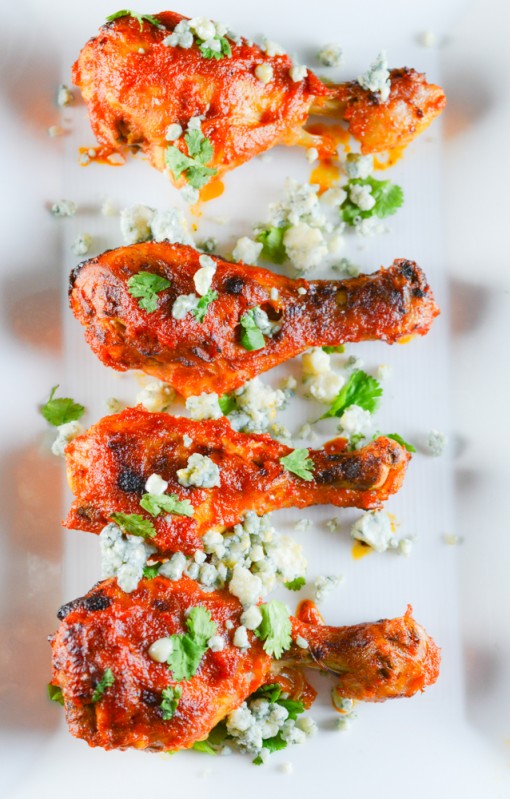 The recipe for these fire drumsticks is super duper simple.  Yet the cooking method needs to be done correctly or it will have an off taste.  Tomato paste must be cooked, or it will be no bueno.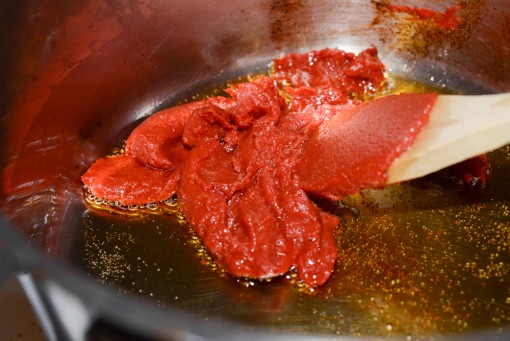 Cook it until it turns bright brick red, and smells err, tomato-ie.  It should look vibrant unlike how it appears out of the can.  Use a spatula to flatten it down so that it is smeared onto the bottom of the pan and immersed in the oil.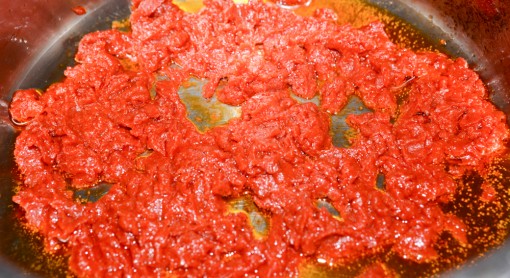 Then you add the water and sriracha whisking it all together.  Reduce to the consistency you would like.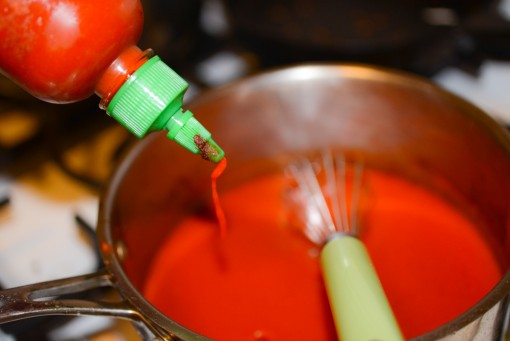 You don't have to follow my directions for basting or amount of sriracha depending on how much heat you want.  I like to apply an insane amount of sauce so it cooks in it.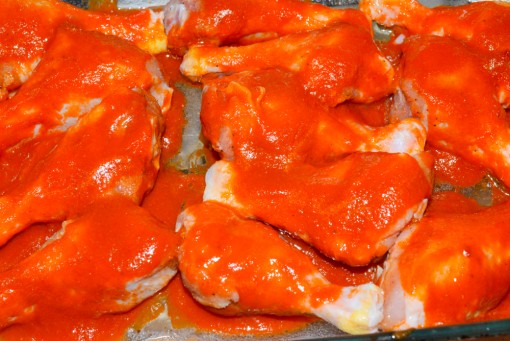 I baste a lot, and use a good amount of sriracha, the chicken is spicy as heck.  The sauce will slide off onto the bottom of the pan, use your brush to absorb the sauce in the dish and reapply.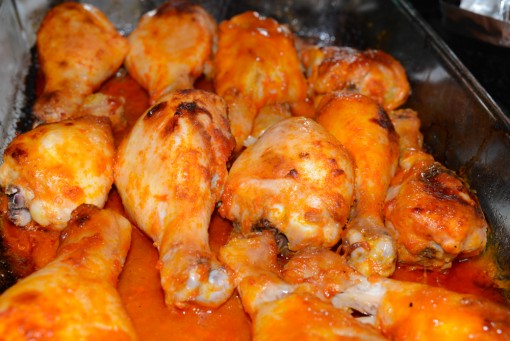 But if you want roast it with just the spice mixture and baste at the end, it would be totally acceptable.  Though I say throw caution to the wind, and load the chicken up with sauce.  I hope you try it and enjoy it as much as I did.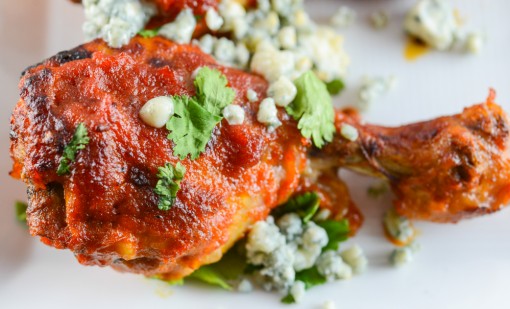 Ingredients
For the Chicken:
3 lbs Chicken Drumsticks
1 Teaspoon Garlic Powder
1 Teaspoon Onion Powder
2 Tablespoons Gorgonzola Crumbles
1 Tablespoon Roughly Chopped Cilantro
For the Sauce:
1 Tablespoon of Non Flavored Cooking Oil
1/2 Small Can Tomato Paste
1/2 Cup Water
1/2 Cup Sriracha Sauce **
Instructions
Sauce:
Put oil in a stainless steel pan on medium low heat and add the tomato paste
Use a spatula to mash the tomato paste into the bottom of the pan
Stir paste and cook for 5-7 minutes on a medium low heat until it becomes bright brick red careful not to get the pan too hot or it will burn
Add water, sriracha and whisk to combine
Reduce to the consistency of BBQ sauce
Chicken:
Preheat oven to 450F
Liberally coat chicken in salt, pepper and dry ingredients place in a broiler safe pan (unlike me)
Spoon half the sauce over the chicken and coat evenly **
Place pan in the middle of oven and cook for 25 minutes
Flip the chicken and baste with more sauce
Cook another 25 minutes basting every 5 minutes, when you run out of sauce baste with sauce that is on the bottom of the pan
Take the pan out of the oven and switch the oven to broiler
Baste the chicken a bit more and put back into the middle of the oven
Broil for a minute or two until a char is achieved
Sprinkle Gorgonzola cheese, cilantro and most of all enjoy!
Notes
This recipe calls for 1/2 cup sriracha sauce which I would consider to be somewhere between medium and hot. If you would like medium use 1/4 cup plus two tablespoons. For mild go 1/4 cup or less.
If you don't want it to be super spicy roast the drumsticks with no sauce on them and baste at the end.
http://foodefile.com/2015/02/sriracha-fire-drumsticks/